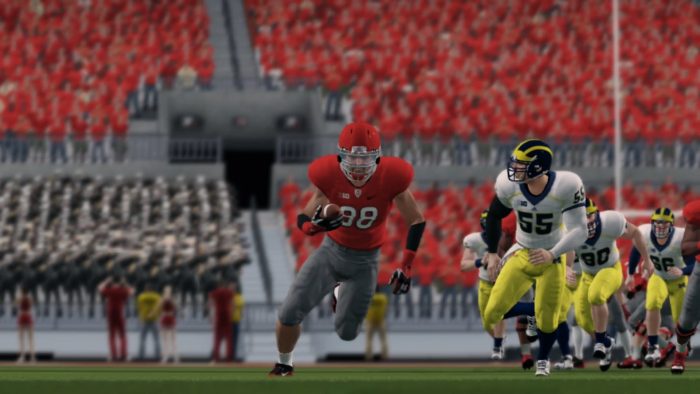 The new season has begun, the postseason. Where at the end lies the prized crown of being National Champions. Miami and Ohio State face each other for the second time in three weeks whereas Florida State and Notre Dame square off for the first time in five seasons. Here's our analysts.
Houston Freeman's Predictions:
Florida State ended their season on a high note, scoring 58 points in a barn-burner with Florida. Notre Dame closed their season out on a 6 game win streak. This has potential to be an incredible game full of fireworks. I think Notre Dame has proven that they're at least 1 of the top 3 teams in my opinion. I see their offense being able to keep up with a hot Florida State offense, and controlling the game. Give me the Irish in a shootout.
Florida State 45, Notre Dame 52
Ohio State gets in after a close win in The Game for the CFSL's 500th game. Miami was able to get a win to close the season out against LSU. The most interesting part of this game is that it's a rematch from just 2 weeks ago. Ohio State won that one 30-23, but I believe that Miami will get some revenge here and pull off the victory.
Ohio State 38, Miami 42
Matt Pack's Predictions:
This is not the same Florida State team we saw struggle earlier in the season. Notre Dame, even sitting at the number two seed in the big ten, seems to be an afterthought to a lot of people. The key to this game, for me, is can the Seminoles get to Asiata and force him to make mistakes. If they can't, I can see Leo going off in this one, and trying to make a case for being only the second ever two time OPOY. I love FSU, but I'm taking the Irish in this one.
Florida State 42, Notre Dame 49
Ohio State did what they had to do to get into the playoffs, and they're basically playing with house money at this point. I expect the Buckeyes to go all out on both sides of the ball. Miami looks like a different team from week to week. In the end, I think Ohio State will give the Canes all they want, but will come up just short.
Ohio State 42, Miami 45
WorldClassMatt's Predictions:
FSU sneaked into the playoffs, but I do not think they have the depth to make a run. Notre Dame just has too many tools on both sides of the ball. Plus, as I have said this season, it is hard to bet against Asiata.
Florida State 21, Notre Dame 56
In a revenge game (OSU won against Miami 2 weeks ago) for Miami, their new look offense will just be too much to handle for Ohio State. Miami has a deep vault of receivers and Axton has taken off the training wheels. Take the over on this game for sure.
Ohio State 36, Miami 42
David Ware's Predictions:
This game matches two big arm quarterbacks in Adonis Jackson versus Leo Asiata. It will be exciting to see these guys battle it out as both of them can put up points fast. I think the team whose defense steps up and forces turnovers will win. I expect the multiple time defensive player of the week Dominick Schillizzi to make some big plays.
Florida State 35, Notre Dame 42
This game is a rematch of two weeks ago and it will be exciting to watch. Colton Allen had a record setting game last time and look for him to continue to perform well. Miami has changed their playbook and really opened things up as Blaze Gunner had an OPOW type game. Miami is hungrier after losing to Ohio State and I give them the win this week.
Ohio State 42, Miami 48
Squidy's Predictions:
It's playoff time baby! The Noles and Irish square off in this one in what should be a great game. FSU has a strong run attack, while Notre Dame is all about the passing game. I think Notre Dame will come out hot and jump to an early lead, but will fizzle out. FSU will be able to lead a comeback and pull away in the fourth. Give me FSU by 14.
Florida State 45, Notre Dame 31
It's hard to beat a team twice. Ohio State won their first meeting, but will they be able to beat them again? Personally I think no. No disrespect to Ohio State here, I just think the football gods will favor Miami here. Give me the Hurricanes by 2.
Ohio State 30, Miami 32
Leej17's Predictions:
Florida State didn't have the start of the season they wanted, but they did what they do best and won the important games and made it to the playoffs. Notre Dame on the other hand has been strong all season. Their only loss came to Texas early in the season. I would expect this game to be a high scoring game. I think Notre Dame is going to come out on top in this one.
Florida State 42, Notre Dame 45
To me this game is going to come down to Axton Richardson and Marcus Duncan and how Ohio State tries to stop them. These two have proven to be a force to be reckoned with, but if Ohio State can find a way to stop this duo, they will have a better shot to win this one. Unfortunately for Ohio State, I think Miami will be too tough for Ohio State to handle.
Ohio State 38, Miami 41
BubbaBeSlayin's Predictions:
Florida State has some momentum going into the playoffs after beating the Gators in a high scoring affair! Then there is the machine that is the Fighting Irish offense. FSU has one of the most underrated secondaries in the league, and they help pull a major upset in the first round of the playoffs! Tomahawk chop!
Florida State 41, Notre Dame 35
Ohio State gets a rematch with the Canes! Week 7 the Buckeyes handed the Canes a loss in what most would call an upset! Well Isaac Krout and David Ware remember! The Canes defense stands up but then fall back down as the Buckeyes keep on trucking. O-H-I-O!
Ohio State 52, Miami 49
The Verdict:
In our opening matchup of the quarterfinals, there's a 5-2 nod towards the reigning runner ups to last season's titleholders. The Fighting Irish are expected to take care of business in the Poinsettia Bowl tonight. As for the Music City matchup, there's a lone wolf as the Hurricanes are favored to get revenge and advance over the Buckeyes, 6-1.