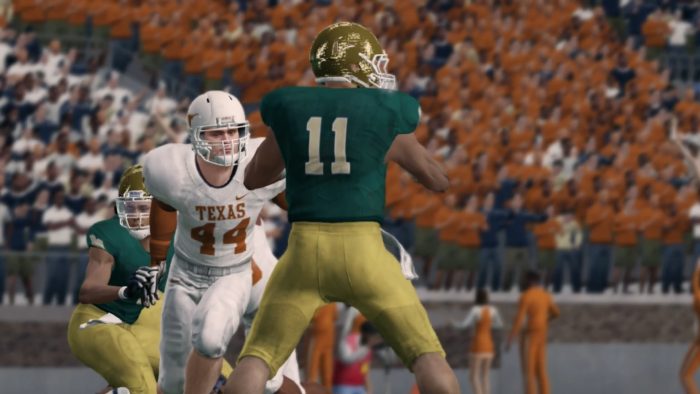 Week two is a week that seemed to drive Notre Dame to the heights they reached this season. It's also what's brought us to this game. The motivated Fighting Irish are surging, and Texas is hoping to avoid being served the revenge dish that the Irish are preparing. This game is more than just a game to determine who is heading to the National Championship game, it's also a battle between the two favorites for Offensive Player of the Year, with the winner likely securing the award. We'll start with the reigning Offensive Player of the Year and his team.
Notre Dame
Offense
Quarterback Leo Asiata is coming into this game after playing a near flawless game against the Florida State Seminoles in the quarterfinals matchups. Coming a yard short of 400 passing yards, Asiata put up four passing touchdowns, only getting sacked once by the opposing defense. Asiata did fumble, but it was recovered by Bubba Bertier who took a few snaps on offense in relief of halfback Kaiden Saint III. Receivers Austin Gombas and Dexter Jackson have been the major targets for the Fighting Irish this season, and the two of them have been able to generate several explosive plays, something the rushing game has unfortunately been lacking. In the playoffs, though, they'll need to find some explosiveness on the ground to be able to combat a talented Texas roster.
Defense
Can't speak well enough about linebacker Dominic Schillizzi, but it was safety Zeus Williams who led the way in the quarterfinals. Williams led the defense in tackles with 13, and while the league has always known that he's a top-tier safety, he felt best to remind the league. Williams will be called upon again, but this pass coverage will be severely tested. Williams and safety Minkah Solo are large parts of that, but the corners are even more so. Corner Bubba Bertier has been a stellar add to this defense, but there's a lot of talent at receiver, meaning corners DeVante Williams Jr. and Greg Brault will need to step up. The Texas receiving corps has immense talent, and the Irish secondary will need to be prepared to combat it, otherwise there's going to be fireworks.
X-Factor
I'm aware this Notre Dame offense is built on explosive plays downfield, built on shot plays designed to pick up chunks of yardage, but I highly believe that halfback Kaiden Saint III will need to be a big part of this offense, and the guy hasn't had a 100 yard rushing game since they faced Ohio State earlier this season. Saint is going to have to be given chances to generate some explosion for this offense, they have to be able to let him move the ball more than a yard at a time, and limit the negative plays in the backfield. Saint should be called upon with a higher frequencey for the Irish tonight.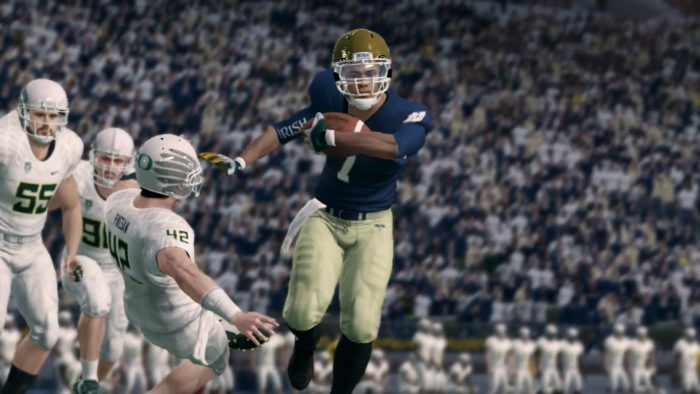 Texas
Offense
Let's shift the focus to the other Offensive Player of the Year Candidate in quarterback Vito Pipino. Pipino started the season as excellent as any quarterback could hope for. 12 touchdown passes to only one interception over the course of his first three games. Pretty impressive to see, but as the season dragged on, Pipino seemed to come back to earth. Now, in the playoffs, Texas will need him to find his early season form. Receivers Cash Jackson, Oliver Fields, and Thor Gunderson have all been a big part of this Texas offense and they'll need to continue their explosive ways against the Notre Dame secondary. Halfbacks Brandon Black and Tarraj Walker have been hit or miss for this offense, and Pipino has been as effective as a runner, granted they haven't turned to him lately, but they may want to consider sprinkling that into the gameplan a bit more this week.
Defense
For the Longhorns to have success, defensive ends Nick Harley and Remington Buck have got to find a way to frustrate quarterback Leo Asiata, something that few teams have had success with. Defensive tackle Jeremy Fears has had his moments, but Texas may want to consider extra pass rushers, and that leads to linebackers Tyson Cane Blade, Justin Thyme, and Adrian Taylor being called upon in order to generate extra pressure against Asiata and the Fighting Irish. If Texas can do that, then their secondary should have ample opportunityt o be able to come down with turnovers against the Fighting Irish. Opportunities that Texas will desperately need to capitalize on, and ones that corners Josh Huffman and Mark Cole do well with.
X-Factor
Josh Huffman and Mark Cole have been exceptional in coverage and pretty opportunistic when it comes to turnovers, it makes the job of safety Connor Looney a little bit easier. But so far this season, outside of a few big hits, Looney hasn't had anything eye-popping. No games that really stand out for the young safety. He's got an interception and a few pass breakups, but he hasn't "wowed" fans yet this season. Don't get me wrong, Looney has been an integral part of the defense, he's been a contributor and has generated some plays, but he's yet to have a breakout performance. It's players like Looney who can put on some pretty major performances when they're on the stage of the playoffs, and something I honestly think Texas will need from him. Against this deep strike offense, Looney will need to have his breakout performance in the playoffs.