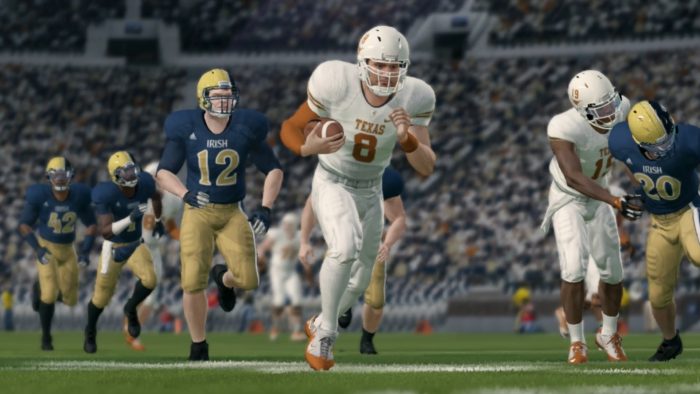 Two down, four still standing, for now anyways. And history is in the making before us CFSL fans, as this is the first time both semifinal matchups are between in-conference games. Miami and Clemson are rematching from week six, a game that Clemson controlled thoroughly, with help from Miami quarterback Axton Richardson and his three turnovers. Likewise, Notre Dame and Texas are rematching from all the way back in week two, a game that put Texas quarterback Vito Pipino on the map, and into the running for Offensive Player of the Year. Yeah, tonight's not just about a trip to the National Championship game, but Notre Dame's quarterback Leo Asiata is dueling Pipino for the Offensive Player of the Year award.
Houston Freeman's Predictions:
I'm incredibly excited for this game, the top two teams in the SEC battling it out for a shot at a Natty; you can't ask for anything better. Miami dropped the regular season match-up 31-15 so I look for them to make some changes and make this really competitive. Unfortunately, Will Slay is in full stride and doesn't look like he's going to slow down with a National Title within reach. Clemson will continue their success and play for all the marbles Sunday.
Miami 32, Clemson 38
The last time these two teams met went completely lopsided in a way no one in the league thought. I think Notre Dame comes out much better prepared defensively. However, Texas' offense and quarterback Pipino will still put up plenty of points to take Texas back to the promised land.
Notre Dame 45, Texas 49
Matt Pack's Predictions:
Miami will be more prepared this game, but I'm not sure they will figure this Clemson defense out. Richardson can't make mistakes and waste downs against this bunch. Close game.
Miami 24, Clemson 28
Since getting the pants beaten off of them early by Texas, Notre Dame has gone on to become the hottest team in the league. Texas has been solid all season, but aren't firing on all cylinders like they were early. Give me the Irish here.
Notre Dame 49, Texas 42
WorldClassMatt's Predictions:
Miami just pulled off an exciting revenge game against Ohio State to advance to the semis. Clemson is next. Clemson can be beat, but it will take mistake free football. Axton puts the hatchet down for this one. I see the WR core winning this battle. The U will make the National Championship Game.
Miami 38, Clemson 21
Like I have said literally all season, there's no reason to vote against Asiata and company. While this will be a trickier game to win, they still find a way. ND to the Natty!
Notre Dame 31, Texas 28
David Ware's Predictions:
Big time match up and rivalry. Clemson won the first round this season 31-15 as they went on to a 7-1 season. Miami made some adjustments and have looked good as they won their first playoff game in school history. Look for Blaze Gunner and Axton Richardson to light it up. The Miami defense is hungry and tired of reading about their last loss to Clemson and they will have something to say. Clemson is 3-0 all time verse Miami but the buck stops here as Miami will win.
Miami 48, Clemson 35
Another great re-match from this season. The only loss this season came from Texas early in the season while ND was still finding out who they were. Texas didn't have as much fire power towards the end of the season as they did when they started, and ND has been on fire.
Notre Dame 35, Texas 28
Squidy's Predictions:
Man I really don't want to see this, but I have a feeling it will happen. This game will be a blowout. Clemson will play shutdown D early and will start putting up points. This well oiled machine will continue rolling to the National Championship. Give me Clemson by 28.
Miami 21, Clemson 49
Notre Dame wants revenge. They got killed earlier this season and are trying to prove that they are the best team in the Big Ten. I think it will be very tight, but one team will pull away late. That team will be Notre Dame. Give me the Irish by 10.
Notre Dame, 45 Texas 35
Wookie's Predictions:
Miami and Clemson both have had amazing seasons. A week five match up gave a preview of this game where the Tigers knocked off the Hurricanes 31-15. I see more of the same as Clemson is hungry to be the first ever repeat champion. Give me the tigers by 15 again.
Miami 16, Clemson 31
Last time we saw these two teams play it was ugly. With that being said, I think it will be ugly again, but this time in favor of the Irish. Notre Dame has been a team possessed since that loss to the Longhorns. Give me ND by 25.
Notre Dame 55, Texas 30
BubbaBeSlayin's Predictions:
A trip to the title game lays on the line as the Canes and Tigers meet for a second time this season. Clemson had the Canes number the first go around, and I believe they hand them another L tonight. Clemson rolls head first into the title game.
Miami 24, Clemson 38
Mayweather vs Pacquiao, Tyson vs Frazier, Ali vs Foreman, then you have Pipino vs Asiata. Two juggernaut quarterbacks stand toe to toe and duke it out for a chance to go play in the title game. The Irish passing attack is tough, but so is the Longhorn defense. The Irish make their second trip to the title game in two seasons. Notre Dame wins by the skin of their teeth.
Notre Dame 42, Texas 38
The Verdict:
While we expect both games to be exciting, our analysts are riding with the SEC champions to take care of business tonight and be the team to advance for the National Championship game in a 5-2 split.
As for the Rose Bowl, there's a lone wolf. The Big Ten Champion has only made it to the National Championship game once, and that was the Notre Dame Fighting Irish who pulled it off. Tonight, the Irish are looking for a repeat, and the majority of our analysts are riding with them to do so in a 6-1 decision.