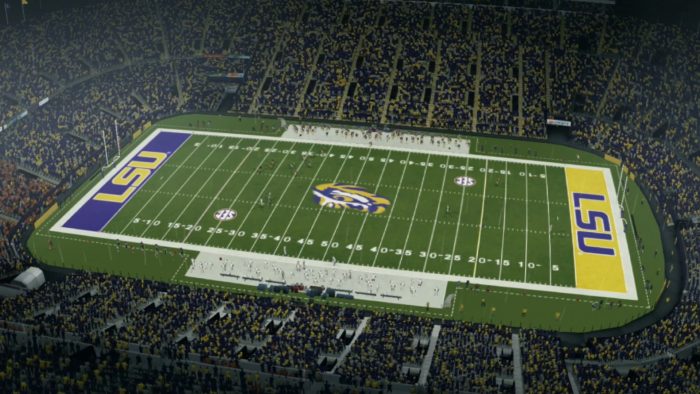 The dust has finally settled, recruiting has come to a close, and that means we now know where the vast majority of players will be for at least the next season if not the next four. That said, we thought it would be a good idea to run through our top ten recruiting classes of the offseason.
1) Texas A&M Aggies
Texas A&M had a very impressive class. Expansion teams always need to make a splash in recruiting with their opening season, as it often times can set the tone for that school's legacy, and A&M is off to a strong start in their CFSL return. They made a strong surge in the transfer portal, landing their quarterback of the future, with Jimi Germaine coming over from a very efficient season with Ohio State. Then you get into their class and it is quite deep, and quite talented. Headlining the class is receiver Skye Walker as well as linebacker Allie Peters, who will be greatly aided by their impressive defensive end in TJ Smith. The Aggies are here to make noise in the SEC, and the talent they've acquired in starting roles will help with that. They've got Kellan Ervin in the transfer portal to go with Skye Walker and Ryan Dunn at the tight end spot. If there's one spot, though, that this team could struggle in, it's their safety spot. While the Aggies are set at corner, their safety situation is a little lax. Safety Eric Mears transferred over, but they're banking on Damian Armour to aid them on the other side.
2) LSU Tigers
The size of your recruiting class does not mean it's a great recruiting class, and while LSU's class is smaller than the teams that will follow, there is no large gap of talent between them. In fact, I'd say that LSU's class has closed the gap between them and the top teams of the SEC. LSU took a different recruiting approach than some of their peers. Most go for what they want want to do or address their positions of most need, but LSU did both, and the cause is what makes it impressive. From looking at this recruiting class it's clear to me that LSU paid close attention to what the SEC playoff teams did last season, namely those in the semifinals. Explosive offenses that can run or pass, and LSU found the formula. Bolster the defensive line with tackle Dillon LeBlanc and create the greatest secondary in the league with corners TJ Keene, Marcellus Burney, and Brody Edward to go with their safeties Ulric Odinheim and Anthony Stover. Receiver Dominik Flores gives signal-caller Gage Youngblood the quick strike capabilities this offense needs to be able to keep up and have Colt Youngblood toting the rock. LSU may have struggled last season, but they're here to win the SEC and have the talent to do so.
3) Bowling Green Falcons
So, this may be shocking to you, but take a long hard look at their recruiting class, that's a lot of talent from within the MAC. They had one of the larger recruiting classes, and have some really impressive talent and an exceptionally deep roster to go with that talent. Headlining the class is quarterback Zach Scott and corner Eddy Reed, two exceptional talents who look forward to going up against CFSL teams. Bowling Green may not have the most depth on offense, although they do have two tight ends, but their defense is where the depth lies. They could catch a CFSL team by surprise, but more importantly, I anticipate they'll be one of the best teams in the MAC by the end of the season.
4) Oklahoma State Cowboys
It's not the flashiest of classes, and it's certainly not the biggest of recruiting classes, but I believe it to be the best recruiting class this season, and nobody is talking about it. That's crazy to me. Teams sleeping on quarterback Lyle Fletcher will likely come to regret it, but the young quarterback is more than talented enough and should put together an impressive run for this offense, especially with halfback Dion Hawkins and receiver Ethan Martin joining that offensive unit, one that is extremely powerful. And it wasn't just offense for Oklahoma State, as they gave their defense an impressive boost with the ever versatile Basher Vannion, who can live in the secondary or as a linebacker. And speaking of linebacker, they added Greyson Davis, who should be able to anchor the center of the unit. Add in their many transfers, and this defense is impressive, especially on the back end, what with the additions of safety Michael Copley and corners Tanner Quirk and Quentin Giles.
5) USC Trojans
With USC's class they had to find a way to replace halfback Carter Cook, and they did in Kolby Kichler who is a greater fit for what the Trojans wanted to do last season, namely in the rushing game. Kichler has the speed that Cook lacked, and that means all those runs to the edge are a much bigger hit for USC. Replacing quarterback Deandre Burks isn't easy but they've found their solution there while also replacing the departing secondary of Burney, Edward, and Giles. Corner Kace Blazer transfers over from Nebraska and the Trojans Aaron Whitten at the other corner spot while adding Arian Addams to their safety rotation. USC has improved, and while their offensive firepower, particularly in the passing game, remains in question, their defense should not.
6) Alabama Crimson Tide
The era of quarterback Balion Siege has come to an end in Tuscaloosa, and with it, a new era has begun under the signal-caller Doug Day. And to grow with Doug Day? Receivers Joe Idol and Zach Stone. Two fantastic playmakers, as seen in the Army-Navy game, to go with their young quarterback in Day who had connection with the two receivers. Alabama was wise to try and keep the three together, and they were quite successful. Defensive end Cory Dobbins transfers over to play opposite of Jackson Adok, giving the Tide a great pair of pass rushers to help out a talented secondary. One that is, admittedly, a little lighter in their secondary talent with the departure of Lamar Fant, but corners Richie Carreon and Emilio Gonzalez are still really good, as is safety Zachrey Carter. Alabama has the talent to make a playoff push this season.
7) Clemson Tigers
The defending National Champions didn't have to replace much in their pursuit of another title. They snag defensive end Dan Norris and safety Kyler Smith, both five stars so as to be able to replace the departure of transfer Cory Dobbins and of graduating safety Aiden Berry. The rest of Clemson's class can be summed as luxury. They address depth at receiver in both CJ Banks and Mike Ruby, they get a third corner in Layrd Olliff, and a defensive end to play opposite of Dan Norris. With Will Slay returning for his senior season at quarterback, halfback Dane Jones and receiver Dorian Chase-Miller are both poised for another impressive season, with Chase-Miller likely to put up even better numbers after a season of establishing himself as the go-to receiver for the Tigers.
8) Florida Gators
Florida is still waiting to put it all together for a full season, but maybe this is the recruiting class that will help them to do that. While the talent in their front seven decreases, albeit slightly, their secondary got a whole lot better. Florida still needs to get their offensive talent clicking and playing to their potential, and adding halfback Doc Smith can help keep Bentley Jones fresh in games, especially since Smith can produce when he gets those reps. But the big story is their secondary, with safeties Stephen Fellows II and Mike Middleton joining the team, as well as corners Mathias Eby and Sidney Banks Jr. The secondary got better, as they're deeper at both safety and corner, and Bernard Frazier III joins Wyatt King at linebacker to help stop the run. Maybe this is the season Florida can put it all together and push for the playoffs.
9) Northern Illinois Huskies
I know what you're thinking, Northern Illinois had a fantastic class, why are they down here? The short answer, don't get sanctioned. I loved what the Huskies did both in the transfer portal and in recruiting. I think quarterback Cody Clowers will perform really well, and halfback Gabe Dowden leaves LSU to be the feature back, and potentially best back out of the entirety of the MAC. This recruiting class is extremely deep, and their receivers are pretty talented as well. The best part of their defense is safety Lamar Fant, but they have depth, especially at linebacker as Archer Berry will be expected to be the standout of the group. Northern Illinois should make life difficult within the MAC for other teams, and there's a road for them to be able to win the MAC, albeit not easily.
10) Notre Dame Fighting Irish
With the departure of quarterback Leo Asiata, the Irish knew they needed to find his replacement, and they did in quarterback Tyler Stemen. With the addition of Stemen and the transfer of defensive end Zak Howard, Notre Dame is poised to make a return trip to the playoffs, and more importantly challenge Texas for the Big Ten title this season. Stemen is joined by receiver Zachary Cooper, who joins a ton of talent at receiver that is already in the room between Austin Gombas and Dexter Jackson. Howard and the added Cameron Wolf can give Notre Dame a pass rush they were lacking last season. With linebackers Dominic Schillizzi and Al Walker, they can more than handle the run. Their secondary though is concerning. While their safeties are fine between Minkah Solo, Cody Flowers, and the new addition in Trent Doyle, their corners behind Bubba Bertier will be tested. That new pass rush duo that Notre Dame has? They'll be welcomed quickly.