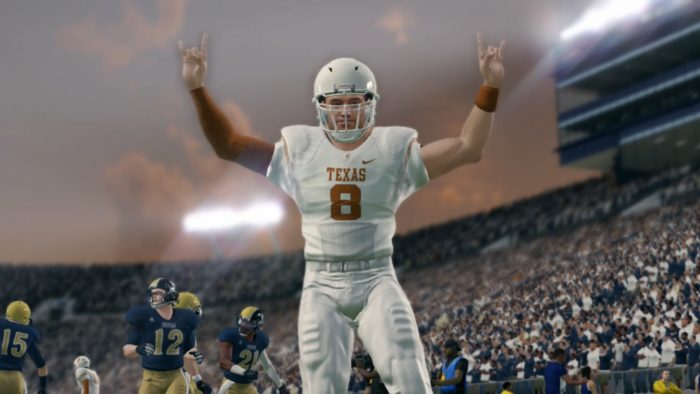 Week one has arrived, as it always does, with a ton of excitement at the seams. It kicks off with a National Championship rematch, where the Clemson Tigers and Texas Longhorns will turn around and square off once again for the third time in their last four games. The second-year veteran Vito Pipino looks to finally notch a win against a Clemson Tiger squad that is led by the senior signal-caller in Will Slay.
The second game is no less exciting, with both Ohio State and USC debuting new quarterbacks, and the Trojans debuting their brand of the triple option. This game was decided by six points last season, coming down to the wire, and should do so again tonight as the Buckeyes and the Trojans square off with respective quarterbacks Zach Davis and Thrasher Banes making their true CFSL debuts.
Week one is upon us, and with it, new faces and new excitement, and new picks.
David Ware's Predictions:
What a way to kick off the season, a Championship rematch! Neither team made many changes during the off-season other then playbooks, so this should be a really close game. Clemson beat Texas two times in 3 weeks to end season eight so we know Clemson is able to beat them, but I feel Texas is hungry and does not want a third straight loss to Clemson. That motivation will put them over the top as the third time is the charm Texas 42-38
Texas 42, Clemson 38
Stern bowl part two will be exciting to say the least. The powerful d-line of Ohio State versus the triple option of USC. It will be fun to watch as USC replaced a lot of players and has the new scheme. Triple option can be very difficult to win with, especially against a strong physical defense so I am giving Ohio State the small edge here 28-21
Ohio State 28, USC 21
Squidy's Predictions:
And the time has come once again, the first game of the season. Last season we saw Clemson beat Texas twice, with one of those wins being in the National Championship. Neither team has changed a ton so I expect another very close game. Texas will get their redemption one day, but not tonight. Give me Clemson by 10.
Texas 28, Clemson 38
The Stern Bowl! Last season we saw this game have huge playoff implications with it being the difference for both teams between making the playoffs or not. Both teams have freshman quarterbacks which should make it very interesting. I like USC in the triple option with all of the speed they have. Give me USC by three.
Ohio State 40, USC 43
Leej17's Predictions:
The rematch of the National Championship game last season. Both teams still look very strong on paper and are looking to make another deep playoff run like they did last season. This should be a good game just as the National Championship game was. However, I think that the star studded Clemson defense is going to be too much for the Texas Longhorns.
Texas 24, Clemson 31
The Stern Brothers face off in week one. I am very interested to see how USC runs the triple option this season. I think they have a very good defense and the right tools on offense to make it work. For the Trojans to win, they have to score early and often as the triple option is not built to come back from large deficits. If USC can keep it close, I think they will take this one.
Ohio State 20, USC 24
AssuredFame's Predictions:
Texas looked good securing the win 24-9 in their season opening exhibition game against Alabama with Vito Pipino leading the way, going 20 of 24 throwing for 198 yards and rushing 18 times for 86 yards, totaling three touchdowns. With that being an exhibition game and not counting, can Texas use this for momentum or will Clemson use this game footage to their advantage? While Texas looked great in their exhibition game, Clemson completely retooled in the offseason and will absolutely use this game as a template to beat them. After all, they are the defending champs.
Texas 21, Clemson 31
USC unveiled the new triple option attack in their exhibition game vs LSU with quarterback Thrasher Banes and running back Kolby Kichler showing great chemistry, but they barely held off LSU's last minute comeback. Is this a cause for concern? While USC's defense was immaculate, their offense is still a work in progress. Enter in Ohio State All American and defensive player of the year Colten Allen and the rest of his defense. USC has a lot of speed on their roster, but did not show that against LSU. This is not a favorable matchup for them as Ohio State's defense is just as fast and even nastier up front. Look for Ohio State to dominate.
Ohio State 31, USC 13
Grin311's Predictions:
Wow, what a way to start the season off! Texas versus Clemson in a rematch of the National Championship game. Both teams should be great again this season, but I think Texas has the revenge factor on their side this time. Look for them to win in a close one.
Texas 31, Clemson 28
Ohio State is looking to get back to dominating the Big 10, while USC wants to show they have what it takes to win a National Championship again. The matchup of the brother ADs will go to the team with from Ohio this season and their first step back to the top.
Ohio State 28, USC 24
Jathan's Predictions:
This one will be extremely exciting, a rematch of last years National Championship! Both teams are full of talent and ready to make another run. Texas really executed well in their exhibition game, and I don't see Vito Pipino losing to Clemson again.
Texas 41, Clemson 38
I'm a little bit biased here, but I'll give my opinion anyways. I love Ohio State's defensive front, and I think Manuel Silva has an awesome year this year. However, USC has arguably the best defense we saw in exhibitions this season, and their option offense is full of speed. I like USC to start 1-0.
Ohio State 23, USC 27
jbayse1's Predictions:
Everyone knows the story, a rematch of last season's National Title game. Both teams are incredibly deep and both Texas and Clemson can light up a scoreboard in a hurry, however, if this game comes to a shootout I give the edge to Texas. Can Clemson do enough defensively to edge out the victory? I do not believe so, and I think Texas come out with a vengeance.
Texas 41, Clemson 37
Both teams look evenly matched on paper. Ohio State freshman Zach Davis will have a big task in advancing the ball against this USC secondary. Look for Seal Stern and Arian Adams of USC to make Davis' first game a nightmare. That being said, I think the trio of McFadden, Ennis, and Turner will be too much for USC.
Ohio State 33, USC 20
The Verdict:
With the National Championship rematch upon us, the Texas Longhorns actually get the 4-3 nod from our writers, with quarterback Vito Pipino finally notching a win against the Tigers in his CFSL career.
Our analysts are similarly split on the Stern Bowl, giving the Buckeyes a 4-3 nod against USC's triple option led by Thrasher Banes. An early conference matchup that proved pivotal down the stretch last season, and should again this season.
The new season begins tonight, and it begins in stellar fashion. So buckle in for a rollercoaster season that will be filled with many twists and turns, as it always is. Week one is here, and we couldn't be any more excited for the journey to the National Championship game!