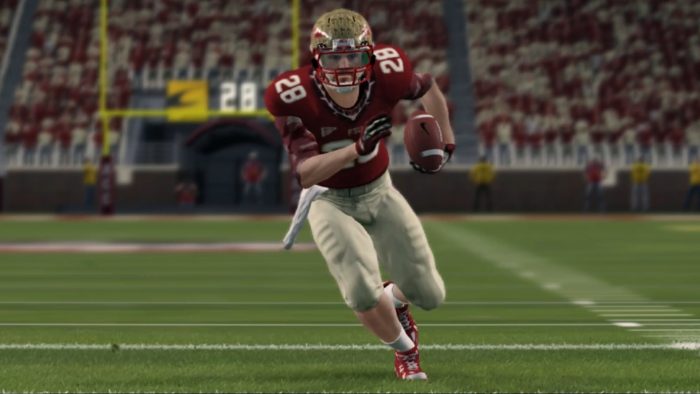 Week one surges on and Miami is hoping to start off the new season right, with a win over the Fighting Irish over in Houston. Notre Dame unveils their new quarterback in Tyler Stemen, while the Hurricanes begin their quest to return to the playoffs.
In the second game, the MAC makes their CFSL debut as the Toledo Rockets, led by Kenyon Milton, face off against the Florida State Seminoles in Tallahassee. Adonis Jackson and Vidar Lund return to action, and look to return the playoffs as well.
David Ware's Predictions:
This is a match up of the two teams who lost in the semi finals of the playoffs last season. Both have a lot to prove and Miami did not add any new players and even have the same playbook. They did lose a few to graduation and they lost David Ware who became AD at Alabama. Notre Dame lost Leo Asiata who was season seven player of the year. New quarterback and new playbook, but I expect Notre Dame to be dangerous this year and week one will be no different.
Miami 28, Notre Dame 42
Our first MAC game will be very exciting to watch as Toledo travels to FSU. Toledo has one of the deepest rosters in the MAC and has a lot of talent. Florida State finished season 8 strong and made a playoff appearance. They have a lot going for them as season 9 begins. They are returning a lot of talent and I believe the experience of the FSU AD will win this match up, but not to take away from Toledo HC Leej who helped Clemson win a championship last season.
Toledo 27, Florida State 35
Squidy's Predictions:
Catholics vs Convicts. A game with a lot of history around it being brought to us week one. We last saw this matchup in season seven where Miami won convincingly, but these are two totally different teams and I see a different result. Give me Notre Dame by 17.
Miami 20, Notre Dame 37
This will mark the first MAC vs SEC game. I think FSU will take care of business tonight and will start off their season on a high note hoping to get back to the playoffs. Give me the Noles by 14.
Toledo 14, Florida State 28
Leej17's Predictions:
Tonight Tyler Stemen gets his first opportunity to lead the Fighting Irish. He has big shoes to fill, but I believe he will be able to shine in the Notre Dame offense. Miami was strong on both sides of the ball last season and I don't see that changing this season, but I think that Tyler Stemen will win his first start tonight.
Miami 31, Notre Dame 35
Florida State is looking to use their momentum from last season to make it to the playoffs again, while Toledo is looking to show the world that the MAC can compete. Toledo is full of young and hungry players that are ready to upset one of the best teams in the CFSL and I say they find a way to make it happen.
Toledo 35, Florida State 31
AssuredFame's Predictions:
We haven't heard or seen much of these teams in the offseason, but the one thing we do know about them is they always play competitively and are always in the playoff picture at seasons end. Two historic teams battle it out on the field, but Notre Dame looked rusty in their exhibition game against Auburn. Can added practice save them or has Auburn set the blueprint to beat them for the season? Regardless, this one goes to Miami.
Miami 24, Notre Dame 17
Look for FSU to welcome Toledo to the big boys. While Toledo will look to hold their own in the MAC, FSU has their eyes set out on bigger things then this game. FSU is a traditional team that has struggled against the top teams but will show that this is the perfect game to start the season off with. Consider this a bye week for FSU.
Toledo 13, Florida State 34
Grin311's Predictions:
The Hurricanes want to make a statement that they can compete with the big boys. Well Notre Dame has been one of those teams over the last couple of seasons and aren't looking to take a step backwards. Week one is going to be a defensive game as the new quarterback with the Irish gets settled in his new role.
Miami 14, Notre Dame 17
Welcome to the CFSL. MAC team Toledo gets to travel to play Florida State, a team that has had back to back playoff appearances. The Noles are stacked with Seniors this season and are gunning for more than just a playoff spot this season. I think this one will be closer than most think, but Florida State pulls away late.
Toledo 17, Florida State 28
Jathan's Predictions:
Notre Dame seems to bring the heat every single year. This year, however, could be different. Tyler Stemen is a new face under center, and honestly hasn't impressed me so far. Miami seems to have a great core on offense, with Richardson at quarterback, however, I think ND gets it done in a close, high scoring game.
Miami 43, Notre Dame 48
This game brings us a big talent mismatch. Toledo's recruiting effort was valiant for a MAC school, and they will continue to grow over seasons to come, but I think they will struggle to contain Adonis Jackson and the FSU offense.
Toledo 14, Florida State 49
jbayse1's Predictions:
Norte Dame freshman quarterback Tyler Stemen had a rough go of things in the Army vs. Navy newcomer game, but look for him to bounce back versus this Miami defense. This game may end up as the closest of the week, as I see this game coming down to who has the ball last.
Miami 34, Notre Dame 36
Toledo quietly put together a good recruiting class that will allow them to compete in the MAC, but they are severely under-prepared for FSU. Look for Adonis Jackson and Vidar Lind to have huge games and for Kevin Watts and Aljah Toro to lead the FSU defense to a strong opening win.
Toledo 17, Florida State 38
The Verdict:
There's a lone wolf for our both games tonight, as six of our seven writers are siding with the Notre Dame Fighting Irish and the young quarterback Tyler Stemen to defeat the Miami Hurricanes.
In the second game, many of our writers are uncertain what to make of the debuting MAC team Toledo, but are all over the place. Nonetheless, six of our seven writers are siding with the garnet and gold of the Florida State Seminoles.