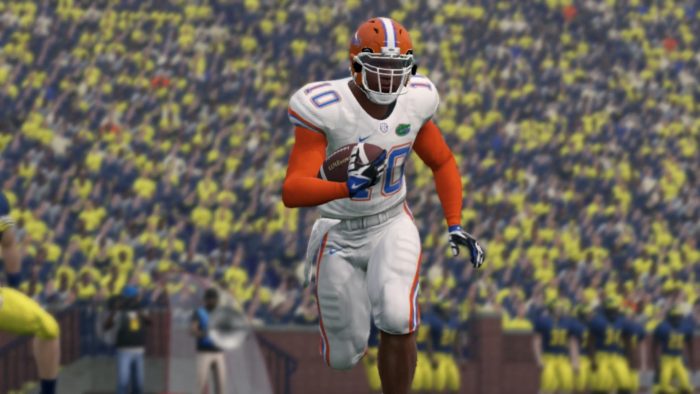 We've got more MACtion tonight as part of our week one slate. Eastern Michigan and Nebraska square off in Lincoln Memorial, followed by the Gators taking a trip to take on the Cardinals of Ball State. Here are our analysts:
David Ware's Predictions:
EMU's first game will see two of their best players sitting out against Nebraska, the absence of Joey Cash will definitely hurt them. Nebraska made several roster changes this offseason, have a new AD, and lost Eric Mears as he became the AD at Texas A&M. EMU does have one of the smallest rosters in the MAC, and that will be tough for them to overcome.
Eastern Michigan 14, Nebraska 35
This game is a reunion of sorts as Levi Temes the HC for Ball state faces off against the Florida Gator. Temes is all to familiar with Florida and should be able to use that in game planning. Ball State does have one of the smaller rosters and will be in for a fight. Florida has revamped their defense and their secondary and will be very difficult to move the ball against. Depth will be a big part of this game but it should be a close one Florida 35-27
Florida 35, Ball State 27
Squidy's Predictions:
Nebraska is either a team that will be great this season, or a basement dweller. They have plenty of doubters and are going to come out and make a statement. Give me Nebraska by 24.
Eastern Michigan 20, Nebraska 34
The past two seasons Florida has started off hot as ever, but choked down the stretch. They will need a win tonight to start out their journey and they will get it done. Give me Florida by 30.
Florida 40, Ball State 10
Leej17's Predictions:
Courtney Harris gets his first start for Nebraska tonight as they look to have a strong team this year. Despite Eastern Michigan doing a good job of filling the important spots on their team, Nebraska will prove to be too much for EMU.
Eastern Michigan 14, Nebraska 28
Florida just missed the playoffs last year and will be looking to start the season off strong against the Cardinals. Florida will be strong on both sides of the ball this season and will prove to be a tough opponent for Ball State.
Florida 41, Ball State 27
AssuredFame's Predictions:
Look for EMU to catch Nebraska sleeping early and take a lead into the 4th before Big Red wakes up and takes this one late.
Eastern Michigan 21, Nebraska 27
Two high flying offenses match up in a game for the ages, look for UF to chomp down the defense in the 4th quarter and squeak past Ball State.
Florida 38, Ball State 31
Grin311's Predictions:
Another MAC versus the big boys game with Nebraska looking to show out in week one. Eastern Michigan may be one of those front runners to the MAC this season, so this might be their chance to put everyone else on notice.
Eastern Michigan 21, Nebraska 24
Florida does not want a replay of their last two seasons of late season melt downs. They have a good team and a lot to prove this season. Sorry Ball State, but the Gators are coming for blood in this one.
Florida 31, Ball State 17
Jathan's Predictions:
This game is another case of mismatched talent. Eastern Michigan needs more time to gain talent, and it doesn't help when you're going up against one of the most talented defenses in the CFSL. Ray Tate and JoJo Schillizzi are going to make EMU earn their points. This one won't be close.
Eastern Michigan 17, Nebraska 45
Oliver Rolon, quarterback for Ball State, is a player I'm really excited to see this season. He's a prototypical quarterback, and I think he will have an awesome career. However, Florida has an amazing defense, led by safety Stephen Fellows and linebacker Bernard Frazier III. Florida's offense meets the eye test as well. I like Florida in this one.
Florida 38, Ball State 13
jbayse1's Predictions
Eastern Michigan was another MAC team that seemed quiet on signing day, they managed to pick up a strong five star tight end in Joey Cash, but Nebraska is clearly the stronger team in this match up. This game serves as a time for quarterback Courtney Harris to make a strong connection to receiver Bradley Ringquist and for the Nebraska defense to mesh as a unit.
Eastern Michigan 13, Nebraska 40
Ball State snagged five star quarterback Oliver Rolon and four Star Thomas Gemkow who look to be a formidable pair in the MAC. If they can attack these Florida cornerbacks, I think this game may be closer than it should be. Safety Stephen Fellows II looks to anchor said Florida secondary and get the ball back for his playmakers on offense.
Florida 33, Ball State 20
The Verdict:
Our writers our unanimously siding with the Nebraska Cornhuskers tonight and the Florida Gators tonight, expecting both CFSL teams to remain unbeaten against the MAC, much like Florida State last night.