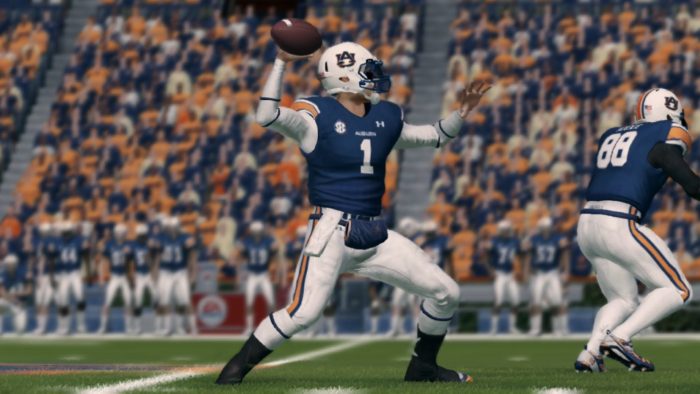 There's more MACtion on the horizon and, it's two more home openers as we see a clash of orange with Bowling Green and Oklahoma State going head to head, followed shortly by Auburn and Northern Illinois. Here are our writers with their picks!
David Ware's Predictions:
Oklahoma State's first game in the CFSL will be against one of the deepest MAC teams. BGSU will be one the more talented teams and they square off against Houston Freeman who has built up Oklahoma State with talent all over the field. This will be a fun game to watch for sure.
Oklahoma State 42, Bowling Green 31
Redemption for Auburn starts with a big time match up against a highly talented MAC school in NIU. There is a lot of talent on both sides here and I expect this to be an exciting game. Josh Claydon is experienced in game planning as he helped Clemson win the championship last year and Matt Pack is the most experienced AD in the league. NIU's quarterback situation can make or break them for this game. I believe they have the talent and game plan capabilities and have a great shot at an upset. Right now, the edge goes to Auburn as NIU does not currently have a quarterback on roster.
Auburn 35, Northern Illinois 28
Squidy's Predictions:
This game is a trap game for Oklahoma State. While at first it may seem like a MAC team wouldn't even come close to beating a Big Ten or SEC school, once you take a look at BGSU's talent and roster, you may think they are an actual Big Ten school. Even though the Falcons have guys suspended, I like them in this matchup. Give me BGSU by seven.
Oklahoma State 42, Bowling Green 49
So NIU recently lost their five star quarterback due to a career suspension. Even though they signed an amazing class, if they roll with a walk on, that won't really matter. I have had a small conversation with their head coach and he said that they do have a non walk on quarterback, so with that being said, I think they will make it a close game for the first three quarters. Then we will see Auburn pull away. Give me the Tigers by 17.
Auburn 38, Northern Illinois 21
Leej17's Predictions:
Both teams have done a great job of putting strong teams together this offseason. Oklahoma State is looking to make their CFSL debut a good one against Bowling Green. Both teams are good on both sides of the ball, but with Bowling Green missing a few key players, it will tough for them to win this game.
Oklahoma State 34, Bowling Green 27
The Auburn Tigers are looking to start their season off strong against the NIU Huskies. Without a quarter back on the active roster for NIU, they will have a tough time against this tough Tiger defense.
Auburn 31, Northern Illinois 21
AssuredFame's Predictions:
Oklahoma State comes in riding high (literally) with their exhibition game win facing Bowling Green State University. Oklahoma State comes ready to play, but underestimates the talented class that BGSU has pulled in and they play toe-to-toe start to finish. Look for a late touchdown to win this one for Bowling Green.
Oklahoma State 28, Bowling Green 31
Auburn comes into this game with a ton of momentum after their exhibition win over Notre Dame. Some expect this to be a sleeper game for Auburn, I sure don't. Auburn takes this start-to-finish, as their defense dominates.
Auburn 31, Northern Illinois 14
Grin311's Predictions:
This game is a little tricky to pick because both the teams are new to the league. Oklahoma State has the proven AD, but Bowling Green really excites me. This is my upset game of the week. No offense to anyone and going to pick one every week.
Oklahoma State 21, Bowling Green 24
Auburn wants to be back at the top this season and their AD knows how to do it. Look for the Tigers to make a big statement in week one.
Auburn 34, Northern Illinois 17
Jathan's Predictions:
The most interesting game of the week, in my opinion. Bowling Green has recruited insanely well for being a MAC team. They will be missing some important pieces in this contest, but their team is just so well rounded; there is talent all over the field. However, Ok St. impressed me a lot in their exhibition matchup with Texas A&M. Lyle Fletcher played very well, and I expect him to win some awards this year. This one will be close, but I'll take Oklahoma State in a close one.
Oklahoma State 46, Bowling Green 39
NIU impressed early on the recruiting trail, picking up big time players like Lamar Fant and Aaron Josephs. Auburn impressed in their exhibition matchup. Their offense, led by Ron Newman, capitalized well on ND errors. Northern Illinois might have a chance in this game, if they had a quarterback. They don't, so I'll take Pack and the Tigers.
Auburn 37, Northern Illinois 13
jbayse1's Predictions:
Bowling Green shocked the CFSL by putting together one of the top classes in this offseason. This team looks like a legit threat the several of the big dogs of the CFSL. Quarterback Zach Scott, halfback Thomas Welch and receiver Shawn McLaren look to be a three headed monster that Oklahoma State got the unfortunate draw of facing in week one. That being said, one team that had a better class that BGSU, Oklahoma State. With a bevy of talent on both sides of the ball, look for Oklahoma State to avoid being the first upset of the week.
Oklahoma State 24, Bowling Green 20
Northern Illinois got the tough draw to start the season having to square off with one of the most consistent teams in Auburn. The loss of their quarterback is also no doubt a huge blow for NIU. Look to Ron Newman and Loki Lawler to lead the way and for Sean Flowerday and Peyton Myles to make it miserable for that Husky offense.
Auburn 38, Northern Illinois 20
The Verdict:
It's a slim edge for our first game, but our writers have given the Oklahoma State Cowboys the edge despite it being Bowling Green's home opener. It should be an exciting matchup, one with several twists and turns in the clash of two talented rosters.
As for the second game, our analysts unanimously sided with Auburn following the upheaval at quarterback for Northern Illinois. That's changed over the last 24 hours, but will it be enough for the Huskies to get the edge?