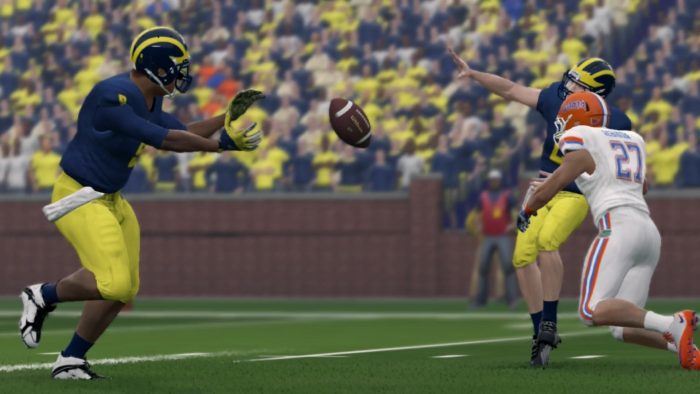 No better way to wrap up week one than for a CFSL tripleheader. The Ohio Bobcats are the last hope of the MAC to be able to pull an upset, but they're going up against a ferocious Wolverines team that is hungry for a playoff berth.
The second game features a new look Alabama team, with a new AD and a new offense looking to test their mettle against an Oregon squad who is coming off missing the postseason for the first time in their history with the CFSL. Both teams are looking to create a lot of buzz and this game should be exciting.
The final game of week one features three new ADs fielding their squads. LSU's co-ADs and former USC coaches are looking to put the Tigers back on the map against a Texas A&M squad that is making their CFSL return after several seasons. Here's our picks:
David Ware's Predictions:
Michigan is looking to do huge things this year as they have a new offense and the same dominant defense. Ohio plays their first game against a team that has a lot to prove. They will have their hands full, but they have a lot of talent on their roster and will be very competitive. Colten Allen's first game as HC will be exciting to watch for sure and he has a passion for beating Michigan from his Ohio State days. I am calling for an upset here.
Ohio 24, Michigan 21
A battle of two teams who are looking to change the path they went down in season eight. Alabama has a new AD and revamped defense as well as several offensive weapons and will be fun to watch. Oregon is one of the fastest offenses and on defense has defensive player of the year in Longtree. This game is going to be a battle till the end. Oregon has hard hitters on defense, but does not have the depth that Alabama has. That will be the game changer as Alabama wins it.
Alabama 35, Oregon 30
Two SEC powerhouses matching up early and it will be fun to watch. Eric Mears will lead his Aggies for the first time and will match up against LSU who has two new Co-ADs. Both teams are full of talent on both sides of the ball, and this will all come down to game planning. I give the Aggies a slight edge over LSU.
Texas A&M 42, LSU 38
Squidy's Predictions:
It's no secret that Michigan has been a bottom team these past few seasons. It's also no secret that they are ready and eager for change. Michigan will start their journey back to success with a win here. Give me the Wolverines by 10.
Ohio 21, Michigan 31
This game is easily a game of the week. You look at each team last year and see that they weren't successful. Bama is almost a whole different team on offense while Oregon's only change was replacing former wide receiver Bugsy Bates with some depth. While Oregon isn't new roster wise, they will be much better offensively than last season. I really like Oregon here, but I think Alabama may get some luck here. Give me the Tide by three.
Alabama 38, Oregon 35
Oh lord does this game have playoff implications. Two teams that are in prime positions to make a playoff run have to face off week one. I think this one goes to OT and is going to be high scoring. I like the Youngblood brothers in this one. Give me LSU by seven.
Texas A&M 52, LSU 59
Leej17's Predictions:
Ronnie Blevins makes his debut tonight against Michigan. Blevins is one of the strongest quarter backs in the MAC, and will likely put up huge numbers this season. Unfortunately, he starts his career against a tough Michigan defense. I think Michigan will be able to slow Ohio's offense down just enough to win this one.
Ohio 24, Michigan 27
Both of these teams are coming off of seasons that were less than they expected. Alabama did a great job this off season adding talent on both sides of the ball. For Oregon, the Longtree brothers are entering their sophomore season hungrier than ever. I think Oregon will have a better season than they did last season, but I think they will start off will a loss.
Alabama 38, Oregon 35
Texas A&M has a ton of talent on the offensive side of the ball and Allie Peters is going to be a beast on the defensive side of the ball. LSU has a lot of talent throughout their team as well. This should be a good game, but I think Texas A&M will come out on top.
Texas A&M 42, LSU 38
AssuredFame's Predictions:
Another sleeper game as Ohio's offense features the number one overall recruit of season nine in quarterback Ronnie Blevins. While Ohio brings it to Michigan, look for Michigan to take this one late as they remind Ohio that they are in the big house.
Ohio 24, Michigan 27
One of the most anticipated matchups of the season ready and live for us week one! Doug Day and the NWO boys of Bama take on Oregon's talented secondary. Look for this to be a physical game as Bama shakes off the rust and defeats Oregon easily.
Alabama 35, Oregon 31
Both teams coming in with strong recruiting classes and even stronger defenses. Look for this to be a close game from start-to-finish with LSU welcoming back TAMU with a loss in their first ever CFSL game.
Texas A&M 13, LSU 17
Grin311's Predictions:
This could be the season that Michigan puts it together in the Big Ten and goes on a nice run towards the playoffs. To do that, they need to start the season with a win. Ohio wants to be the spoiler and show that the MAC has talent too. Should be a great back and forth for a little while, but the Wolverines pull it out in the end.
Ohio 21, Michigan 28
What may be the best game of the week in week one is this one. The Tide went on a roll at the end of the season last season, and Oregon wants to get back to being one of the top Big Ten teams. Look for some fire works in this one.
Alabama 31, Oregon 35
Texas A&M is my sleeper team this season in the SEC and it's going to go their way in week one. Don't get me wrong, LSU has a good team and they will be ready to play, but it's the Aggie's game at the end of week one, which is full of great games.
Texas A&M 21, LSU 17
Jathan's Predictions:
Ohio was able to secure Ronnie Blevins at quarterback, a huge pickup for their squad. However, Blevins goes up against one of most well rounded defensive teams in the league. I love what Blevins brings to the table, but I think his receivers will struggle to find space against this talented secondary of Michigan. I think Michigan will be good enough on offense to get it done.
Ohio 20, Michigan 38
The story of this matchup for me is the Alabama receiving core against the talented secondary of Oregon. Tutu and Jedidiah Longtree won't make anything easy for the Bama offense, and Oregon has lots of speed on the offensive side of the ball. However, I expect Alabama to put up a fight here with a great performance from Day and the NWO. This one is a toss up for me.
Alabama 35, Oregon 38
Another great matchup here. Joni Germaine is going to have a great year, but he goes up against a great LSU defense. The LSU secondary is scary good, and I think they'll have another great game here. But this A&M defense, Led by Allie Peters (so scary) and Eric Mears will be the deciding factor in this one. I see TAMU winning a defensive battle, and Peters having 12 tackles at least.
Texas A&M 28, LSU 20
jbayse1's Predictions:
Michigan is a very balanced team that can seemingly beat you in any which way. This week, they play host to the Bobcats of Ohio. Ohio has the quarterback advantage with Ronnie Blevins, but will have to look for others to step up if they want to have a chance in this matchup. Michigan's secondary proves to be the key difference in this one.
Ohio 21, Michigan 27
If I had to pick a game of the week, this is it. You get what many consider the top offense in Alabama, facing off with one of, if not the top defense of Oregon. The Ducks will play strong in the secondary, but this Alabama offense will be too much with the N.W.O. When you give Doug Day all those weapons to throw to, not to mention halfback Jake Moon, it will not bode well for many teams.
Alabama 49, Oregon 38
Texas A&M looks to be a strong team and one to watch over the course of the season, however, I do not believe they will match the output of the LSU Tigers in this one. Landing one of the best defensive duos in recruiting, LSU bolstered both the front and back ends of the defense. Throw in the Youngblood brothers and that is a recipe for sustained success in this league.
Texas A&M 28, LSU 37
The Verdict:
There's a lone wolf for the first of the tripleheaders, as the Michigan Wolverines are favored 6-1 in their home opener. As for the second game, the new look Crimson Tide are favored 5-2 by our analysts. As for our final game, it's about as close to a split as you can get, but the Aggies are favored 4-3 in Death Valley in what should be an exciting conclusion to week one!