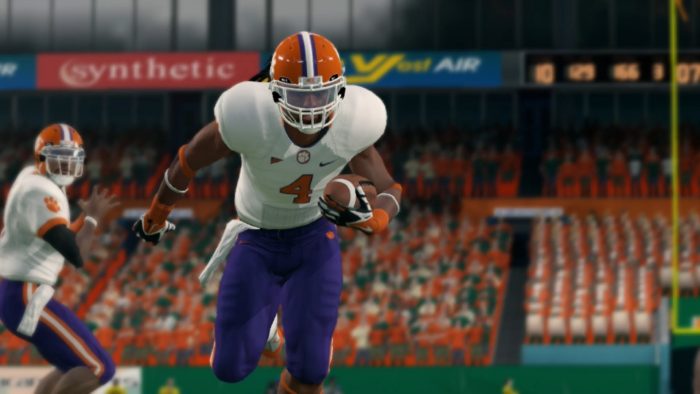 Our goal is to make the power rankings as accurate and informational as possible. We saw several comments last week and we listened to them and with that being said we have added more diverse voters to the panel. The new total for unanimous first place is 192 and again this in Unofficial Rankings. We hope you enjoy the rankings and we thank you for your feedback.
1) Clemson Tigers (1-0) (191)
Last Week: Won at Georgia Dome vs Texas, 48 – 32
This Week: vs Alabama 9/30 8:45pm cst
Remaining at number one is the Clemson Tigers. They were almost unanimous number one for the second straight week, but they had one second place vote. In the season eight national championship rematch against Texas, Clemson looked like a well tuned machine as they went on and beat Texas by sixteen points. They look to continue their winning ways when they take on Alabama week two.
2) +2 USC Trojans (1-0) (173)
Last Week: Won at Cowboys Stadium vs Ohio State University, 45 – 35
This Week: vs Bowling Green 10/1 7:30pm cst
Coming in at number two is USC. Any questions about why USC chose the triple option playbook were answered Monday. They have the speed to run it and run it well with almost five hundred yards rushing led by their quarterback Thrasher Banes, who had one hundred seventy two yards and a total of four total touchdowns.
3) +2 Notre Dame Fighting Irish(1-0) (155)
Last Week: Won at Reliant Stadium vs Miami, 47 – 17
This Week: vs Michigan 10/2 7pm cst
Notre Dame came out and took care of business against Miami winning soundly and moved up two spots in the rankings. Winning 47-17 behind a tough defense and a great showing behind their quarterback Tyler Stemen, who had four total touchdowns. Look for their defense to continue to be the strength of this team.
4) -2 Texas Longhorns (0-1) (148)
Last Week: Lost at Georgia Dome vs Clemson, 32 – 48
This Week: vs OKST 9/28 7pm cst
Texas put on a show in a competitive battle against Clemson in Week 1, falling to them 32-48. Marking three losses in four games all against the Tigers. Look for the defense to tighten up and for quarterback Vito Pipino and crew to get back on track this week against one of CFSL's expansion teams, the Oklahoma State Cowboys who are starting off 1-0.
Tied 5th) +2 Auburn Tigers (1-0) (125)
Last Week: Won at NIU, 44 – 10
This Week: vs LSU 10/2 8:45pm cst
Tied for fifth, Pack and company came out swinging this week against the MAC. Several of the MAC/CFSL matchups have not been close. This one was not as well. The offense, led by The Machine that is Ron Newman, looked fresh and well rested. Their defense was on fire with eight sacks. Watch out for the Tigers!
Tied 5th) +3 LSU Tigers (1-0) (125)
Last Week: Won at Tiger Stadium vs Texas A&M, 35 – 34
This Week: @ Auburn 10/28 8:45pm cst
Tied at fifth is LSU. History was made in the week one finale. Lsu pulled off the largest comeback in CFSL history coming back from being twenty-five points down. They remained poised in the second half, climbed back, and eventually pulled off the improbable comeback. They'll look to have another tough test when they play Auburn week two.
7) -4 Ohio State Buckeyes (0-1) (111)
Last Week: Loss at Cowboys Stadium vs USC, 35 – 45
This Week: @ Ohio of Miami 10/1 6pm cst
In the seventh spot, Ohio State did not show up for their game against USC. Their defense was quite most of the game. Colten Alleen was completely removed as a factor. Ohio State will need to rush for more than eighty two yards a game to find success this season.
8) +6 Oregon Ducks (1-0) (103)
Last Week: Won at Autzen Stadium vs Alabama, 37 – 30
This Week: vs EMU 9/29 8:45pm cst
Oregon entertained the league in their first game of the season in a late win against the Tide. The Ducks defense came ready to play, and held the Alabama offense to only six points in the first three quarters. The Oregon secondary shut down the talented receivers of Alabama with interceptions by both Tutu Longtree and Talal Elagha. They did allow Alabama to make a late 4th quarter push, which means they still need to improve, but a good all around performance leaves the ducks at number eight.
9) +4 Oklahoma State Cowboys (1-0) (99)
Last Week: Won at Doty Perry Stadium vs Bowling Green, 38 – 15
This Week: @ Texas 9/28 7pm cst
Coming in at number nine is Oklahoma State. Going into their game, a lot of people picked them to have a tough time against what most thought is the most talented MAC team, Bowling Green. Oklahoma State came out and left no doubt that they are on another level as they beat Bowling green by twenty-three. Oklahoma State will look to prove themselves again when they play the season eight Big Ten Champions Texas.
10) +6 Nebraska Cornhuskers (1-0) (77)
Last Week: Won at Memorial Stadium vs Eastern Michigan University, 76 – 3
This Week: @ Miami 9/30 7pm cst
Nebraska came into the season at the bottom of our power rankings, but a dominant performance against Eastern Michigan jumps them into the top 10. Nebraska dominated the entire game on both sides of the ball. Quarterback Courtney Harris made a big statement in his season opener, Scoring four times through the air, and twice on the ground. Even though this win came against a MAC school, a victory this big should put the league on notice. Next week will tell us a lot about this team as they face Miami, their first test of the season.
11) +1 Florida Gators (1-0) (71)
Last Week: Won at Scheumann Stadium vs Ball State, 41 – 34
This Week: vs Florida State University 9/28 8:45pm cst
Florida came out and defeated Ball State by seven points behind some stout run defense forcing quarterback Oliver Rolon to pass sixty-two times. Look for Florida to tone down on the turnovers this week in practice as they prepare for their matchup against in-state rival Florida State.
12) -4 Texas A&M (0-1) (67)
Last Week: Loss at Tiger Stadium vs LSU, 34 – 35
This Week: vs NIU 10/1 9pm cst
The Aggies lost a very close game to a tough LSU team at Death Valley. Most people would not be mad at the result where this was held. Texas A&M quarterback Jimi Germaine exploded with 420 passing yards. He really did try to win this game on his shoulders, and nearly did. If not for LSU's halfback Colt Youngblood wanting to put his rubber stamp for Player of the Year in the beginning of the season, A&M would have won. The Youngbloods combined for 605 total yards of offense!
13) -3 Florida State Seminoles (1-0) (61)
Last Week: Won at Doak Campbell Stadium vs Toledo, 33 – 30
This Week: @ Florida 9/28 8:45pm cst
The Seminoles opened their season against MAC team Toledo, and many expected them to run away with the game. However, Toledo dominated early, which forced the Seminoles to make a late comeback. The FSU running attack impressed, with three touchdowns coming on the ground. The Noles started the season with a victory, but their performance was disappointing, given their opponent. Next week will answer our questions, as they take on the more talented Florida Gators.
Tied 14) -3 Alabama Crimson Tide (0-1) (59)
Last Week: Loss at Autzen Stadium vs Oregon, 30 – 37
This Week: @ Clemson 9/30 8:45pm cst
Alabama started off slow but gained momentum late in the game they lost versus Oregon on a game winning hail mary touchdown pass, which was very Aaron Rodgers like. A truly heartbreaking loss for them. Look for Alabama to come into this game angry about where they are ranked and battle vs our defending champs, the Clemson Tigers.
Tied 14th) +1 Michigan Wolverines (1-0) (59)
Last Week: Won at Michigan Stadium vs Ohio, 38 – 20
This Week: @ Notre Dame 10/2 7pm cst
Michigan brought a well balanced game against Ohio. While only a MAC team, it was still a good warm up and get to know you session for Wolverines. Michigan's offense was able to move the ball well both in the air and especially on the ground, rushing for 269 yards total. Next week will be the real start of the season for Michigan having to travel to South Bend to play a tough Notre Dame squad.
16) -10 Miami Hurricanes (0-1) (15)
Last Week: Lost at Reliant Stadium vs Notre Dame, 14 – 47
This Week: vs Nebraska 9/30 7pm cst
It was definitely not the start to the season that the Canes wanted. Miami looked out-of-sorts in almost every aspect of their game against the Irish, turning the ball over twice, and starting the game with a 30 point deficit. Richardson and company looked slow and confused on offense, and the Miami defense allowed over 400 yards from the Irish. Miami has some good talent on offense, but they did not show it in this game. They come in at the bottom of our rankings with the largest drop this week.