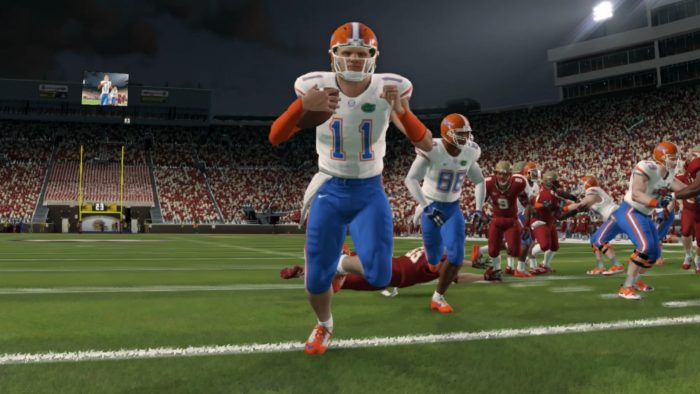 With week two set to kick off, the Cowboys are coming off their commanding win over Bowling Green, and a tough Big Ten challenge awaits in Texas. Vito Pipino still played effectively last week, but just wasn't able to pull in an early win for the Longhorns. Still, a conference game is a great opportunity to bounce back and put the Longhorns back in the win column.
As for the second game, SEC play is no trivial matter, and it's a rivalry to boot. The Seminoles have controlled the series, but these meetings have always been spectacular and down to the wire, single possession games, and tonight should be no less. Here's our picks:
David Ware's Predictions:
This is the first of what will be many huge division rivalry games. Houston Freeman is experienced and knows how to game plan. Texas who has lost three out of four games with all losses coming against Clemson. Texas is hungry to get a win and move forward from the series of games against Clemson. Oklahoma State looks to be high powered and they are fun to watch. I am giving Ok State the win.
Oklahoma State 35, Texas 31
Huge rivalry game that should not fail to entertain. Both teams started against MAC teams who were hungry and ready to prove a point. Both Florida teams had to work for wins in week one. This is going to be a very close game and I think it comes down to the defense. I am giving the secondary of Florida the slight edge in this game and feel they will seal the win.
Florida State 24, Florida 31
Leej17's Predictions:
Oklahoma State took care of business against Bowling Green last week. While Texas lost to a very tough Clemson team. Texas did show some bright spots though. Oliver Fields had four catches for 109 yards and three touchdowns. If Texas can find a way to get him more targets they will likely win this game.
Oklahoma State 31, Texas 35
Both of these teams started the year off strong with wins over MAC teams. Mathias St. John looked outstanding last week completing over 80 percent of his passes. This game will likely be close but I think Mathias St. John and the rest of the Florida offense will be able to take down Florida State.
Florida State 35, Florida 38
Houston Freeman's Predictions:
This is my personal game of the week, the good ole fashioned mentor-mentee matchup. Jooby vs OKST56 for the first time ever should be exciting as both teams feature high octane offensive potential. Oklahoma State took care of business against BGSU. Texas fought hard against Clemson and proved they're at least top four contenders in the league. I believe Oklahoma State will announce their arrival to the playoff picture with a shootout win.
Oklahoma State 48, Texas 45
Ho boy, our first battle of the season for the worst state in the Union starts with FSU trying to gain some momentum after their near upset by Toledo in week one. Florida showed they still have a strong offense As they put up 41 against Ball State. I think Florida will continue their trend of winning 3-4 straight out of the gate. Give me the Gators.
Florida State 24, Florida 32
AssuredFame's Predictions:
Texas comes into this matchup losing three of there last four matchups, all verse Clemson. Vito Pipino and crew played well in much of their week one game but fell just short in the fourth quarter while Oklahoma State handled Bowling Green State University soundly 38-15. Look for this one to be another shoot out, similar to the game Texas just played verse Clemson, with Lyle Fletcher of Oklahoma State and Vito Pipino of Texas both tossing four touchdown passes with Texas taking this one late.
Oklahoma State 41, Texas 45
Both of these teams come into Week two looking to show up and put on a better display on the field then they showed on Week one Both teams won their week one MAC matchups, but only by one score. quarterback Adonis Jackson of FSU showed up on the ground scoring two touchdowns, and passed it quite well completion percentage wise, but was not able to throw a passing touchdown against Toledo. Can quarterback Mathias St. John of UF get his run game or be forced into passing again? There are obviously two huge questions that need to be answered on the field for this. Look for UF to maximize their talent on defense and bottle up Jackson, as UF takes this one in a defensive battle.
Florida State 17, Florida 24
Tom Pence's Predictions:
Texas is coming off a tough loss to the National Champions and Oklahoma State won in week one. Look for Texas to rebound against the Cowboys this week on the arm of their gunslinging quarterback.
Oklahoma State 24, Texas 34
This game is always a great one, and there is no reason it won't be again this season. The Noles are coming off a close win in week one and Florida looked a lot more dominate in their week one outing. Throw that all out the window this is Florida State vs Florida, hold on to your popcorn.
Florida State 31, Florida 28
Jathan's Predictions:
Oklahoma State opened their CFSL career with an impressive win against Bowling Green. Lyle Fletcher has been one of my favorite Quarterbacks to watch this season, and I think he will have success against this Texas defense. It's hard to not take Vito and the Longhorns, but I think the Pokes get an upset here.
Oklahoma State 38, Texas 35
Neither team looked great in week one. When a MAC team plays a Team of this caliber, you expect a larger margin of victory. This will be a great matchup though, I don't see too much separation here. I think the winner of this game will be whoever wins the turnover battle. Florida turned the ball over four times last week, and FSU stayed turnover free. I'll take the Noles.
Florida State 35, Florida 23
Wookie's Predictions:
Oklahoma State ran right through BGSU and looked great doing it in their first ever game in the CFSL. Texas played a great game vs Clemson, and quarterback Vito Pipino is just continuing where he left off. Hook 'em, and give me Texas by 10.
Oklahoma State 28, Texas 38
Both teams had a scare in their own right against the MAC, but both are very talented teams.I feel like Vidar Lund will be the difference. I like Florida State by 10.
Florida State 31, Florida 21
The Verdict:
Another close call among our analysts, but the Longhorns are given the 4-3 edge by our writers. Many are expecting Texas to bounce back, and angrily against an Oklahoma State team looking to stay unbeaten.
The second game is equally as close among our writers, as the Gators and Seminoles square off once again, and our writers anticipate that Florida will finally be able to notch a win against the Seminoles for the first time in this series. Two exciting contests to kick off week two.