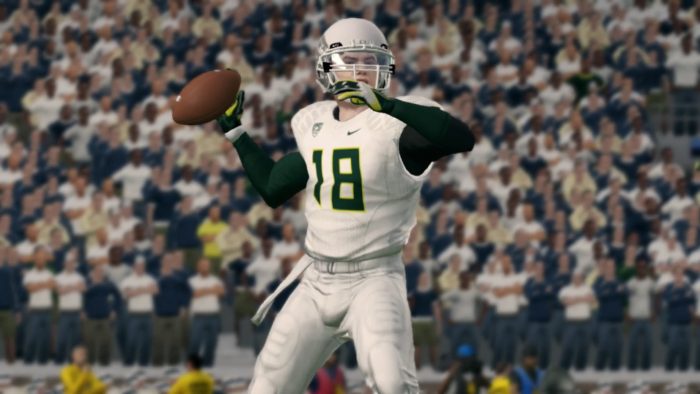 Two fun games to ring out Tuesday. Ball State and Toledo were the closest to an upset, and now they get to clash to see who will get their first win and improve to .500.
The second game is different. Eastern Michigan is wanting to bounce back in a big way, but Oregon is coming off a thrilling win in this same stadium against the Crimson Tide from a week ago, setting up for a fun night of CFSL action. Here's our picks:
Ball State vs. Toledo Preview
Finally, some MACtion. Namely, some MAC on MAC action. The two teams who came the closest to pulling an upset on a CFSL team a week ago take the field in the Tuesday opener as the Ball State Cardinals and the Toledo Rockets seek their first MAC win of the season. Toledo's Kenyon Milton and Ball State's Oliver Rolon should set up for an intriguing night, and the duel at tailback might be even better with Toledo's Adam Fuller having a massive performance a week ago and Thomas Gemkow looking to get in on those kind of numbers for Ball State tonight. As fun as it will be, the Rockets should be able to edge out Ball State.
Ball State 31, Toledo 34
OKST56's Predictions:
Oregon will continue proving they've righted their ship from a season ago with a convincing win over Eastern Michigan this week.
Eastern Michigan 30, Oregon 45
David Ware's Predictions:
EMU had a rough week one but has made several roster moves including adding quarterback Deandre Burks, the former USC quarterback. That will help make the offense very exciting to watch for sure. Oregon had a thriller win against Alabama in week one, and I expect them to continue the high power level of football this week.
Eastern Michigan 17, Oregon 42
Leej17's Predictions:
Oregon looked really good against Alabama last week, while Eastern Michigan struggled against Nebraska. While I think Eastern Michigan is a lot better than they played last week, they will still have a tough time facing this very talented Oregon squad.
Eastern Michigan 24, Oregon 42
AssuredFame's Predictions:
Eastern Michigan enters the second game of their entry into the CFSL and faces off against a red hot Oregon team rebounding off a game winning touchdown against Alabama. Eastern Michigan will put up a fight in this game, but look for Oregon to handle business in this one, winning from start to finish.
Eastern Michigan 14, Oregon 48
Jathan's Predictions:
Oregon won an exciting game against the Tide last week on a last second touchdown toss from Jefferson Allen. Eastern Michigan seems outmatched here, and I think they'll struggle to keep up with this fast Oregon offense.
Eastern Michigan 17, Oregon 47
Wookie's Predictions:
Oregon won in one of the most exciting finishes I've seen in the CFSL. The Longtree brothers all played great, and quarterback Jefferson Allen played lights out. I think EMU is in deep trouble and I expect a game similar to week one for them.
Eastern Michigan 3, Oregon 51
The Verdict:
Perhaps unsurprisingly, our writers are all-in on the Ducks tonight. Being at home against a team that gave up 76 a week ago will do that.