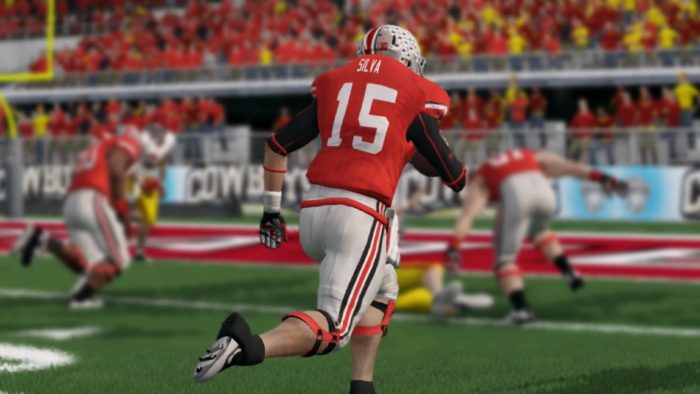 Thursday night is a tripleheader full of the MAC trying to bring down CFSL teams tonight! The clash of the state of Ohio, followed by the Falcons and the Trojans in the Coliseum, and then finally the Huskies and the Aggies in a wild battle.
Houston Freeman's Predictions:
Ohio State looks like they've got a good team put together, but the triple option attack was too much for them. Things should be simpler this week as they play Ohio, but I expect the bobcats to keep it competitive.
Ohio State 35, Ohio 24
USC proved the triple option can work and be strong against CFSL teams with a strong stable of running backs. I believe USC will will continue their success this week against BGSU, but this one may be a tough win.
Bowing Green 28, USC 32
Texas A&M fought hard against LSU but couldn't prevail for the win. NIU threw together a last minute game plan with a new fresh QB1 and didn't have much success. I think both teams make efforts to head in the right direction this week but A&M will win big.
Northern Illinois 35, Texas A&M 52
David Ware's Predictions:
Ktownchaos gets the opportunity to match up against his CFSL team and it should be fun to watch. If anyone knows how to game plan against Ohio, it is him. I expect Legion to come back after a tough loss in the Stern bowl. Ohio has continually added new pieces and I expect to compete in this game. Very hard game to pick just because of the familiarity, I have to give Ohio State the win.
Ohio State 28, Ohio 21
Triple option game number two will be fun to watch. Bowling Green does have one of the deepest rosters in MAC, but I don't think they have the speed to stop the USC offense. I think Bowling Green will stay close in the game but in the 4th quarter I think USC runs away. USC 51-21
Bowling Green 21, USC 51
Texas A&M suffered a very tough loss to LSU in week one. NIU also suffered a loss to Auburn so both teams are looking for first win and have a purpose, this should be a fun game to watch. I do feel at the end of the day the talent is stronger for A&M and ultimately I think that will give them the win. I do feel NIU will be in it all the way to the end and will have a shot at winning. Give me A&M 42-35
Northern Illinois 35, Texas A&M 42
Leej17's Predictions:
Ohio State is coming off a tough loss to USC last week. This week they are facing an Ohio team that seems to be adding talent every minute. Ohio had a hard time stopping the run last week and if that is the case this week they will struggle as Ohio State's Manuel Silva will punish you if you give him too much room to run.
Ohio State 42, Ohio 30
The triple option worked very well for USC last week. While the very talented MAC squad of Bowling Green did not quite live up to expectations. I think that Thrasher Banes, Kolby Kichler, and Kace Blazer will have monster games once again and be too much for Bowling Green to handle.
Bowling Green 30, USC 42
Texas A&M is coming off a heart breaking loss last week. While NIU couldn't seem to find a grove last week against Auburn. Texas A&M is swarming with talent on both sides of the ball. So I don't see them repeating what happened last week.
Northern Illinois 21, Texas A&M 34
AssuredFame's Predictions:
Ohio looked respectful and kept it close against Michigan last week behind the arm of number one overall recruit of this year's class, Ronnie Blevins. Enter Ohio State, who allowed under 100 yards passing vs USC, but allowed nearly 500 yards rushing. They are definitely going to come into this game with a chip on their shoulder as they started off the season ranked third. Look for Ohio State's offense to keep playing well, while their secondary continues to shutdown the opposing wide receivers allowing Michael Kruger and Kolten Allen to get back on track this week against the Ohio Bobcats pass heavy offense.
Ohio State 38, Ohio 17
Is the triple option really a thing that is going to work!? USC had almost 500 yards rushing last week in this unique offense. Enter BGSU, who many have touted as one of the best MAC teams and one who can possibly spoil a big school's season. Oh, and they are getting a few guys back from suspension. Look for this one to stay close but for USC to take this one late as the White Wold Thrasher Banes and co break a few long runs to seal the win.
Bowling Green 17, USC 27
Rumor has it that NIU is a QB away from really being a great challenge in the CFSL, but until that happens they will continue to struggle on offense as a pissed off Texas A&M comes into this one rumbling over their heart breaking loss to LSU last week. Look for Jimi Germaine to air it out to Dion Hawkins and the rest of his toys, vs NIU and lead them to victory.
Northern Illinois 17, Texas A&M 38
Jathan's Predictions:
Ohio State lost a great tough game against the Trojans last week, but I'm still really impressed with their roster and scheme as a whole. Ohio is performing well, but the talent outmatch is severely obvious here. I expect to see the Buckeyes get Silva going on the ground to wear out this defense.
Ohio State 56, Ohio 20
Both teams looked exciting in week one, but Bowling Green came out with a loss to a great Oklahoma State team. In spite of the loss, I think Bowling Green is a very well put together team. I think they will keep this game very close, but I think the triple option of the Trojans will prove to be a little too much for the Falcons to handle.
Bowling Green 38, USC 42
I feel bad for NIU. They're playing another great team here, just a week after facing Auburn. That Texas A&M defense is scary, and I think they will be the difference here. Germaine will have a great game, NIU will struggle to put up points early, and it will lead to a hefty win for the Aggies.
Northern Illinois 14, Texas A&M 49
Wookie's Predictions:
The Buckeyes were caught way off guard against the triple option attack, but in all fairness I think a lot of teams will be. The Bobcats looked good against Michigan, but they were worn out by the second half. More of the same for Ohio Bobcats.
Ohio State 45, Ohio 28
BGSU played a great game and they have as much talent as most CFSL teams, they're looking to get it right this week. But speed kills and I think USC takes this game by 10
Bowling Green 28, USC 38
Texas A&M is arguably the most talented team in the CFSL and they're coming off a heart breaking loss to LSU. They're gonna look to right that wrong at home. Northern Illinois couldn't get anything to fall in their favor at home against Auburn, however the defense did secure six sacks. Give me the Huskies by 3
Northern Illinois 48, Texas A&M 45
The Verdict:
We've got two unanimous pulls from our writers as they're all going with the Buckeyes and the Trojans to take care of business tonight. As for our final game, there's a lone wolf on the premises, but the Aggies are favored to defend College Station against the visiting Aggies.