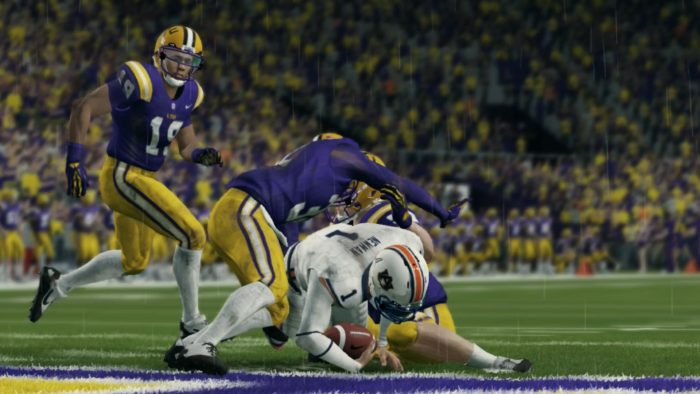 Week two is about to come to an close, but before we can do so, there's two major conference clashes that need to be fleshed out. Michigan and Notre Dame, a fantastic rivalry and one that spans into its ninth meeting tonight. The duel of Tanner Jones and Dior Chapman against Tyler Stemen and Kaiden Saint III will be something to watch for sure.
The second conference clash is down south, and it's our first Tiger Bowl of the season. LSU's pair of Youngbloods are feeling good after pulling off the largest comeback in CFSL history, the prior largest of which was pulled off in a different Tiger Bowl against Auburn several seasons ago. Auburn and their Newman Machine are determined not to let that happen again, but this showdown should be as exciting as it can get! Here's our writers:
Houston Freeman's Predictions:
Michigan starts 1-0 with a solid win over Ohio. Michigan is a team that has struggled in recent history, but has begun on the right foot. Notre Dame looks like they're right up near the top of the Big 10 race again after dropping a 47 bomb on Miami last week. Give me the Irish in convincing fashion.
Michigan 28, Notre Dame 42
Auburn looked dominant as they returned to form against Northern Illinois this past week. LSU seems to have gotten some momentum heading forward as well as they handed Texas A&M their first loss of the season. I expect Auburn to continue to be a strong contender in the SEC this week, but it'll be much closer than last week's blow out.
LSU 28, Auburn 35
David Ware's Predictions:
Michigan is back? We may be seeing the resurgence of Michigan after a good week one performance. It will be exciting to see how they do against Notre Dame, who had a monster first week against Miami. They are showing no signs of letting up, and I think they will be hard to deal with this season. Michigan quarterback Tanner Jones seems to be a great game manager and should help his team, while Notre Dame quarterback Stemen looks like he will be a highlight reel.
Michigan 21, Notre Dame 35
LSU started out against Texas A&M and completed the largest comeback in CFSL history with late game heroics by the Youngbloods'. This week, they are rewarded with facing another division rival who is on a roll as well. Auburn travels to Death Valley ready to show the league they are for real. LSU has been fortunate both of these games have been at home, but I don't see magic happening two times in a row. Give me Auburn with the win.
LSU 35, Auburn 38
Leej17's Predictions:
Notre Dame didn't seem to miss a beat last week with their new quarterback Tyler Stemen at the reigns of the Fighting Irish offense. Michigan seemed to be firing on all cylinders as well on offense as they had two players with over 100 rushing yards. I would expect this to be a tough fought game, but I think Notre Dame will find a way to bring home the win.
Michigan 31, Notre Dame 38
LSU is coming off an amazing 25 point comeback last week. Both of these teams showed that they did not enjoy missing the playoffs last season. I would expect this to be a close game that may even come down to the last possession, but in the end I think Ron Newman and the Auburn Tigers will pull this one off.
LSU 21, Auburn 24
AssuredFame's Predictions:
This is my pick for game of the week as Michigan and Notre Dame both come into this week cruising in from their wins in week one. Notre Dame with a win over Miami and Michigan over Ohio University respectively. Notre Dame looked DOMINANT on defense, not letting Miami get any momentum. Look for that to continue this week as Michigan struggles to get it going on offense as well but keeps it close with their own tough defense.
Michigan 21, Notre Dame 27
Auburn, lead by Ron Newman and a stout defense, handily defeated Northern Illinois 44-10 last week, while LSU has a lot of momentum as they came back from a 25 point deficit to defeat Texas A&M 35-34 in one of the most thrilling games of the week, possibly the whole year. Look for LSU's defense and the Youngblood duo to shown up early and often to slow down Auburn and the brrrr machine as they take this week two matchup in a close SEC matchup.
LSU 34, Auburn 28
Jathan's Predictions:
I was really impressed with Notre Dame in their opener against the Canes. They completely shut down Miami on both sides of the ball. This one won't be as easy, but I still think Notre Dame is one of the best all around teams in the league this year. I like the Irish in this matchup.
Michigan 13, Notre Dame 35
This game gets me really excited. That great LSU defense against a Newman led Auburn offense spells a great game on paper. Both teams are 1-0, but LSU made a historic comeback against a great Texas A&M team last week, and that win said a lot so I think they'll get it done again in this one.
LSU 45, Auburn 40
Wookie's Predictions:
Michigan's offense looked electric in their win versus Ohio. Tanner Jones showed what he could do in the right system and that's scary. Notre Dame played lights out against Miami and hasn't lost a step after losing Leo Asiata. Give me the Irish by 10.
Michigan 35, Notre Dame 45
Auburn absolutely throttled Northern Illinois and their talented squad. Auburn looks like a team on a mission, and that should terrify any team. LSU came back from 25 and pulled the biggest comeback in the history of the league against Texas A&M, however, I just don't think they'll be able to do that against the most experienced AD in the league. Give me Auburn by six.
LSU 28, Auburn 34
The Verdict:
Buckle up, because in our first game tonight, we have a unanimous pull from our writers, with each of them going with the hometown Irish to defend South Bend and their home turf. While some believe last week's Notre Dame will continue to be clicking, nothing is ever for certain when it comes to these Wolverines, who have stunned the Fighting Irish once before.
As for the first Tiger Bowl of the season, we're closer to an even split, but our writers seem to favor the hometown kids again. This time, being the Tiger Bowl. It's 4-2, but it's in the favor of the Auburn-brand Tigers.