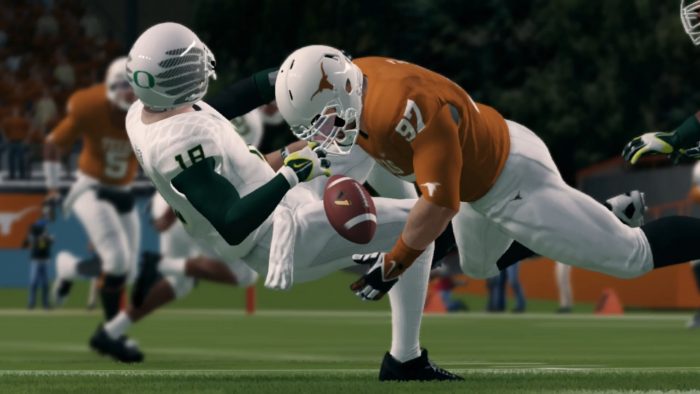 Week three is here, and with it, the potential for more chaos among the CFSL. The winless Texas Longhorns (who could have guessed that) try to shake up the Big Ten by knocking off the unbeaten Oregon Ducks tonight. Nebraska looks to do the same by bringing down the USC Trojans in the Coliseum tonight.
Houston Freeman's Predictions:
Texas has begun the season on a rough start, with close losses to Clemson and Oklahoma State. However, they are far from being dropped from the Big 10 race as it is only week three. Oregon proved they could put up big time points last week against EMU and should be feared going forward. This is a tough game, but Texas has shown that they can hang with high octane offenses themselves. If the Longhorns can get a couple stops, they'll win this one.
Texas 42, Oregon 35
Nebraska did not look like the same Huskers team we saw in week one as they got pummeled by Miami in week two. Meanwhile, USC and the Flexbone continue to roll as they pulled off a wild win in Bowling Green last week. With momentum behind them, and a seemingly unstoppable offense, USC gets the nod from me yet again.
Nebraska 32, USC 35
David Ware's Predictions:
Definitely a great game to kick off week three as we have Oregon trying to prove they are who everyone thought they were last season, and Texas who is trying to rebound after two very tough games. Texas is currently 0-2, but only a few plays away from 2-0, while Oregon is sitting at 2-0. This will be a battle and will be fun to watch. I don't see Texas going 0-3 after such a great run, so I give them the victory in overtime!
Texas 38, Oregon 35
Both teams coming in with some improvements to make as week two was rough for Nebraska and USC, who barely held on against BGSU in overtime. Nebraska's defense is strong, but will they be fast enough to stop the speedsters of USC and the triple option? Can USC get back to firing on all cylinders this week? And which Nebraska shows up; week one dominant Nebraska or week two sputtering Nebraska? USC has been a little more consistent so I give them the win.
Nebraska 28, USC 35
Leej17's Predictions:
Texas has had a rough start to the season, while Oregon has started the season off strong. I think these are two pretty evenly matched teams, so this game should be a good one to watch. I do believe Oregon has enough talent to beat Texas, I just have a hard time seeing Texas losing three straight.
Texas 38, Oregon 35
Nebraska is coming off a tough loss to Miami, while USC is coming off an overtime win against Bowling Green. USC seems to be one of those team that finds a way to win. The triple option has been working really well for them this season, and I don't see that changing this week.
Nebraska 27, USC 31
Squidy's Predictions:
Week three opens with an interesting game. We have an Oregon team who is 2-0 and a Texas team who is 0-2. I think Texas will get some momentum early here and we will see some magic out of Vito Pipino. If Oregon wants to win, Jefferson Allen will have to be on his game. I like Texas in this one. Give me the Horns by 14.
Texas 47, Oregon 33
The Triple Option has been working like magic up to this point. USC has scored over 40 points in both of their games so far, and it seems like they may not be able to be stopped, but I think the Nebraska defense will be able to contain it. This game will be determined by whether USC can get the option going or not. If they can they may walk to 3-0, but if not they will be in trouble. Give me USC by seven.
Nebraska 31, USC 38
AssuredFame's Predictions:
We've got a very hot team in Oregon who started off 2-0 going against an 0-2 Texas team who has lost to very respectable teams. It's desperation time for Texas and I believe that will show on the field in a close shootout game as the Longhorns win!
Texas 44, Oregon 38
Which Nebraska team are we going to see? The team in week one that played lights out and had Courtney Harris win player of the week, or the team in week two that barely showed up against Miami in a loss in week two? Nonetheless, enter USC and their high powered offense coming off a close overtime win over Bowling Green. I think this is going to be closer than many expect as Nebraska will show up with a better game plan, but USC still takes this and the galore of the triple option lives on.
Nebraska 27, USC 38
Grin311's Predictions:
The 2-0 Ducks face an 0-2 Longhorn team who need a victory this week. Look for Texas to try and slow down the high flying offense of Oregon, which is not an easy task. This could end up being the high scoring shootout, but in the end I think Oregon will end up being just a little to much and slip by the boys from Austin.
Texas 34, Oregon 48
USC wants to stay unbeaten against Nebraska, but the Huskers will look to play spoiler in matchup that should be a must watch game. I like the Huskers in this one in a classic back and forth.
Nebraska 31, USC 28
Jathan's Predictions:
This is a tough call. Texas is winless so far this season, but they've faced great competition through the first two weeks. Oregon on the other hand is undefeated through two weeks. I think either team could win, but I'm gonna go with the speed and talented secondary of the Ducks.
Texas 35, Oregon 42
This game produces one of the more interesting matchups in weeks two, with the fast triple option of the Trojans against a fast and talented Nebraska defense. Both teams come in needing a conference victory, and this game will have major playoff implications. In my opinion, this will be the best defense the Trojans have faced so far and I'll be excited to see how Thrasher Banes steps up. I'll take the Trojans.
Nebraska 24, USC 35
jbayse1's Predictions:
Texas comes into this game sitting at 0-2 after facing what may have been the toughest opening two games this season. Vito Pipino has thrown for 683 yards and added five touchdowns this season. Oregon quarterback Jefferson Allen however had 515 Yards and nine passing touchdowns last week alone. Do not expect a repeat this week as the Longhorn's defense is miles ahead of the Eastern Michigan squad. Look for this game to be a close one with Oregon moving to 3-0 on the season.
Texas 37, Oregon 42
USC comes into week three after needing extra time to put away Bowling Green last week. Thrasher Banes leads this team with 292 yards on the ground supported by Kolby Kichler with 226 Yards. It will be important for Nebraska to remember as strong as USC is on the ground, they are highly efficient in the air as well. Banes has only tossed the ball 29 times this season but has completed 18 times and added five touchdowns to only one interception. If the Nebraska secondary of Schillzzi, Tate, and Potter can stay home on the play action and disrupt this triple option then I believe they can pull out the win.
Nebraska 41, USC 36
The Verdict:
Two Big Ten matchups tonight, the first of which sees most of our writers expecting the Texas Longhorns to claim their first win of the season, in a 5-3 showing by our writers.
As for the second contest, USC is coming off a week where they avoided the upset against BGSU. But, despite the near upset, our writers believe the Trojans will be able to conquer a Nebraska team that looked very different a week ago than they did in week one. With the uncertainty, the Trojans are favored 6-2 over the Cornhuskers tonight.