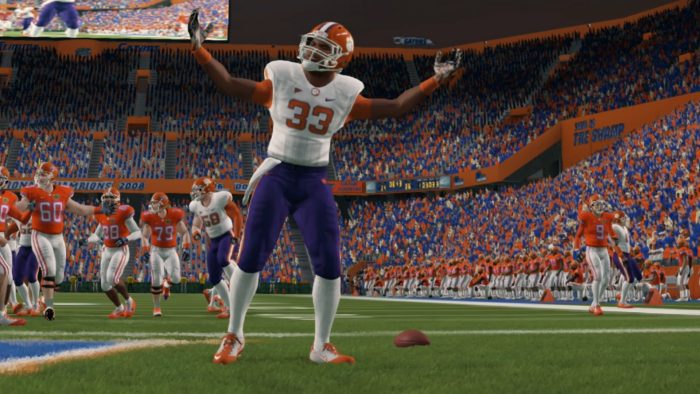 We're only two weeks in, but in those two weeks a few obvious points we've learned a good bit about the CFSL teams. Inconsistencies hurt, and consistent play is rewarded.
1. (NC) Clemson Tigers (2-0) (192)
Last Week – W vs. Alabama 34-20
This Week – @ Notre Dame 10/6/2020 7:30 PM CST
In this week's power rankings, Clemson remains at number one. Clemson showed a championship heart this past week after being down going into the fourth quarter and rallying to score fifteen unanswered points against Alabama. They look to continue their winning ways against a season eight playoff team Notre Dame.
2. (NC) USC Trojans (2-0) (170)
Last Week – W vs. Bowling Green 55-42
This Week – vs. Nebraska 10/5/2020 8:45 PM CST
USC comes in a number two. USC was in a dog fight and came back to win in overtime against Bowling Green, and they showed a lot of heart in that comeback victory. They look to remain undefeated as they play against conference foe Nebraska this week.
3.
+2

LSU Tigers (2-0) (152)

Last Week – W @ Auburn 24-19

This Week – vs. Toledo 10/7/2020 7:30 PM CST

LSU comes in at number three. They made a strong statement by beating Auburn and their veteran AD. They were able to hold on as Auburn tried to mount a comeback, but inevitably couldn't pull it off. They look to remain undefeated as they play their first MAC team in Toledo.
4.
+5

Oklahoma State Cowboys (2-0) (150)

Last Week – W @ Texas 48-45

This Week – vs. Michigan 10/8/2020 9:00 PM CST

Oklahoma State sits a number four. They had a very impressive win against the defending conference champions and national championship runner-up Texas Longhorns. Oklahoma State is proving they are a team to be reckoned with. They look to remain undefeated as they play Michigan this week.
5.
+3

Oregon Ducks (2-0) (136)

Last Week – W vs. EMU 87-31

This Week – vs. Texas 10/5/2020 7:00 PM CST

Oregon put up historic numbers this week against MAC opponent, Eastern Michigan. The ducks came in strong, putting up 87 points on offense. This is a new CFSL record, and showcases what this explosive offense can do to a roster with less depth. The ducks are undefeated through two weeks because of their defensive playmakers and their offensive speed. Their competition will get tougher, but they have more than impressed thus far. They come in at number five.
6.
+8

Michigan Wolverines (2-0) (118)

Last Week – W @ Notre Dame 30-27

This Week – @Oklahoma State 10/8/2020 9:00 PM CST

Michigan beat a very tough Notre Dame team last week. Middle-linebacker, Cletus Castle, showed his determination to help his team win by playing on both sides of the ball. Kicker Cassius Castle is this game's hero for Michigan as he kicked the game winning field goal in the 4th to win it!
7. (NC) Ohio State Buckeyes (1-1) (117)
Last Week – W @ Ohio 48-30
This Week – vs. Florida State 10/7/2020 9:00 PM CST
Ohio State was able to beat their in-state competition, however, OSU's defense allowed 30 points from a smaller program. Ohio beat OSU in nearly every statistical category this week including total offense, passing, third down percentage, and total time of possession. This week they have Florida State coming to town, they will have to really make some adjustments.
8.
+3

Florida Gators (2-0) (103)

Last Week – W vs. FSU 48-43

This Week – @ Auburn 10/8/2020 7:30 PM CST

Florida came out and handled business against their in state rival Florida State in a shootout 48-45. Quarterback Mathias St. John led the way for the Gators, passing for 481 yards and five touchdowns. You have to wonder with slim victories in both games so far, is this UF team for real? Can their defense show up when it matters? Hopefully we'll find out next week as they face off against Ron Newman and Auburn.
9.
-4

Auburn Tigers (1-1) (96)

Last Week – L vs. LSU 19-24

This Week – vs. Florida 10/8/2020 7:30 PM CST

It seemed LSU had an answer for everything Auburn tried. Running back Loki Lawler only managed a measly 53 yards. The entire team was able to muster 65 total rushing yards. Next week Auburn faces an undefeated Florida team who is looking to chomp them up. Pack and his coaching staff will need to refocus to win this week.
10.
-7

Notre Dame Fighting Irish (1-1) (88)

Last Week – L vs. Michigan 27-30

This Week – vs. Clemson 10/6/2020 7:30 PM CST

Notre Dame came storming out of the gates with a very impressive win over Miami in week one and looked to turn that momentum into week two. Unfortunately, Notre Dame couldn't get into a groove on offense as Michigan played the time of possession game beating Notre Dame 30-27. While a loss stings, there are still many games from the Irish to fight back.
11.
+5

Miami Hurricanes (1-1) (83)

Last Week – W vs. Nebraska 51-24

This Week – vs. Texas A&M 10/6/2020 9:00 PM CST

Miami seemed like a completely new team this week. Last week, Miami seemed unprepared, but this game was muchh better. Defensively the Hurricanes weren't perfect, but they seemed much improved as a unit. The Canes offense feasted on the Nebraska defense with three touchdowns coming on the ground. The Canes still have much to improve, but they rise all the way to number 11 in this week's ranks.
12. (NC) Texas A&M (1-1) (64)
Last Week – W. vs. Northern Illinois 31-19
This Week – @ Miami 10/6/2020 9:00 PM CST
Beating one of the better MAC programs should feel a lot better than this did. A&M was only able to put 39 yards down on the ground. A&M came into this game using it as a warm up for next week's match up against a very tough Miami squad. A&M allowed 373 passing yards from a team that doesn't have nearly the talent that Miami does.
13.
-9

Texas Longhorns (0-2) (57)

Last Week – L vs. Oklahoma State 45-48

This Week – @ Oregon 10/5/2020 7:00 PM CST

Texas lost yet again in another close game to a worthy opponent in Oklahoma State. There is no debate about Pipino and the offense showing up as he had four total touchdowns in this three point loss, but their defense is a cause for concern. Can Pipino erase everyone's concern with this defense? We have yet to see so far.
14.
-1

Florida State Seminoles (1-1) (44)

Last Week – L @ Florida 43-48

This Week– @ Ohio State 10/6/2020 9:00 PM CST

The Seminoles played their first big game of the year this week, falling just short to the rival Florida Gators. The Seminoles barely pulled out a win against Toledo in week one, and were unable to get the big win this week. The Noles became one dimensional, only being able to run the ball. This hurt them late against the Gators. This team has plenty of weapons, but they need to improve defensively if they hope to make a playoff push later this season.
15.
-1

Alabama Crimson Tide (0-2) (40)

Last Week – L @ Clemson 20-34

This Week – vs. Ball State 10/6/2020 6:00 PM CST

You have to give props to Alabama as they were very much in the thick of things in both games they have played so far, but they have both ended up in losses. They will need to get running back Jake Moon going to reverse the course before it is too late as Clemson limited him to 54 yards last week. They have Ball State coming to town and should be able to notch the first win for new AD David Ware.
16.
-10

Nebraska Cornhuskers (1-1) (18)

Last Week – L @ Miami 24-51

This Week – @ USC 10/5/2020 8:45 PM CST

Nebraska's week one performance seems way less impressive after witnessing what the Ducks did to that same EMU team. Add that to a lackluster performance this past week against Miami, and the Cornhuskers are falling in the rankings this week. Giving up 51 points is unacceptable, especially with the talent this team has on defense. Nebraska needs to improve badly, so they sit at the bottom for now.