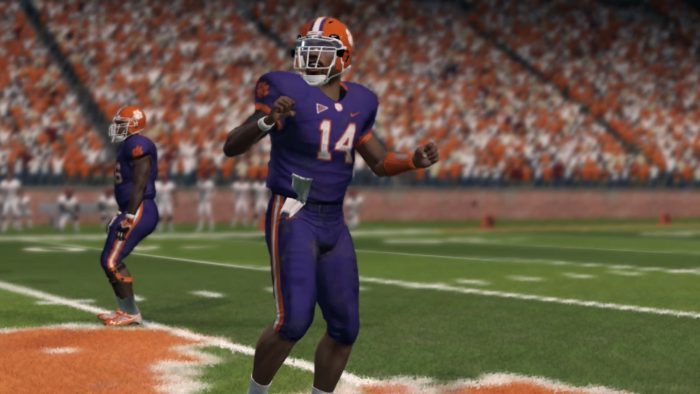 A CFSL tripleheader that has a little bit of everything for the CFSL fan. Ball State trying to defeat Alabama in the hopes of a MAC team being able to upset a CFSL team. Clemson taking on Notre Dame in a rematch of the season four Orange Bowl and the Irish hoping to defeat the Clemson Tigers for the first time in their shared history. And finally an SEC clash between the Miami Hurricanes and the Texas A&M Aggies. A lot on tap for you here tonight, and here are our writers with their picks.
Houston Freeman's Predictions:
Ball State sits at 0-2, but so does Alabama. After a tough loss to Oregon in week one, Bama was able to hang tough for a solid 3.893 quarters against the defending champs before Clemson was able to pull away. I believe this moral victory will give Bama the momentum they need to put away Ball State.
Ball State 28, Alabama 38
Clemson put up 34 against Bama last week, but man did that offense look off. Something about Bama must have thrown off the mojo. Notre Dame took a stumble against Michigan, but I believe they will still compete for the Big 10 title in the long run. Will Slay needs to have a big game and likely needs to outscore the Notre Dame offense on his own.
Clemson 45, Notre Dame 40
Texas A&M will look to grab their first SEC victory after a heartbreaking 34-35 loss to LSU in their first attempt. Miami bounced back in a big way dropping a big 51 point bomb on Nebraska last week. I like both teams this season, especially after Miami's bounce back win, however, something tells me Jimi Germaine and company will get their first CFSL victory this week.
Texas A&M 31, Miami 24
David Ware's Predictions:
Talk about heartbreak! Both of these teams have had some hard to swallow games as Ball State barely lost to Toledo in week two with a close game in week one against Florida. Alabama has had both of their games end in heartbreaking fashion, a Hail Mary to end the week one game against Oregon, and a heavy weight fight against Clemson in week two. Alabama is much like Texas being just a few plays from being 2-0 instead of 0-2. If Alabama brings the same fire they brought against Clemson, they will secure their first win of the season 35-20
Ball State 20, Alabama 35
Clemson has continued their amazing run in the CFSL, finding ways to win each week. Notre Dame is coming off a disappointing week as they were upset by Michigan. Notre Dame has been great at rebounding from adversity, so it will be exciting to see them match up against Clemson. If their freshman quarterback can go without making mistakes Notre Dame can pull the upset off.
Clemson 24, Notre Dame 28
Both teams come into the game at 1-1, as Miami had a huge bounce back game in week two again Nebraska. They were in control most of the game unlike week one against Notre Dame. A&M bounces back in week two after their heartbreaking loss in week one against LSU, as they seemed to handle NIU pretty well in week two. Both of these teams are looking for their first conference win of the season and it will definitely be a heavy weight battle. This game can go either way, it will be who makes the least amount of mistakes. I'll take Miami pulling close game 31-28
Texas A&M 28, Miami 31
Leej17's Predictions:
Ball State is coming off a heart breaking loss to Toledo last week. Alabama has been in every game this season and is a much better team than their record shows right now. I think Doug Day will have a really big game against this Ball State defense. Alabama will get their first win tonight.
Ball State 24, Alabama 38
Notre Dame looked really good in week one, but they seemed to lose a step last week. This week they are playing a very tough Clemson team. Will Slay and the Clemson offense will have to have a good game because Notre Dame always finds a way to put up points.
Clemson 42, Notre Dame 38
Miami is coming off at 27 point victory last week against Nebraska where they looked very strong on both sides of the ball. While I think Texas A&M has a ton of talent, I don't see them winning the game unless they can get Tye Dixon more involved in their offense.
Texas A&M 31, Miami 38
Squidy's Predictions:
This game will be a lot like the Florida versus Ball State game we saw earlier. I think Ball State can keep it close, but don't have the power to take the win. Expect Doug Day and Joe Idol to have a lot of connections in this one. Give me Bama by 10.
Ball State 21, Alabama 31
Notre Dame has a very tough matchup coming up after a tough loss to Michigan. I predict to see a close game until the end where Clemson will close it up and finish. Give me the Tigers by 14.
Clemson 45, Notre Dame 31
This is my sleeper game for the week. Possible playoff implications and two offenses who can flip a switch and put up points if needed. Blaze Gunner is the key player in this game as it seems when he is on, the Miami offense is on. I think both offenses show up and we see a shootout. Give me A&M by 7.
Texas A&M 56, Miami 49
AssuredFame's Predictions:
Both of these teams come into the game at 0-2, BUT both losses were close for each team. Will Alabama get over the hump and start winning against the MAC, or will the MAC finally get a win over the power teams? I think Bama takes this one behind a strong showing from quarterback Doug Day and the N.W.O. boys on offense.
Ball State 24 Alabama 38
Undisputed number one ranked Clemson comes into this game riding high, looking for any bulletin board material to use to stay motivated! Enter the Fighting Irish who is another team that we are not too sure about. They played lights out week one in their win over Miami, but lost by a field goal to Michigan. Is that more of a testament to Michigan and how they are playing, or is Notre Dame a team to worry about? I think we'll see a great showing from the Irish this week as teams have shown they are able to pass somewhat well against the Clemson Tigers, but Clemson will take this one bending the arm of quarterback Will Slay.
Clemson 45, Notre Dame 31
The tale of two very respected 1-1 teams. A&M showed up and showed out against NIU in week two following their heartbreaking loss in week one to LSU, and Miami did a very similar thing as they defeated a very heavily favored Nebraska ream in week two following a hard loss in week one to Notre Dame. Which version of these two teams will we see? I expect a defensive battle here with A&M taking it with a last minute touchdown.
Texas A&M 35, Miami 31
Grin311's Predictions:
The road doesn't get any easier for Ball State as they face off against a Bama team that are looking for their first win of the season. Bama's defense should be feasting in this one.
Ball State 17, Alabama 31
The Tigers are still on a roll that started last season, and the Irish are their next target. With that, Notre Dame is no pushover, and this is my upset of the week.
Clemson 28, Notre Dame 31
Both of these teams are coming off big wins last week, so this game not only should be fun, but also has a lot at stake. I'm taking the boys from Texas as they edge out Miami.
Texas A&M 28, Miami 24
Jathan's Predictions:
Alabama comes in desperately needing a win. They played tough competition through two weeks, but they definitely have the talent advantage here. Ball State has impressed though. The Cardinals have recruited well and kept their week one game close against Florida. I like what the Cardinals are doing, but I think the Tide wins on the shoulders of a great offensive performance. Give me Doug Day and the N.W.O.
Ball State 23, Alabama 59
The defending national champions have been exactly what we expected them to be so far this season. They've been well rounded, and have started the year 2-0. Notre Dame is at an even 1-1, coming off the heels of a loss to Michigan. I really like Notre Dame, and I think Tyler Stemen's best days are ahead of him, but I can't possibly bet against the Tigers.
Clemson 45, Notre Dame 40
Both teams sit at 1-1 going into this matchup. The Texas A&M defense is full of playmakers such as Mears and Peters, who lead a great group, and I think they matchup well against the Hurricanes. Richardson and the Canes offense really turned it around this past week against Nebraska, but I really think Texas A&M gets this one done.
Texas A&M 35, Miami 20
Jbayse1's Predictions:
Ball State and Alabama both come into week tree searching for their first win of the season. Doug Day has had some issues protecting the football tossing four interceptions to only three touchdowns. If they want to win this one, they will have to overcome said turnover issues versus a Ball State team that has forced six turnovers this season. Look for Day to begin to establish a rapport with Joe Idol and Zach Stone to get that elusive first win.
Ball State 24, Alabama 35
Clemson looks every bit the part of a team determined to become the first to win consecutive CFSL Championships. Will Slay has passed for 577 Yards with four touchdowns to no interceptions. His top target has been Dorian Chase Miller, who is currently averaging 16.6 Yards per catch. Bubba Bertier is going to have the touch assignment this week and will need help from the rest of the Notre Dame defense if they want to pull this one off. Clemson continues their reign of terror in week three.
Clemson 39, Notre Dame 21
Texas A&M has one of, if not the, most explosive offense in the CFSL. Jimi Germaine has over 700 Yards with Tye Dixon adding 142 and three touchdowns on the ground. Axton Richardson is equally strong as a quarterback with 656 Yards this season after quickly establishing a strong connection with Blaze Gunner. I give Miami the advantage due to the ball hawking combo of Perry Pennel and Isaac Krout patrolling the back of the defense.
Texas A&M 31, Miami 34
The Verdict:
Despite how close Ball State came in week one to knocking off Florida in the upset, and how close Bowling Green came a week ago against USC, our writers firmly belief that if an upset occurs this season, it won't be tonight. They've unanimously selected Alabama to get the win in Tuscaloosa this evening.
As for the second game, there's some disagreement, but the majority expect Clemson to retain their throne. The Tigers have been favored 6-2 by our writers tonight over the Fighting Irish.
The nightcap saw slightly more disagreement, but disagreement nonetheless, with the Aggies being given a 5-3 nod by our writers, but all expect a close game and a high scoring one at that.