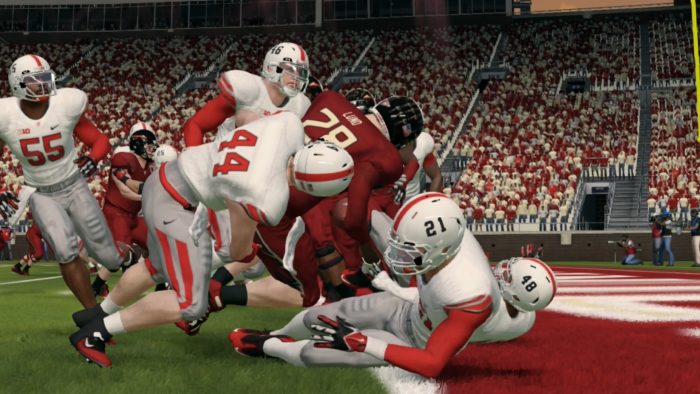 Another CFSL tripleheader for your viewing pleasure, with full Bowling Green team taking the road to face an Eastern Michigan team that has added players since last week. Following is the final chance for a MAC team to pull off an upset with Toledo marching into Death Valley tonight. And then finally a non-conference clash between the Seminoles of Florida State and the Buckeyes of Ohio State in what should be a fantastic night of football.
Bowling Green vs. Eastern Michigan Preview
With the Falcons coming close to an upset against USC last week, and Eastern Michigan still working to find their legs, I'm sure fans have a certain perception surrounding this game. That's all well and good, but this is not the same Eastern Michigan team you saw a week ago. They've added talent across the board, in the hopes that quarterback Deandre Burks can get settled in and guide this team to an upset within the MAC, as both teams seek their first win of the season. With the added talent, I believe we'll see a close game, but believe Bowling Green should take care of business by 10. Now for the rest of our picks.
Bowling Green 38, Eastern Michigan 28
Houston Freeman's Predictions:
LSU has shown they are gunning for the top spot in the SEC by starting strong with wins over Auburn and Texas A&M, but now they have the tall task of beating perhaps the strongest MAC team Toledo, who grabbed their first win against Ball State last week. LSU should win in convincing fashion, should their offense be locked in.
Toledo 21, LSU 32
Florida State fought Florida tooth and nail last week, but just couldn't come away with the win. Meanwhile, Ohio State has struggled to find their stride defensively as they've given up 75 in two games. Both offenses seem to be humming pretty well, so we might see another shoot out in this one. Give me the Noles in a close one.
Florida State 44, Ohio State 43
David Ware's Predictions:
Toledo, who has been really impressive in their first two games, is matching up against a very dominant LSU team. On paper they look outmatched, but Toledo always finds a way to rise to the occasion, and I expect them to do it again. LSU, who had the largest comeback in league history in week one, will be ready for whatever Toledo brings and will close out this game 31-17
Toledo 17, LSU 31
Two big time programs matching up in a non conference game, and it will be fun to watch. Both teams are currently 1-1 and have a lot to prove to the league. They have shown flashes of great play, but have room to get better. The key will be making the other team make mistakes and capitalizing on them. Give me Ohio State with the win as they outlast FSU.
Florida State 28, Ohio State 31
Leej17's Predictions:
Toledo got the MAC's first win last week and they are hoping to use that momentum to knock off a very tough LSU team. LSU has had some very close games so far this season, and I don't think this game will be any different. I think that Toledo will find a way to win the game on the last possession.
Toledo 38, LSU 35
Both of these teams are 1-1 with their only win being against MAC teams. This game is tough for me to pick because I believe both teams are very evenly matched. I think that Adonis Jackson will be able to do something special in the fourth quarter that gives Florida State the edge.
Florida State 34, Ohio State 30
Squidy's Predictions:
I would love to give Toledo a good shot here, but I don't think it will be very close as LSU will roll here. Give me the Tigers by 21.
Toledo 21, LSU 42
I am honestly not entirely sure what to predict for this game. Neither team has a win against a non-MAC school and were both playoff teams a season ago. If FSU wants to win, we will need to see Adonis Jackson playing his best game possible. The same goes with Ohio State and Zach Davis. What I would love to see Ohio State do is to use the run game more to try and open up the pass. They have three great wide receivers who are all game changers. For that reason I like Ohio. Give me the Buckeyes by four.
Florida State 24, Ohio State 28
AssuredFame's Predictions:
LSU had eleven(!?!) yes you read that right, eleven sacks last week against Auburn. This team is flying high as their defense is lights out holding Auburn to just 19 points. Enter in Toledo, who has surprised a lot of teams so far with their stellar play, but I don't think it's enough as the Tigers take this one in a showing that we will see as a big difference between the MAC and the power conferences.
Toledo 17, LSU 35
This game features two historically great teams who both were in the playoffs last year. Ohio State's sole loss was to top five team USC, while FSU's only loss was to Florida, another top five ranked team. I think this will be one of the best games of the week with the Buckeyes taking it by ten behind the defense of their now active defensive linemen Kruger and Allen.
Florida State 24, Ohio State 34
Grin311's Predictions:
LSU is undefeated this season and Toledo is up next on the schedule. Toledo has shown that they are more than up to playing anyone and are fresh off their own victory last week. The Tigers will just be too much late in the game and pull themselves to 3-0.
Toledo 21, LSU 31
Both of these teams showed last week that they can put up some points, but this week I think it will be the defenses that make the difference.
Florida State 34, Ohio State 28
Jathan's Predictions:
The LSU defense was absolutely lights out last week against Auburn, and I don't see any reason they won't do it again against the Rockets. I like Toledo, but they'll struggle against the loaded front seven of the Tigers. I expect LeBlanc and Mikhaylov to both have a multiple sack game here.
Toledo 13, LSU 42
Florida State lost a close one last week, while the Buckeyes notched their first win of the season. The Buckeyes fed Manuel Silva early and often, and Zach Davis had an amazing four touchdown, zero interception performance. I think Ohio State also has a favorable matchup on defense here. The speed on their defensive front will play well against the speed of the FSU running attack.
Florida State 28, Ohio State 45
Jbayse1's Predictions:
This LSU team is good, very good. Gage and Colt Youngblood have combined for over 700 yards between the two of them. If anyone were to have a knock against this duo, it would be the three interceptions that Gage Youngblood has thrown so far. Toledo will not be underestimating LSU by any means. Remember this very same Toledo team pushed FSU to the limits in week one, almost writing MAC history, and will be hungry for the opportunity to do the same to this LSU squad.
Toledo 26, LSU 34
Florida State and Ohio State both come into week three sitting at 1-1. Neither team wants to fall too far behind in the conference race, so this one looks to be a fierce early season matchup. FSU is led on the ground offensively by the combination of Vidar Lund and Adonis Jackson. Zach Davis for Ohio State is lighting up the league, throwing for seven touchdowns on 528 yards. Ben Cole and the rest of the Florida State defense need to be on their toes to pull of the win.
Florida State 33, Ohio State 31
The Verdict:
It appears there's a lone wolf out in Death Valley, as the LSU Tigers have been picked by the majority of our writers, with an individual believing the Toledo Rockets to be the CFSL team to stun the CFSL world! 7-1 for the Tigers, though, by our writers.
As for the second game, it doesn't get any more divided than an even split amongst our writers. Half of them taking the Seminoles, the other half taking the Buckeyes in what many believe to be a thrilling clash in Columbus!