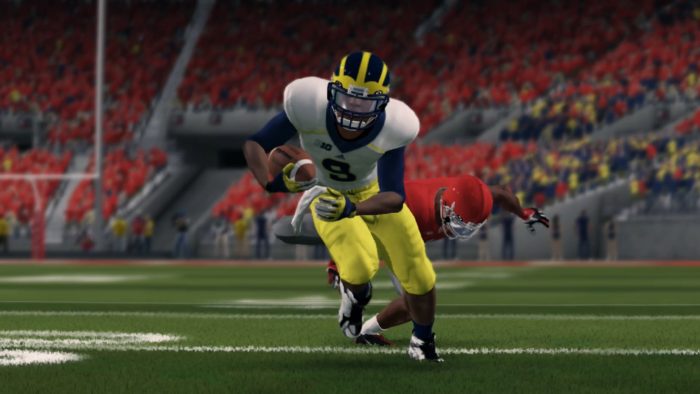 Week three comes to a close with three exciting matchups, and they're all between conference foes. Ohio and Northern Illinois has the makings of a fierce contest considering the talent that each roster boasts, and the fact that these two squads could very well end up turning this matchup into a rivalry.
Our second game features a clash between SEC teams Auburn and Florida, and it's a matchup that was lopsided in Auburn's favor until last season when the Gators finally defeated the Auburn Tigers for the first time in CFSL history.
The week three finale features two unbeatens in Michigan and Oklahoma State, making this Big Ten clash one you just can't miss. Two very different offenses between Michigan's Tanner Jones and Oklahoma State's Lyle Fletcher make this an absolute treat to wrap the week up with. And now, for our writers:
Ohio vs. Northern Illinois Preview:
I like what I've seen from both teams this season. Northern Illinois struggled in week one as did a fair portion of the MAC, but then showed excellent fight last week against Texas A&M. Ohio has been consistent in making life difficult for Ohio State and Michigan, and have enjoyed the growth of quarterback Ronnie Blevins. While the Huskies have yet to procure a ground game, Ohio's reliance upon Blevins hasn't been terrible. I'll take the Bobcats on the road tonight, in a gritty win over the Huskies.
Ohio 31, Northern Illinois 28
Houston Freeman's Predictions:
Florida starts 2-0… we've been here before, and I'm not sure I'm ready to commit to their long term success yet. Auburn got beat last week by LSU, which means you can expect a bounce back by the Tigers. I feel Florida may have more fire power on offense, but their consistency comes into question, especially facing a seasoned Auburn coaching staff. I think I will take a chance and take the Gators in a one point game.
Florida 25, Auburn 24
Well, well, well, look at what we have here. Two teams that were picked near the bottom of the initial power rankings who now find themselves at the top of Big 10 standings following two weeks. Obviously there's a lot of football left to be played, but Oklahoma State showed potential last week as they came from behind in a good ole fashioned western shootout to score 48 against Texas. Michigan surprised several people as they controlled their game against Notre Dame pretty well from start to finish. I believe that Oklahoma State will continue the offensive surge and get their first ever win in their first ever game in Stillwater.
Michigan 35, Oklahoma State 45
David Ware's Predictions:
This is a very pivotal SEC conference matchup of two great teams and experienced AD's. Florida is sitting at 2-0 and riding a lot of momentum into week three, whereas Auburn had a tough loss in week two to conference rival LSU. Auburn does not need a second loss in conference play to start out the season, and with Matt Pack's experience I expect him to pull out the win against conference rival Florida.
Florida 21, Auburn 28
Last week's Michigan game preview started with "Michigan is back?" This week I will remove the question mark and make a bold statement. Michigan is back! They had a huge game against Notre Dame and pulled off the upset. They can not overlook their week three opponent in Oklahoma State as they have had a great start to the season as well as they knocked off Texas last week. This game has all the recipes for a likely game of the week, and it's going to be a great way to cap off the week for sure. Michigan is on a roll and I expect it to continue.
Michigan 35, Oklahoma State 28
Leej17's Predictions:
Auburn was only able to score 19 points last week against LSU and Florida has a really tough defense that will always keep them in games. Though I think Auburn's offense is better than we saw last week, Florida will be able to slow them down enough to get the victory.
Florida 31, Auburn 28
Michigan looked really good against Notre Dame last week, while Oklahoma State took down Texas in a nail biter. Oklahoma state has been able to put up a lot of points so far this season, and I'm not sure if Michigan's defense can slow down Oklahoma State's offense enough to win this one.
Michigan 35, Oklahoma State 41
Squidy's Predictions:
This is my game of the week. We could very well see the winner of this one in the playoffs and the loser out. Ron Newman has the power to take Auburn's offense to greatness but will he do it? Not in this one. Give me Florida by seven.
Florida 31, Auburn 24
Both squads coming off a huge win and are high on confidence. While we have seen strong play from Lyle Fletcher, Michigan quarterback Tanner Jones has been very iffy. He will have a coming out party here and ball out as Michigan improves to 3-0. Give me the Wolverines by ten.
Michigan 41, Oklahoma State 31
AssuredFame's Predictions:
Florida has started off hot, but enter in an angry Auburn team who lost to LSU last week. History has shown that both teams have had great battles as they have split the last two games. I think Auburn game plans for Levi Temes too much and lets the rest of the playmakers get loose for the Gators as they take this in a close matchup.
Florida 38, Auburn 31
Michigan is for real!? Ball control, great defense, and spectacular special teams has lead the Wolverines to a 2-0 start. Enter in Oklahoma State, who is 2-0 behind a lights out offense averaging 43 points a game. This is truly a game of two differing play styles, and I think Michigan takes this one in a Wolverine type game by seven points.
Michigan 27, Oklahoma State 20
Grin311's Predictions:
Florida has gotten past one of their thorns in FSU last week, can they do the same against an Auburn team coming off a tough loss to LSU? Maybe, but I hate picking against Auburn after a loss and can't do it this week.
Florida 35, Auburn 38
Now this is the game of the week! A battle of two unbeaten teams who have both have looked impressive. Who comes out still undefeated and who gets their first loss? Michigan just feels like this could be their year and I'm taking them in a good old fashion shootout.
Michigan 30, Oklahoma State 28
Jathan's Predictions:
This matchup will be interesting. The Auburn offense was stifled by LSU last week, and they're looking to rebound against a Florida team who gave up 43 to the Seminoles last week. Florida's defensive unit hasn't exactly been stout, so they'll need their offense to show up. Auburn will bounce back this week and will win a close one at home.
Florida 27, Auburn 28
Two undefeated teams meet here, and only one will remain unbeaten. Michigan impressed everyone with a victory over Notre Dame last week, while Oklahoma State upset the Longhorns. Lyle Fletcher has been consistent and efficient as he leads the Pokes in both rushing yards and passing yards this season. The Michigan defense has also been impressive this season thus far, so it'll be exciting to see if they can keep Fletcher in check. Another close one here, but I'll take the Pokes.
Michigan 27, Oklahoma State 35
Jbayse1's Predictions:
This game features what is the most dynamic quarterback to wide reciever connection in the league, Mathias St. John and Levi Temes. Auburn chooses to have a more balanced attack with Ron Newman leading the way. Auburn is coming off a loss to LSU, where points were a premium; expect more of the same this week vs Florida.
Florida 30, Auburn 19
The only matchup this week to feature two unbeaten teams, as Oklahoma State and Michigan have taken this league by storm. Oklahoma State is led by Lyle Fletcher with 637 yards in the air and another 247 on the ground. Michigan is led by quarterback Tanner Jones with 390 yards, however, he could stand to clean up the turnovers in the air if Michigan wants to win this game. Dior Chapman could be a massive difference maker in this one. I see the ground game of Michigan leading them to a big statement win.
Michigan 31, Oklahoma State 30
The Verdict:
Well, it seems the legend of Auburn and their AD Matt Pack has worn off. Our writers are rolling with Florida tonight, in a surprising 5-3 nod from our writers. Florida toppled the Tigers last year, but we'll see if the Gators can do it when they're not at home this time.
It would also seem that Michigan's 2-0 start has convinced writers of that whatever ailed the Wolverines last season has been resolved, with five of our writers believing the Wolverines to remain unbeaten tonight.