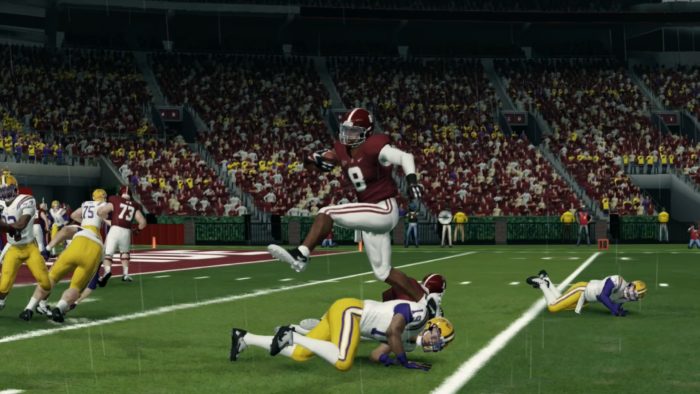 We're near the midway point of the season, and with it, two exciting matchups to kick it all off. Texas is seeking their first win of the season against a Nebraska team who's really pushing for a playoff berth. Then you've got Florida State and Alabama, two squads where the victor could very well lay claim to the playoffs.
Houston Freeman's Predictions:
The surprise of the first half of the season, Texas sits at 0-3. Nebraska meanwhile had a strong showing against USC last week and is in the race at 2-1. This is a must win for Texas, and it's not that they've looked bad, they just haven't quite been able to pull it together. As good as Nebraska looked against USC, I'll take the Longhorns in a must win to keep their playoff hopes alive.
Texas 38, Nebraska 31
Florida State has lost their last two games by a combined eight points. A week after posting 43 points against Florida, they were only able to scrounge together 20 against Ohio State. Alabama has looked inconsistent this season as they've flashed an ability to put up points on offense, but have also had poor showings. I think this game comes down to which defense can force the other offense to be inconsistent. Give me Alabama in this one.
Florida State 24, Alabama 27
David Ware's Predictions:
This game is sure not to disappoint as we have Nebraska rolling in with a lot of momentum and Texas in very desperate need to win. Texas being 0-2 in conference play can't afford to lose a third game. This is not unfamiliar territory for AD Jooby as he has been through adversity before and overcame them. Nebraska definitely is not the same team from last year and I expect this to be a very competitive game, but I have to give Jooby's experience and need to win the advantage.
Texas 42, Nebraska 38
Another huge game for Monday night as FSU travels to Alabama in a game both teams want to win to keep a good position in the conference. Neither team wants to pick up their second conference loss. Every game for FSU has been decided by five points or less, and I don't expect that to change. Alabama's offense has started to roll and their defense looks to be getting stronger each week. I am taking Alabama to win this very tough battle 35-31.
Florida State 31, Alabama 35
Squidy's Predictions:
Texas is 0-3 and in a bad spot. If they lose tonight, then they would pretty much need to win out in conference to get to the playoffs. A win tonight is crucial, but no easy task as they face a Nebraska team coming off a big win over USC. Vito Pipino will need some of that magic we saw in the first half of season eight if he wants to win tonight against this tough Husker defense. When the clock does hit all zeroes, I predict Nebraska to be the victor here. Give me Nebraska by 10.
Texas 28, Nebraska 38
Mark my words, the winner of this game will make a strong playoff push and the other will fall to oblivion. We will see two polar opposite offenses as FSU is run heavy while Bama is a pass first team. I really think the hyped up N.W.O. receiving core has not lived up to the hype as of yet, but that will change. Day will have a similar day passing as he did against Ball State and the Tide will cruise to a victory. Give me Bama by 17.
Florida State 20, Alabama 37
AssuredFame's Predictions:
Nebraska comes into this riding high after a win over then ranked number two USC Trojans. This is a tough team to judge as they lost pretty easily to Miami week two by 27, but also blew out EMU week one. The main difference between wins and losses is quarterback Courtney Harris getting the passing game going as he had ZERO passing touchdowns vs Miami and five combined in the two other games. Harris seems to be able to get yards on the ground, it is just up to Texas to force him into tough passing situations. Now onto the Texas Longhorns, they have been within one score of just about every game (except game one with a late touchdown sealing score by Clemson) and have lost the last two games by a total of six points. Quarterback Vito Pipino has shown he can carry the offense, but their defense is a huge cause for concern giving the opposing team whatever they want when they want it. With all that being said, this will be a close one with Texas getting their first win of the game by three.
Texas 34, Nebraska 31
Florida State comes into this game after back to back one score losses to Ohio State and Florida, while their lone win was against Toledo by three points. While Bama comes into this game riding high after a huge win over Ball State, where Doug Day had almost 500 yards passing and seven touchdowns. Both teams have shown they can keep up with the "big boy" teams, but haven't shown they completely belong there YET. This game will definitely help the winning team, and hurt the losing one as 1-3 is not the way you want to start your season I see this as a defensive game where Bama takes it by 10.
Florida State 21, Alabama 31
Grin311's Predictions:
This is a game that both teams want to win badly. I know I keep saying that it's Texas' week to flip the switch and roll someone, but this Nebraska team could cause some problems for Texas. Look for a shoot out with Nebraska sneaking past the Longhorns.
Texas 38, Nebraska 42
Florida State and Alabama have had some heartbreaking losses this season in some close games. Both teams are better than their records right now and this should be a battle. The Seminole defense seams to have started to play like last season and with that have to go with my boys from Tallahassee.
Florida State 35, Alabama 28
Jathan's Predictions:
I don't think any of us expected the Longhorns to start the year 0-3, but here we are. Texas has played their last two opponents closely, but they haven't been able to come out on top. Nebraska on the other hand comes off of a great win against USC. Pipino against this great Nebraska defense will undoubtedly be a tough matchup for both squads, but I think Nebraska takes this one.
Texas 38, Nebraska 42
The Tide comes off their first win of the season last week. Doug Day has been impressive the past couple weeks. After a slow start, it seems like the Bama offense is finally finding a rhythm. I don't like this matchup at all for Florida State. The Noles rely heavily on the run, while the Bama offense, when it's working, relies on Doug Day and the N.W.O. If Bama can find their stride in the pass game, then fatigue, turnovers, and the clock will all work against Florida State.
Florida State 27, Alabama 42
Jbayse1's Predictions:
My how the mighty have fallen. Texas is sitting at 0-3 with nowhere to go but up. The silver lining in the season is that Texas' last two losses were by a combined six points, so don't count them out already. Nebraska is 2-1 coming off of a tough win versus USC. Courtney Harris has been the definition of dual threat quarterback rushing for 461 yards on the season to go along with five touchdowns in the air on a 71 percent competition percentage. Vito Pipino for Texas has a big connection with Cash Jackson for 265 yards and three of his seven total touchdowns for the season. I think Texas finally pulls through in another close game and notches their first win of the season.
Texas 38, Nebraska 35
Both teams come into this one sitting at 1-2 having beaten a MAC team apiece. Florida State has one of the most run heavy offenses in the league behind USC's triple option. Adonis Jackson has 297 yards on the ground with five touchdowns to add to his three in the air. Vidar Lund has added another 260 on the ground but has yet to find the end zone. It is interesting to note that not one FSU receiver has over 100 yards on the season. On the flip side, Doug Day has been prolific in the air with ten touchdowns and is complimented by Jake Moon and his 271 rushing yards. However this Alabama offense will be handicapped today with the suspension of wide reciever Zach Stone.
Florida State 33, Alabama 27
The Verdict:
It was a close fit amongst our writers, but they're believing that Texas will finally end their four game skid tonight, as they get the nod from four of our seven writers.
As for the second game, there's a 5-2 split from our writers as to who will emerge victorious from Tuscaloosa, with the majority siding with the hometown Crimson Tide tonight!