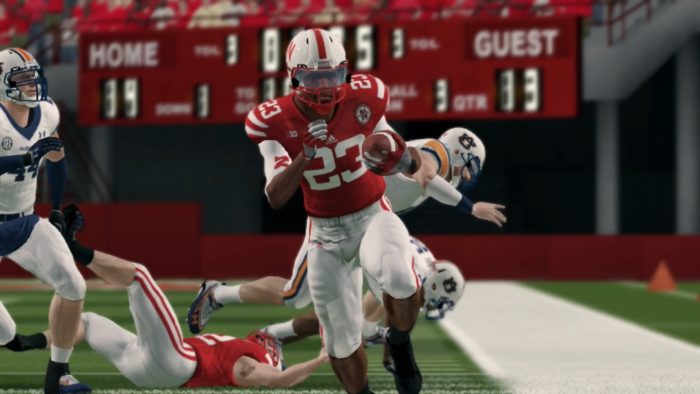 1) (NC) Clemson Tigers (3-0) (190)
Last Week – W @ Notre Dame 41-32
This Week – @ Texas A&M 10/14/2020 9:00 PM CST
Clemson remains at number one. Clemson is a well oiled machine that keeps on rolling over their opponents. Quarterback Will Slay has yet to turn the ball over. This week, they look to remain undefeated as they go against Texas A&M and its high powered passing attack.
2)
+1

LSU Tigers (3-0) (176)

Last Week – W vs. Toledo 62-20

This Week – @ Miami 10/13/2020 7:15 PM CST

LSU comes in at number two. They are one of the four remaining undefeated teams. They made easy work of Toledo and look to continue their undefeated streak against a tough Miami team this week.
3)
+1

Oklahoma State Cowboys (3-0) (171)

Last Week – W vs. Michigan 33-16

This Week – @ Notre Dame 10/14/2020 7:15 PM CST

Oklahoma State sits a number three. The newest team in the CFSL has put everyone on notice that they came to play as they sit undefeated still. They look to continue this streak as they play Notre Dame.
4)
+1

Oregon Ducks (3-0) (144)

Last Week – W vs. Texas 38-35

This Week – @ Ohio State 10/15/2020 9:00 PM CST

Oregon is undefeated through week three. The Ducks have been one of the more well rounded teams in the league with speed and exciting playmakers on defense, and a scary defensive back field. Jedidiah and Tutu Longtree have been so exciting to watch, combining for seven tackles for loss this past week against the Longhorns. Turnovers have been a little bit of a problem for the Ducks, but the defense always seems to pick up the slack. The Ducks are definitely a premier team in the league this season.
T-5)
-3

USC Trojans (2-1) (117)

Last Week – L vs. Nebraska 34-40

This Week – @ Florida 10/15/2020 7:15 PM CST

USC comes in tied at fifth. They are looking to rebound from a tough loss against Nebraska. Quarterback Thrasher Banes will need to go back to how he looked in those first two weeks for them to do so. They play Florida this week.
T-5)
+4

Auburn Tigers (2-1) (117)

Last Week – W vs. Florida 34-27

This Week– vs. Michigan 10/13/2020 9:00 PM CST

Auburn used kicker Fritz Roberts to ensure their win by six. Beating the unbeaten Florida team is surely a big boost of confidence for Pack and his crew. A team total of 217 rushing yards is nothing to scoff at. The Auburn offense showed that if they can't beat you in the air, they will beat you on the ground. They trust their seemingly stout defense, so they can rely on either then pass or run.
7) (NC) Ohio State Buckeyes (2-1) (116)
Last Week – W vs. Florida State 23-20
This Week – vs. Oregon 10/15/2020 9:00 PM CST
Ohio State won their last match, but it really could have gone either way. It almost seemed like both teams were playing for the loss and not the win. Quarterback Zach Davis had a decent night with 283 yards in the air and two touchdowns. Defensive-End Colten Allen also returned to his dominant ways tallying two sacks and three tackles for loss. If Ohio State wants to continue to win they will need to step up their game.
8)
+3

Miami Hurricanes (2-1) (112)

Last Week – W vs. Texas A&M 55-41

This Week – vs. LSU 10/13/2020 7:15 PM CST

Miami's offense has been on fire these past two weeks. Axton Richardson has really shown up with touchdowns in the air and on the ground. The Canes offense has posted two 50 point games in a row, and they don't seem to be slowing down. If they can post numbers like these against the great Texas A&M defense, they should be able to play well against anyone. Their tough schedule continues as they face LSU this week.
9)
+7

Nebraska Cornhuskers (2-1) (101)

Last Week – W @ USC 40-34

This Week – vs. Texas 10/12/2020 7:00 PM CST

Nebraska began last week at the bottom of our rankings, but that didn't stop them from showing up ready to play the Trojans of USC. The Cornhuskers defense stifled the Trojan's triple option attack, not allowing USC to make really any big plays. Casey Bronco frustrated the Trojan defense at times, powering forward for first down after first down. The performance was completely different from what we've seen from Nebraska so far this season. This could give them the momentum they need to begin to turn their season into a playoff run.
10)
-4

Michigan Wolverines (2-1) (95)

Last Week – L @ Oklahoma State 16-33

This Week – @ Auburn 10/13/2020 9:00 PM CST

Michigan finally showed some flaws losing in a blowout loss at Oklahoma State. This game was controlled almost entirely by the kickers. Quarterback Tanner Jones was only able to squeak out 178 passing yards on 34 attempts. He will need to do much better if Michigan wants to keep their winning record. Highlight of the night is halfback Dior Chapman. He was able to break the century mark on the ground, rushing for a respectable 114 yards. This was a tough conference loss for the Wolverines.
11)
-3

Florida Gators (2-1) (81)

Last Week – L @ Auburn 27-34

This Week – vs. USC 10/15/2020 7:15 PM CST

Florida has been in the thick of things the entire season playing close games all year, but this was the week they fell to a respectable Auburn team. No need to worry as the Gators are still very much in the thick of things, they just need to get the run game going to give quarterback Mathias St. John some support on offense.
12)
+3

Alabama Crimson Tide (1-2) (58)

Last Week – W vs. Ball State 59-24

This Week – vs. Florida State 10/12/2020 8:45 PM CST

This was the first win of AD David Ware's leadership time with the Tide as Doug Day goes absolutely nuts in the air throwing almost 500 yards and seven touchdowns passing. The SEC is very top heavy with LSU and Clemson, so there's always room for concern with that, but the Tide needs to focus on their next game against FSU and let the SEC beat up on each other.
13)
-3

Notre Dame Fighting Irish (1-2) (48)

Last Week – L vs. Clemson 32-41

This Week – vs. Oklahoma State 10/14/2020 7:15 PM CST

It is never easy losing, especially to the defending champs. Turnovers have really hurt this team so far in the season, but there is still time for this team to turn it around as it is still early in the season. Tyler Stemen will need to do his best at holding onto the rock as the season goes on to ensure a playoff run.
14)
-2

Texas A&M Aggies (1-2) (38)

Last Week – L @ Miami 41-55

This Week – vs. Clemson 10/14/2020 9:00 PM CST

While the score looks like it was a close game, that is just some second half trickery. The Aggies and their secondary were burned all game long and it was a tale of two halves for them. The first half looked like Miami was just going to run away with the game. Through the sheer determination of quarterback Jimi Germaine, A&M had a chance to stay in the game. Look for A&M to try and fill the many holes in their defense.
15)
-4

Florida State Seminoles (1-2) (28)

Last Week – L @ Ohio State 20-23

This Week – @ Nebraska 10/12/2020 7:00 PM CST

Florida State is an interesting team to evaluate. At face value, the Noles have lost two straight games and have yet to defeat a non-MAC team. On the other hand, Florida State has played every team extremely close. They lost by less than a touchdown against both Ohio State and Florida, but we know for sure that the Noles just haven't been able to finish. Their run heavy offense has stalled out late in games, and has made comebacks difficult. The Noles will have to find some new life if they hope to compete down the stretch this year.
16)
-3

Texas Longhorns (0-3) (16)

Last Week – L @ Oregon 35-38

This Week – @ Nebraska 10/12/2020 7:00 PM CST

Another close heartbreaking loss for the Longhorns against a strong Oregon Ducks team. There is still time to make some traction as it is still early in the season, but this Texas team will need to turn it around quickly in hopes of returning to the playoffs.