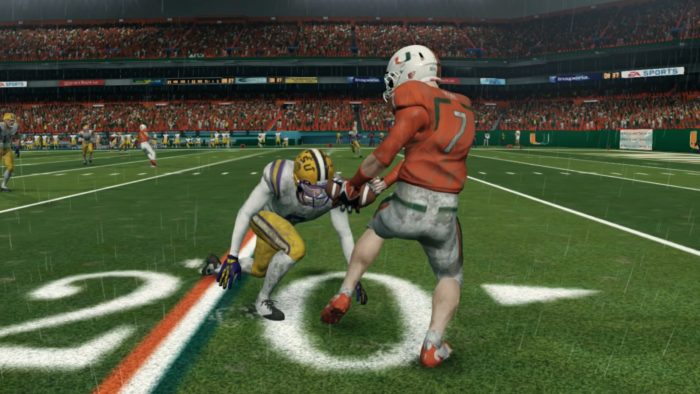 There will be a tripleheader the rest of the way for week four, and it will all be kicked off by some MACtion. No better tone-setter, though, than this game between Bowling Green and Northern Illinois where the Falcons want a controlling lead in the MAC. You've also got LSU and Miami following that contest, with the Tigers looking to take control of the SEC tonight. To wrap up our Tuesday, though, we'll see a historic rivalry take center stage with Michigan and Auburn. Here's our writers and their takes on tonight:
Bowling Green vs. Northern Illinois Preview:
One of two things can happen here. Either Bowling Green jumps to a 2-0 lead in the MAC, or both teams get to .500 for their conference slate. The Huskies have got to feel like they have something to prove tonight, especially with the talent that transferred in with halfback Gabe Dowden and safety Lamar Fant to name a few. But Bowling Green has been stellar, with quarterback Zach Scott getting into some Player of the Week nominations over the past couple weeks. While I like what Northern Illinois showed last week, I'm not sold they can topple what appears to be a machine in the Falcons. I'll take BGSU by seven tonight.
Bowling Green 38, Northern Illinois 31
Houston Freeman's Predictions:
LSU has looked strong in their three games so far and looks to be the number one contender in the SEC after Clemson. Miami's offense hasn't looked phenomenal lately which makes this a tough pick. I think Miami has a chance to pull this off if their offense continues to stay hot.
LSU 30, Miami 35
Michigan looked a bit out of sorts in general last week against Oklahoma State, most notably the offense. Auburn had a nice bounce back win against Florida, showing they aren't going anywhere soon. Auburn will win this one with their defense.
Michigan 20, Auburn 32
David Ware's Predictions:
This is a main event of two powerhouses ready to duke it out! This game has so many possible playoff implications and I'm positive that you will be on the edge of your seat watching this game. Miami's strong offense and solid defense against LSU's strong defense and solid offense. This game could wind up as game of the year! There is not much advantage on either side of this game, but Doma has had big games at Miami and been able to handle the pressure. I would like to predict a draw, but I have to choose a winner.
LSU 45, Miami 48
Two teams who have made a lot of improvements since last season and they are out to prove they are for real. Even though this is a non-conference game, there's a lot riding in this game. Can Michigan's defense stop that quarterback from Auburn? Can Tanner Jones outscore Auburn? This is another very difficult game to choose a winner and I expect it to be within three points.
Michigan 35, Auburn 38
Grin311's Predictions:
Wow, this game is going to be exciting, I can't wait to get to sit down and watch. Both of these teams are coming out firing and it should be a back and forth game. Both AD's have their teams running well and LSU is currently undefeated. Can Miami take the step and knock them off? I'm going to have to go for the boys from South Beach.
LSU 28, Miami 35
This is a match up between two old school ADs, and it should be a good one. With both teams sitting at 2-1 and this being a non-conference game, it will still have that conference game feel. Michigan will look to bounce back from their loss last week while Auburn will want to stay on a roll. I like Auburn quarterback Ron Newman to have a big game tonight and help lead the Tigers to a win.
Michigan 21, Auburn 31
AssuredFame's Predictions:
Last season both these teams played and the Hurricanes took the game 41-34, behind a lights out performance by Axton Richardson who had 485 passing yards, five touchdowns and zero turnovers. Axton will need to repeat that exact performance, if not do better as this LSU defense has the best third down conversion stop percentage at 16%, number one in sacks in the league at 23 so far, and second best points allowed per game at 24.3. Miami is no slouch and has shown they are a force to be reckoned with by winning the last three games, all by double digits. I'll give this one to LSU in a low scoring defensive matchup as the Tigers defense is something insane!
LSU 31, Miami 27
These teams features two veterans ADs who haven't faced off in more than two seasons, when Auburn handily defeated Michigan, winning the game 55-14. We know this is going to be a much different game as Michigan has completely retooled getting off to a hot start before falling to OKST last week. Michigan comes in with the number four ranked run game and is definitely their strong point. While Auburn comes into this game after a huge win over the undefeated Florida Gators last week and are looking to use that momentum to take this one. Michigan's run game vs Auburn's run defense will be a great one to see, but we've seen throughout the first couple weeks that defensive minded teams have taken the advantage and that will continue in this one.
Michigan 17, Auburn 24
Squidy's Predictions:
If we had a CFSL College Gameday they would be in Miami this week. There is honestly not much more you could ask for from a game in this part of the season. LSU is 3-0 and have shown they can shutdown an offense at will. Miami on the other hand has shown how explosive their offense can be. I like to think this will be a close game that will go down to the wire. With Miami's void at linebacker and the fact that they are going up against Colt and Gage Youngblood I like to give LSU the nod here. Gimme the Tigers by seven.
LSU 52, Miami 45
Michigan very much needs a rebound game. With a bad loss to Oklahoma State it once again brings back doubters. They have a tough game on the road against Ron Newman and the Auburn Tigers. If the Michigan defense can shut down Newman than Michigan will win. I think that is exactly what will happen so give me Michigan by four.
Michigan 28, Auburn 24
Jbayse1's Predictions:
LSU enters this contest currently undefeated and you have to credit their offense just as much as their highly touted defense. The Youngblood brothers are a deadly two headed combination that has proven difficult to attack, and on the flip side of the ball you have one of the most prolific pass rushers in Dillon LeBlanc. If Miami wants to win this one, look for them to lean on wide receiver Blaze Gunner. Gunner has an otherworldly stat line posting 414 Yards on only 16 catches for an average of 25.9 yards per catch. Give me LSU and that fearsome defense in this one.
LSU 41, Miami 38
Michigan comes into this one on the heels of a humbling loss to Oklahoma State, meanwhile Auburn is soaring high after a strong win versus Florida. The Newman machine just finds ways to get it done, usually on the ground, however he does have a quartet of wide outs all with 100+ yards on the season. Tanner Jones of Michigan has me slightly worried as he has yet to find the end zone in the air this season, being bailed out by Dior Chapman on the ground. I'm sticking with Auburn in this contest due to their versatility on the offensive side of the ball.
Michigan 24, Auburn 33
The Verdict:
For this opening matchup, our writers are in an even split and understandably so. Two very impressive teams facing each other with LSU and Miami taking center stage on a crucial Tuesday night of CFSL action.
As for our second game, between two grizzled athletic directors, there's a lone wolf siding with the Wolverines while the majority are taking the Auburn Tigers at home to take care of business.