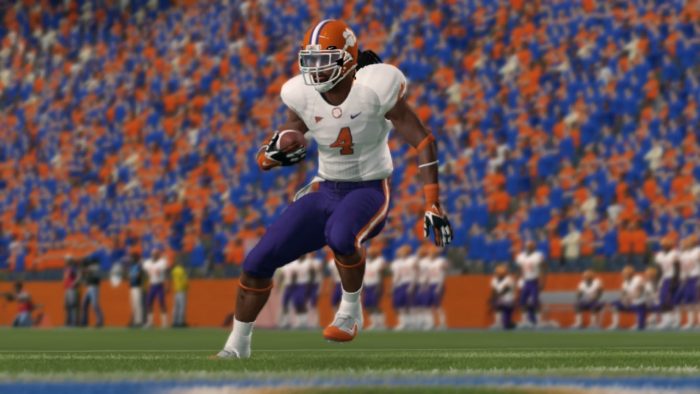 Our Wednesday tripleheader has got some excellent action, with the bolstered Eastern Michigan taking on a Toledo squad who's pushing to reach the top of the MAC. Oklahoma State and Notre Dame is a pivotal conference matchup in the Big Ten with the Cowboys trying to get their third conference win as is Clemson when they land in College Station for the nightcap. Major conference games tonight, and now our writers.
Eastern Michigan vs. Toledo Preview:
Quarterback Kenyon Milton has led Toledo to an impressive start, nearly toppling a CFSL team and defeating Ball State for their first conference win. But since Deandre Burks has landed in Ypsilanti, Michigan to be an Eagle for Eastern Michigan, things have been different. The former Offensive Player of the Year candidate in Burks has found his footing again from the quarterback spot for the Eagles, who have added to their roster over the last week, means that this game will be a lot closer than people anticipate. Still, I think the Rockets get a late stop and hold on for a three point win.
Eastern Michigan 28, Toledo 31
Houston Freeman's Predictions:
Oklahoma State sits at 3-0 and is in control of the Big Ten. Notre Dame has been on the struggle bus after a whopping win over Miami in week one. This will likely be a close one as both offenses have potential to turn it into a track meet. I think Oklahoma State's air raid gives them the leg up in this one.
Oklahoma State 45, Notre Dame 42
Clemson continues to look fantastic and keeps on winning. Texas A&M is putting up plenty of points to win, but giving up way too many in the process. I just don't see A&M being able to slow Clemson down.
Clemson 42, Texas A&M 35
David Ware's Predictions:
Oklahoma State is coming out on fire in season nine as they have started undefeated so far and have themselves a huge test this week in a Notre Dame team looking to rebound. This game features two freshman quarterbacks, so it's a matter of who handles the pressure better and doesn't turn the ball over. I think Oklahoma State is in better shape for this game.
Oklahoma State 35, Notre Dame 28
Will Clemson ever lose? They have their work cut out for them as the Aggies and the 12th man host the defending champions. The Aggies have a lot of talent and they are still fine tuning their game plan, so don't sleep on them. They are much better then their record shows! This will be another tough battle and I think the "Clutch" factor will kick in and allow Clemson to close it out.
Clemson 42, Texas A&M 35
Squidy's Predictions:
With an Oklahoma State win tonight, they could almost lock up a playoff spot. While they would most likely need another win, they could get in at 3-3 in conference. Notre Dame on the other hand do not have a conference win. Lets talk quarterbacks. The Cowboys have seen excellent play out of Lyle Fletcher who is running the air raid offense to perfection while also using his legs. Notre Dame on the other hand has seen not so great play out of Tyler Stemen. I think Oklahoma State wins tonight pretty easily. Give me the Cowboys by 20.
Oklahoma State 40, Notre Dame 20
Will anyone dethrone the king? Probably yes, but not tonight. A&M is on the right track and has a promising future, but will probably struggle the rest of this season. They need a win but are going against a very tough Clemson team and I just do not see them winning although it will be close.
Clemson 42, Texas A&M 35
AssuredFame's Predictions:
Undefeated Oklahoma State comes into this game riding high with their win over Michigan last week and overall great start to their entry into the CFSL. Notre Dame has lost the last two games to Clemson and Michigan respectively, with the turnovers being the main reason for those losses. Oklahoma State's quarterback Lyle Fletcher has been playing absolutely lights out, while leading his team in both passing and rushing and completing an absolutely insane 78% of his passes. Notre Dame has been close in each of their losses, but have been prone to many turnovers and being forced to come back late in the game. I see Oklahoma State taking this one as Lyle continues his amazing freshman season this week as they handle Notre Dame by two scores.
Oklahoma State 38, Notre Dame 24
We have become accustom to seeing Clemson win games by strong defense, strong passing, running, you name it they have done it. This undisputed number one team plays A&M, who have played each game so far within two scores. If A&M can get the run game going and give Germaine some room to work, they can keep it close against Clemson, but the Tigers are ranked top five against the run. While A&M will no doubt play well and keep it close, we will see in this game the pure strength that Clemson has as they take this one late as running back Dane Jones has a great game on the run
Clemson 38, Texas A&M 27
Grin311's Predictions:
Oklahoma State looks like an offensive juggernaut right now, and the Irish are struggling to start their season. Until someone shows me that they can slow down the Cowboys, I'm not picking against them.
Oklahoma State 42, Notre Dame 31
Will the Tigers ever lose a game? Well it will happen at some point and the Aggies may just be the team to do it. Both are very talented on each side of the ball and A&M is a better team than their record is right now. Although both teams can put up some points, I feel like this one may be a little lower scoring which helps the Aggies. This is my weekly upset.
Clemson 24, Texas A&M 28
Jbayse1's Predictions:
Oklahoma State has taken the CFSL by storm. Many had doubts early as to what we should expect from the new team. The Cowboys have answered all of our questions and erased any doubts. Notre Dame comes in after a losing effort to the top contender in Clemson. Tyler Stemen has been tough to get a hold of. He can beat you in the air and can beat you on the ground. His biggest flaw at the moment would be the four interceptions he has thrown so far. Can the Irish defense stop the combo Lyle Fletcher and Dion Hawkins? So far no team has been able to do so and I see their reign of terror continuing.
Oklahoma State 44, Notre Dame 35
Clemson looks to be in a league all by themselves. They have confidence, swagger, and most importantly the results to back it all up. Will Slay has been phenomenal as he has yet to turn the ball over. The Tigers defense is very hungry and they will make you pay for any mistake. Texas A&M will look to their receivers in this game. They have five wide outs all over 100 yards in the season and have Tye Dixon as an excellent option in the backfield. I am slightly disappointed by this Aggie defense as I feel they are capable of playing much better than the stats show, however, Clemson is not the team to play when looking for that turnaround. Clemson's secondary proves to be the difference.
Clemson 49, Texas A&M 35
The Verdict:
To kick off the CFSL matchups, our writers are fully in support of Oklahoma State on the road tonight. The Cowboys have had a highly impressive offense so far, and look to continue that trend against the Fighting Irish tonight.
Our nightcap has the majority in support of the Clemson Tigers, with a lone wolf believing it will be the Aggies who can pull the rug out from under Clemson's, so far, perfect season. But to pull that upset, it won't be easy. Many anticipate this to be a high-scoring affair, but Clemson is unbeaten for a reason, and tonight is a tough test for Texas A&M.