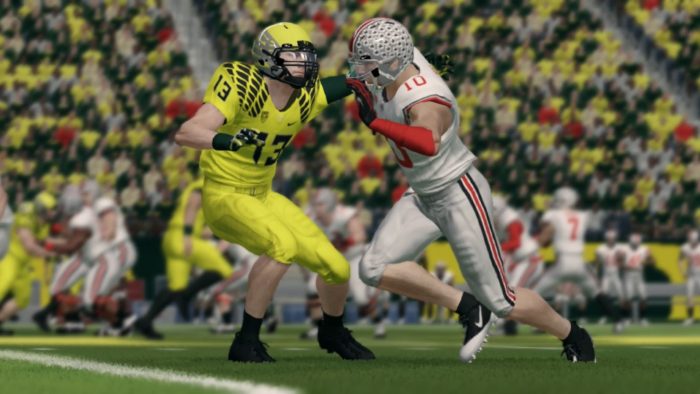 Week four is ready to wrap up, with the Bobcats and the Cardinals kicking it all off in our nightly MACtion. We also get another look at the triple option with the USC Trojans trying to give a bounce back performance against a Florida team who's hopeful to do the same. Finally, it's some Big Ten action with Oregon and Ohio State squaring up in a pretty important matchup, especially with the Ducks trying to stay perfect on the season, much like Oklahoma State. Now, for our writers.
Ohio vs. Ball State Preview:
The Bobcats and the Cardinals, a major showdown between these two squads within the MAC, especially with Ball State and quarterback Oliver Rolon trying to upset the power balance. But then there's signal-caller Ronnie Blevins, the top prospect of the class, and he's looking to really make a statement with his performance here tonight, two squads are who look good on paper, but I believe the talent sits with Ohio. In what should be an exciting contest, I'm not sure I can pull the trigger on Ball State knocking off the Bobcats tonight.
Ohio 35, Ball State 31
Houston Freeman's Predictions:
USC will have a chance to redeem themselves after last week's loss, and I still think their triple option attack is as deadly as ever. Florida needs to bounce back as well after losing to Auburn, but I'm not convinced they've got the defense to stop the triple option.
USC 38, Florida 35
Oregon has looked like a mean train to get in front of and I'm not jealous of Ohio State this week. I think Oregon will ultimately be too much for the Buckeyes.
Oregon 33, Ohio State 28
David Ware's Predictions:
This will be a very exciting game to watch as the triple option has another week of experience to get better. Florida and USC are both coming off close conference losses and they look to rebound and get back on track. The key for Florida will be the cornerbacks and safeties coming in and cleaning up the runs of USC.
USC 31, Florida 28
A big conference game for both teams as they start to prepare for a playoff run. This will be exciting to watch as it should be a defensive battle all the way through. Both defenses are hard hitting and very smart, which will make it a really low scoring but exciting game.
Oregon 13, Ohio State 16
Squidy's Predictions:
Ah the Triple Option. One of the most weird and unknown things in the CFSL. How do you stop it? Can you stop it? The answer to that question would be yes as we saw Nebraska shut it down with the help of their stud defensive line and four linebackers. This week the triple option goes up against Florida, another team who has a great linebacker core. I think mainly the game lies in the hands of Florida's offense. USC has a very questionable defense who got shredded by Nebraska last week, so if Florida can find a way to score, we may see a shootout, but I believe we will see a much different USC defense this week and will be able to slow down Mathias St. John and help USC win. Give me the Trojans by seven.
USC 47, Florida 40
The past two meetings between these two have not been pretty. Oregon has run over Ohio State both times leaving no survivors. This season will be different though. We will see a lot of passing from the two strong arm quarterbacks and a lot of scoring. I see this one becoming a shootout and I think Oregon will pull some more late minute magic to get the win. Give me Chance Sanders and the Ducks by two.
Oregon 47, Ohio State 45
AssuredFame's Predictions:
Nebraska has laid out the blueprint for beating the once undefeated Trojans as USC plays the Florida Gators in this matchup, but not every team can replicate the personnel that the Cornhuskers have. When USC has scored early, they have become very successful, but when they are falling behind and are forced to pass, they have shown some difficulties with that. While Florida comes into this one after falling to Auburn late in the fourth quarter in their last game. Florida has shown that they are lethal in their passing attack. Look for Florida to get a hot start early on the ground and try to test the USC cornerbacks who have shown the ability to hold the opposing teams best wide receivers down. This is truly going to be such a good game and such a toss up! Give me USC by three behind a strong performance from the USC secondary and quarterback Thrasher Banes.
USC 24, Florida 21
Shoutout to the Oregon Ducks for having arguably one of the most shocking and surprising starts to the season! Oregon has played well on both ends and has had some lucky plays go their way, but that is football. Luck gives, and sometimes it takes. Is this the game the Ducks are unlucky? Ohio State comes into this game with a close victory over FSU. There is no doubt quarterback Zach Davis has to better utilize the extra possessions that his defense has given him. Whether that is getting halfback Manny Silva more utilized or getting the ball passing more, that is up for question. This isn't a homer pick as much as it may seem, but Ohio State's defense has played well so far and will make the difference in this one as the Buckeyes take this one by two scores.
Oregon 24, Ohio State 35
Grin311's Predictions:
Both these teams have played some close games this season so far, and this one shouldn't be any different. Look for it to be a battle of quarterback's wills and the one with the ball last. I love what USC's Thrasher Banes has done so far this season, but it will come down to the experience of Florida's Mathis St. John which pulls it out for Florida.
USC 31, Florida 34
The new Greatest Show on Turf vs the Punch You in the Mouth Boys is what this matchup has for us and it is only fitting that something will have to give. Oregon is undefeated and Ohio State is a one loss team in a very important Big Ten matchup. I like Ohio State's defense slowing down Oregon enough to stay close, but in the end the Ducks have just enough to pull it out.
Oregon 42, Ohio State 35
Jbayse1's Predictions:
USC and the vaunted triple option was halted last week by a good Nebraska team, however, this team is still dangerous. Thrasher Banes and Kolby Kichler can take it to the house every play, and just when you think you have the option figured out, Banes can cock it back and let it fly. On the flip side you have the 2-1 Florida Gators. This is a team that still looks to make improvements. Mathias St John has got to practice better ball control in this game. Levi Temes cannot be lost during the play this week as he is deadly when he gets behind the corner. Look for Wyatt King to follow up on his record breaking performance last week and lead his Gators to another win.
USC 36, Florida 41
Oregon comes into week four undefeated thanks in large part to Puma Longtree and Jefferson Allen. Every player on this Ducks squad it seems is having a breakout season. Some may say that the stats are padded based on a week two blowout of MAC competitor EMU, however, I think the ducks are the real deal. Ohio State is 2-1 coming off of a three point win versus Florida State. Zach Davis and Manuel Silva are a pick your poison duo for the Buckeyes. This game will come down to which defense makes the opponent pay for mistakes and I have to give the edge to Oregon.
Oregon 43, Ohio State 37
The Verdict:
For our CFSL matchups, our writers are siding with the Trojans and their triple option offense to rebound against the Gators tonight, in a 4-2 pulling from our writers. That's the same split for our second CFSL matchup, with the Ducks expected, by the majority, to remain unbeaten tonight by taking care of business in Columbus tonight.