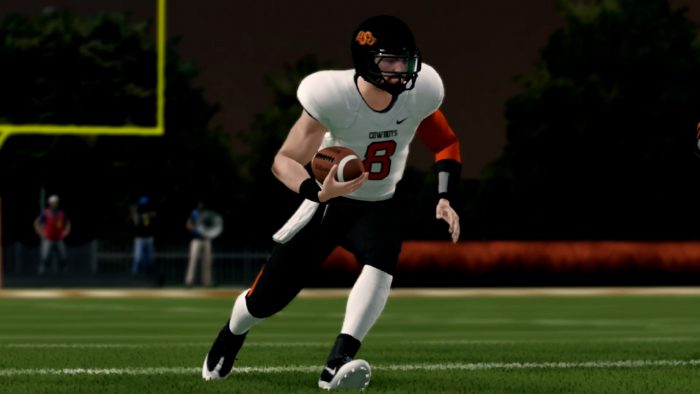 Week five kicks off with two great games between very competitive teams. Miami and Auburn are both coming off wins where they scored over 50 points and set up for an offensive showdown in Jordan-Hare Stadium. Then we take the trek up to Boone Pickens Stadium to watch two more high powered offenses matchup against each other as Oklahoma State looks to defend the home field against Oregon. Here's what our writers said about tonight's games:
Houston Freeman's Predictions:
Miami sits in control of their own destiny still as they are the only team without a conference loss left in the SEC. they've looked SCARY in there last three games since losing their opener to Notre Dame as the Canes have averaged 52 points in their victories. Auburn has looked just as menacing as they dropped 65 points on Michigan last week. The Tigers always give you their best shot, but I'm not so sure the Hurricanes won't find a way to squeak away with a win.
Miami 42, Auburn 38
Oregon was the second to last remaining unbeaten, but a suddenly sluggish offense in the first half against Ohio State led to a conference loss and forfeiture of the B1G driver's seat to Oklahoma State. The Cowboys on the other hand are sitting at 4-0, and while it hasn't exactly been pretty, they've proven that it's going to take some serious gun powder to outscore this lethal offense. I predict we will see a duel of the premiere quarterbacks of the league in this one. Jefferson vs Lyle, which one prevails? Just pray your team has the ball last.
Oregon 52, Oklahoma State 55
David Ware's Predictions:
What a great way to start the second half of the season, a big time SEC conference game between Miami and Auburn. Last season Auburn was able to win this matchup, and this year they are looking to continue their return to dominance. Miami has been on fire ever since a tough week one loss. Miami has been one of the most dominant teams in the league on offense and defense. As the season gets further along, it is harder and harder to predict a winner in conference games. One thing about Auburn is they always show up to the tough games and make a lot of noise. If Miami wants to win, then Richardson and halfback Marcus Duncan will have to work hard to try and keep Auburn's offense off the field. Based on history it is hard to pick against Auburn in a game like this.
Miami 31, Auburn 38
The Big Ten has a huge conference game as well to open the week, as we have undefeated Oklahoma State hosting Oregon who is 3-1. This game can have huge playoff implications and possible seeding determinations. Oklahoma State has started on fire, winning the first four games in the history of the school. Can their momentum continue as they face a very tough Oregon team who has been able to win some tough games? This will definitely be a exciting game to watch as Jefferson Allen and Lyle Fletcher matchup. The quarterback that makes the least amounts of mistakes will lead their team to victory. I have to give Oregon the advantage here.
Oregon 41, Oklahoma State 38
AssuredFame's Predictions:
These teams faced off last year in a hard fought battle where Auburn took home a win 45-38 behind four passing touchdowns and an additional 100 yards rushing from quarterback Ron Newman. Miami has hit their stride winning the last three games behind the arm of quarterback Axton Richardson who helped them defeat the once undefeated LSU Tigers 51-27 with nearly 500 yards passing, and four passing touchdowns. Both of these quarterbacks like to take shots and that has caused them to give away some costly turnovers, so look for that to be the key as Auburn causes a late turnover from Axton Richardson in a close fought battle.
Miami 31, Auburn 41
The expansion Cowboys are playing lights out so far defeating their opponents in all types of way, from great defense in the Michigan 33-16 win to a shootout victory against Notre Dame 62-59. That is also an area of concern as some may worry which team will show up as a battle tested and hungry Oregon Ducks team is on the schedule. The Ducks are coming into this after finally losing against Ohio State last week 40-47 as they struggled on the ground. Cowboys quarterback Lyle Fletcher has played lights out on the year with having the number one completion percentage, second highest quarterback ratio, second in passing touchdowns, and top fifteen in total rushing. Ducks quarterback Jefferson Allen is number one in passing yards, number one in passing touchdowns, and number three in quarterback ratio. I truly believe this will be a pass heavy game with Oregon quarterback Jefferson Allen facing off against Oklahoma State quarterback Lyle Fletcher to see who will have the ball last.
Oregon 38, Oklahoma State 48
Jathan's Predictions:
Miami has been firing on all cylinders on offense recently, taking down some really good opponents in the last few weeks. On the other hand, Auburn's offense led by Newman has been doing the same thing. Both teams look good on defense, but I expect a shootout in this one. This is a tough pick, but I'll take Auburn.
Miami 45, Auburn 51
Oklahoma State has been beyond impressive this season. Lyle Fletcher leads a deadly air attack on offense, and the defense, while a little inconsistent, has been able to make plays when it needs to, but Oregon might be built to beat the Pokes. Oregon has great speed at halfback and wide receiver, which matches up well here. Oregon had some fatigue issues last week though, which held them back late. I think Oklahoma State wins it, but this one could go either way.
Oregon 42, Oklahoma State 45
Jbayse1's Predictions:
Miami comes into week five sitting at 3-1 on the season with their only loss coming at the hands of a very tough Notre Dame squad. Auburn comes in with an equally strong 3-1 record after a dismantling of Michigan last week. Ron Newman is completing just under 75 percent of all passes and is aided by a strong rushing attack from Loki Lawler. Miami of course has Blaze Gunner and his threat to take it to the house every time he touches the ball. Look for this game to be a shootout with Miami holding a slight edge.
Miami 48, Auburn 41
Oregon currently sits at 3-1 after dropping one to Ohio State last week. Oklahoma State is coming in still undefeated after winning a close game against Notre Dame. Many see the Cowboys as the frontrunners of the league now that Clemson has taken their first loss. Lyle Fletcher appears otherworldly, completing over 80 percent of passes to go along with 16 total touchdowns. On the flip side, Jefferson Allen has 16 touchdowns in the air and adds another seven on the ground for a league leading 23 total touchdowns. My edge for this contest goes to the defense of Oklahoma State.
Oregon 31, Oklahoma State 43
The Verdict:
Our writers all believe the Auburn and Miami game will be a great game between two high powered teams but Auburn just barely got the edge 3-2 by our writers. Looking at the last game of the night our writers give Oklahoma State the advantage in their matchup against Oregon 4-1.