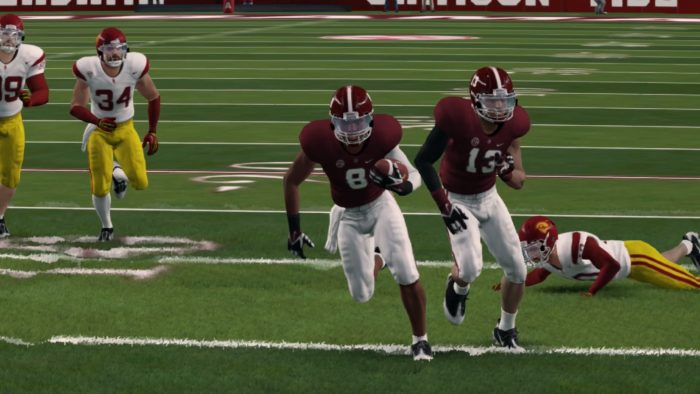 Wednesday night action kicks off with two great MAC teams in Toledo and Northern Illinois facing off against each other. Then we have a great conference match between Alabama and Texas A&M as both teams look to get their second conference win. Lastly we have Nebraska and Notre Dame as both teams look to bounce back from close losses last week.
Toledo vs. Northern Illinois Preview:
Toledo is currently 2-2 with their two wins coming against other MAC teams, whereas Northern Illinois is still fighting for their first victory. Both teams look very well rounded with talented players on both sides of the ball, and I think this game comes down to which defense can shut down the opposing team's quarterback.
Toledo 42, Northern Illinois 31
Houston Freeman's Predictions:
This is a game of two teams I'm not entirely sure about just yet. Heading into week five both of these teams need to find their identities. While Texas A&M has been putting up the points needed to win, their defense has been a bit lackluster and cost them some wins. Alabama has really had the opposite problem, the defense has kept them in games they maybe shouldn't have been in, but the offense hasn't done them many favors on the scoreboard as they've only scored 30, 20, and 34 against CFSL opponents. I'm gonna go against the Tide simply because I think A&M can outscore them.
Alabama 28, Texas A&M 35
Nebraska needs some answers after falling to Texas last week. While they held the Longhorns to just 27 points, they only mustered up 20 of their own. Notre Dame is struggling as well since their season opening blow out of Miami. A tough loss in overtime to Oklahoma State has the Irish reeling at 1-3. The good news is the Irish still have four conference games to try and make a comeback. If Nebraska doesn't get the offense revved up, Notre Dame will simply outscore them.
Nebraska 32, Notre Dame 38
David Ware's Predictions:
Both teams come into this week riding on a lot of momentum as they both had huge wins in week four. Alabama defeated Florida State in a big conference win, and the Aggies defeated the defending champions Clemson. All games at this point of the season are very important as we prepare for the playoffs and this game is no different. Playoff seeding very well may be influenced by the outcome of this game at Kyle Field. The first year athletic directors in Ware and Mears are also having their first head to head battle, which will be fun to watch. Give me the more balanced Alabama.
Alabama 55, Texas A&M 49
Nebraska has looked very well at times this season, and also very unstable at times. Notre Dame on the other hand has been spiraling down ever since they beat Miami in week one. Notre Dame still has a lot of talent and will make some noise this season, even if it doesn't translate to a playoff appearance. I expect to see Courtney Harris try to show that he can be more consistent that what he has been and that will result in a win.
Nebraska 31, Notre Dame 24
Squidy's Predictions:
Both teams are in a spot where a win can really help their chances and a loss could give them certain doom. I think A&M keeps their momentum from last week and will win here. Give me the Aggies by four.
Alabama 23, Texas A&M 27
A huge game for both teams here. A win could gain them momentum to make a playoff push while a loss may kill their chances. Tyler Stemen and the Notre Dame offense looked great last week but they face a tough Nebraska defense. For that reason, I like Nebraska. Give me the Huskers by 14.
Nebraska 35, Notre Dame 21
AssuredFame's Predictions:
These two teams come into this game fired up! Texas A&M comes into this game after the defeat of the defending champs, the Clemson Tigers, while Alabama comes into this after a two game winning streak over FSU and Ball State. Alabama's defense really showed up last week causing five turnovers and numerous pressures in their game against Florida State's quarterback Adonis Jackson. While Texas A&M's quarterback Jimi Germaine is coming off of arguably his best game as an Aggie. I believe Bama will keep the "Tide" going strong and take this one in a very close game.
Alabama 27, Texas A&M 21
This game is a tale of two teams with no real identity. Nebraska has shown greatness in beating Eastern Michigan and USC, but looked out of it in losses to Miami and Texas. Notre Dame beat the brakes off of Miami, and has then played close in the three losses they have but have struggled to get key stops on defense. This is going to be a game where Notre Dame quarterback Tyler Stemen and his defense show that they are not out of the playoff race as they defeat Nebraska soundly.
Nebraska 27, Notre Dame 38
Jbayse1's Predictions:
The Aggies come into week five on the heels of one of the biggest wins in program history after thoroughly handling Clemson last week. This week they draw the tough matchup of Alabama and their vaunted offense. Allie Peters has been the clear leader of this A&M defense, but will need some help from her supporting cast this week if they wish to contain Doug Day and his bevy of pass catchers. I've got to ride with the momentum and see A&M continuing to dominate.
Alabama 33, Texas A&M 42
Nebraska and Norte Dame both come into week five with hopes of a rebound as both teams fell last week. Nebraska lost by a narrow margin to a tough Texas team that seems to finally be putting the pieces together. Meanwhile Notre Dame fell to the still unbeaten Oklahoma State Cowboys. Tyler Stemen has shown that ability to be a game changer for this Notre Dame team but has yet to wow me, with his touchdown to interception ratio scaring me. If he wishes to lead his team to a win this week he will have to step up big time. Meanwhile, Nebraska's offense has had a similarly rough go of things in the air, however their saving grace is the defense. They love to play fast and aggressive and are currently second in sacks this season. Look for the Cornhuskers to attack the quarterback early and often.
Nebraska 31, Notre Dame 28
The Verdict:
Our writers are split on the Alabama and Texas A&M matchup 3-2 in favor of Texas A&M with both teams thought to be riding the momentum of big wins last week. It should definitely be a great game to watch and see who can walk of there with the win. The second match of the night had a 3-2 split, as well, in favor of Nebraska. This game will see who is able to bounce back from tough losses last week for both teams.