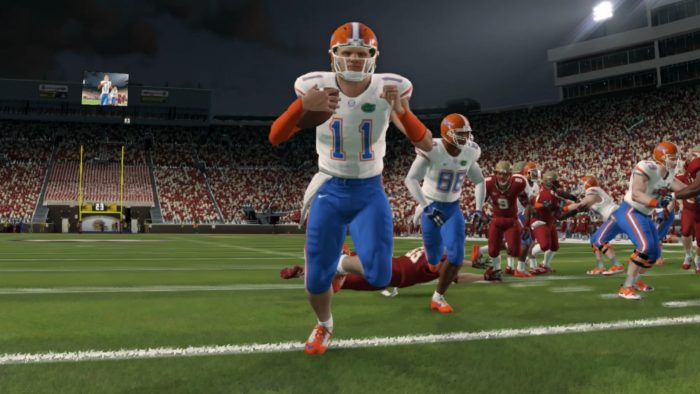 Week five's hump day matches starts off with Eastern Michigan and Ball State each looking to get the first win of the season under their belt as they face off in Indiana. Then we have a Big Ten matchup between Texas and Ohio State where Texas looks to get back to their winning ways and Ohio State tries to stop them in their tracks. Lastly we have LSU heading to The Swamp to play the Florida Gator. Who will come out victorious in a fight between Tigers and Gators? Let's see what our writers had to say:
Eastern Michigan vs. Ball State Preview
Our night starts off with two MAC teams who are still looking for their first win. Both teams have shown that their offenses can score a lot of points with former USC quarterback Deandre Burks helping Eastern Michigan to improve each and every week. Both defenses, though, have shown some struggles, allowing way too many points. Look for this to be a high scoring affair with the Cardinals and their talent behind Oliver Rolon coming up with the win.
Eastern Michigan 45, Ball State 52
Houston Freeman's Predictions:
This is my game of the week not named Oregon vs Oklahoma State. The implications of this game are monstrous as a Texas win will keep the Longhorns in the playoff race and get some much needed momentum. A win for the Buckeyes could prove to be a two position swing in the standings based on the rest of the week. I believe this will be a hard fought game ultimately won by experience. Texas has the the experience to make a run, so let's see what you're made of Longhorns.
Texas 35, Ohio State 34
LSU has to be scratching their head after losing their first game on the season last week by 24 points. However, they have a big test this week because they face some hungry Gators in Gainesville. Florida is going to prove to the haters that they can win in the second half of the season. I was impressed with their win against USC last week, but now they've got to win when and where it matters: the SEC. Mathias St. John has looked great and I look for him to continue that success.
LSU 38, Florida 40
David Ware's Predictions:
Texas and Ohio State were both playoff teams in season eight, but they have taken different course this season as Texas is 1-3 after some very tough games. You have to wonder when they will turn their great effort into some more wins. Ohio State has come out this season and shown it was not a fluke that they made playoffs and they look to be in good shape to make another playoff run. Ohio State, led by freshman quarterback Zach Davis, has been very impressive and the defense hasn't disappointed either.
Texas 24, Ohio State 27
Huge game for both teams as they try to prepare for playoffs, LSU is coming off a very tough loss to Miami and was able to take down USC. This game should be a defensive game as both teams have a solid defense and it will be exciting to watch for sure. The big question is how will LSU rebound from a tough loss?
LSU 28, Florida 35
AssuredFame's Predictions:
Ohio state has cracked back into the top five in rankings after their win over then undefeated Oregon, while Texas finally gets one in the win column after losing their first three games by a combined 22 points. Texas is certainly not a team that can be slept on as quarterback Vito Pipino has shown he is the real deal all year, the one thing that helped them win was the balanced rushing attack that running back Brandon Black added. Ohio State's strength on their defense is their front seven as they have allowed under 75 yards rushing to every opponent since their week one loss to USC. Look for Ohio State's balanced attack behind second leading rusher running back Manny Silva and quarterback Zach Davis to be the reason for them taking this one.
Texas 24, Ohio State 31
LSU comes into this game after a tough loss to Miami 27-51, while UF comes into this game with their defense clicking on all cylinders in route to an easy win over USC last week 43-12. LSU had a few costly turnovers in the second half that allowed Miami to outscore them 34-21 and take the game. Look for that to not happen again as LSU hands the rock more to running back Colt Youngblood in a more balanced rushing attack, while Florida quarterback Matias St. John has a tough game in the air. LSU takes this one in a very slow and low scoring SEC battle.
LSU 24, Florida 14
Jbayse1's Predictions:
Texas comes into this matchup on the heels of their first win of the season. I've always believed Texas was a better team than the record showed, always managing to stay close but never closing out the game. Ohio State on the other hand comes in at 3-1, with the lone loss to USC. Led by Zach Davis and Manuel Silva, this offense can put up points, and lots of them, however I think this Texas team is finally clicking. Vito Pipino looks to be the star he was last season and returned to his winning ways. Consider that championship appearance hangover finally gone. Texas is back.
Texas 45, Ohio State 36
Coming into this season I would say I was most excited by LSU and their defense. However, that same unit has only managed to force five turnovers. That doesn't even place them into the top five in that category, however, the offensive unit has been huge in helping the Tigers to a 3-1 record. Meanwhile, the Florida Gators are 3-1 as well thanks in large part to Mathias St. John and Levi Temes. Can the LSU defense step up and create some havoc this week, or will the Gators keep on rolling?
LSU 37, Florida 51
The Verdict:
Our writers are split evenly at 2-2 for the Texas and Ohio State matchup with some believing we're seeing the same Texas team as we saw last year which got to the championship game, while others think Ohio State can stay to their winning ways. Our writers then sided with Florida 3-1 as they believe Mathias St. John can keep rolling.