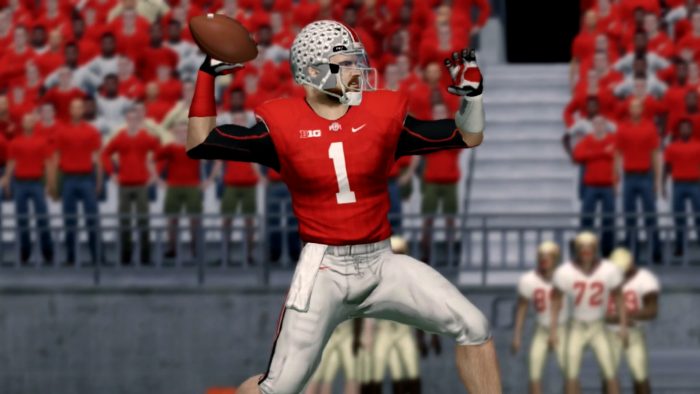 After two games last night we have more action packed matches tonight. The action starts off with Northern Illinois and Eastern Michigan. Northern Illinois was able to get their first win of the season last week against Toledo and Eastern Michigan has been close to getting theirs the past few weeks.
We then have Alabama heading to Louisiana to face off against the Tigers. Alabama started the season 0-2 but has turned it around after three straight wins while LSU bounced back last week after their first loss two weeks ago and sit at 4-1.
Lastly, we have Notre Dame and Ohio State in a Big Ten matchup. All of Ohio State's games against Power Two conference opponents have been within ten points and they sit at 4-1 whereas Notre Dame has a couple of big wins including last week against Nebraska. It should definitely be an exciting game to watch. Here's what our writers say about tonight's matches.
Northern Illinois vs. Eastern Michigan Preview:
Northern Illinois was able to get their first win last week against Toledo in a game where Duncan McClung and Gabe Dowden were a great quarterback/running back duo combining for five touchdowns and the defense looked nice with two interceptions by corners Matthew Lee and Will Stephens. Eastern Michigan on the other hand has been close to winning the past three games as they had an average score differential of less than five points. This game comes down to which defense can show up and stop the other team more.
Northern Illinois 38, Eastern Michigan 35
Houston Freeman's Predictions:
Alabama is streaming right now since losing their first two games of the season. A 34-20 loss to Clemson and a 37-30 loss to Oregon has this team looking better than most initially thought. I was impressed with their ability to beat a well prepared Texas A&M team last week. LSU on the other hand is an entirely different challenge. The Tigers sit at 4-1 and with a win they will be mostly in control of their own destiny the last two weeks of the season. They've looked strong in all of their games but their lone loss to Miami. The Youngbloods will continue to impress and move this team one step closer to the playoffs.
Alabama 34, LSU 42
This is a game that if you had told me in preseason that one team would be 2-3 and the other 4-1, I would have thought you were indicating the Irish were 4-1. However, Notre Dame's defense has give up a lot of points this season that has prevented the offense from guiding them to more wins. On the other side of the field Ohio State has looked pretty polished as they've beaten two Big Ten mainstays in Oregon and Texas. I think we're going to see a shootout in this one, and it has bigger playoff implications than there is to the naked eye. A win for Notre Dame keeps them right in the party for the playoffs and the picture looks REALLY murky. A win for Ohio State makes for next week's showdown against Oklahoma State conference championship game. Give me the Buckeyes in a shootout because I don't think the Irish can get enough stops.
Notre Dame 45, Ohio State 52
David Ware's Predictions:
This game features two teams who have a lot to prove as they are fighting for the SEC title this season after both teams were 2-6 last season. Some will argue that these are two of the better defenses in the SEC matching up against each other and both also have a pretty efficient offense to add to their arsenal. This will be an exciting game to watch that will surely be a battle. The team that makes the least mistakes will win. If LSU wins they will be in pretty good shape to secure a playoff spot while an Alabama victory will keep the SEC crown wide open.
Alabama 38, LSU 31
Ohio State is the only Big Ten team from the season eight playoffs that looks to have a chance to make an appearance this year. They started the season with a tough loss, but have won the last four games. Notre Dame is much like Texas and have had a rough season so far. If they want any chance of making playoffs, they will need to win this game. Notre Dame will keep this game close but, Ohio State will pull away late.
Notre Dame 35, Ohio State 38
Squidy's Predictions:
This is one of my favorite matchups this week. We see two offenses that can take control of a game, but also two defenses who can shut down their opponents. Bama has seen much better play out of Doug Day these past couple of weeks, but I think the Crimson Tide offense will be shutdown this week. I like LSU I'm a defensive battle.
Alabama 24, LSU 27
Notre Dame has been an interesting team this season. It's hard to tell what they will do the rest of the way but a win would be huge for them to get back into the playoff race. Unlucky for them they face a very good Ohio State team. Led by Zach Davis, the Buckeyes have been on fire as of late. I think Ohio State will be to much for the Irish and will improve to 3-1 in conference play.
Notre Dame 28, Ohio State 35
AssuredFame's Predictions:
Alabama quarterback Doug Day has 13 passing touchdowns in the last three games and has really turned around his freshman campaign and the Tide's season as they have won three straight games. LSU is the third worst passing defense in the Big Two conferences but has completely shut down the run and lead the league in sacks with 29. A true bend but don't break defense that needs their offense to not turnover the rock to win. I think this will be a very close game as Alabama has one of the best receiving groups in the CFSL, which is enough to keep them in many games, but LSU's front seven will turn out to be too much for the Tide.
Alabama 28, LSU 31
Two of the best programs in CFSL history as both teams have 50 wins, which if my math is correct is a total of 100 with both teams, placing them just one game behind Auburn at 51. Back to this season. Ohio State has won four straight games after a tough loss in the Stern Bowl to USC. They have shown they can win in multiple fashions and have a very balanced offense, with an incredible front seven with Allen Mack, Colten Allen, and Michael Krueger. Notre Dame comes into this with a great win over Nebraska last week 44-21 and sit at 2-3. They are still very much in it, but will need to make sure to hold onto the rock as turnovers have really hurt them in games so far. Ohio State's balanced attack and tough defense will be too much for Notre Dame as OSU takes this by 10.
Notre Dame 28, Ohio State 38
Grin311's Predictions:
The Tigers are in first place right now and are playing well on both sides of the ball. The Tide are right in the playoff hunt and they would like to throw a kink in the whole SEC standings. This should be a back and forth affair with the Tigers winning in the end.
Alabama 24, LSU 31
The Buckeyes are looking to keep pace with Oklahoma State and a shot at the Big Ten title. To do that the will need to beat an Irish team looking for their own playoff push. I'd like to say that this is going to be a war but have that feeling the boys from Ohio will be wanting to make a statement.
Notre Dame 21, Ohio State 34
The Verdict:
Our writers have given LSU the advantage almost unanimously at 4-1 with the only person predicting Alabama being their athletic director. Will LSU be the dominant force on defense like most think, or will Alabama shock everyone? Our writers were then unanimous in picking Ohio State over Notre Dame 5-0. Most believe Notre Dame's offense will do what they can to stay in the game, but Ohio State's offense should overpower Notre Dame's defense.