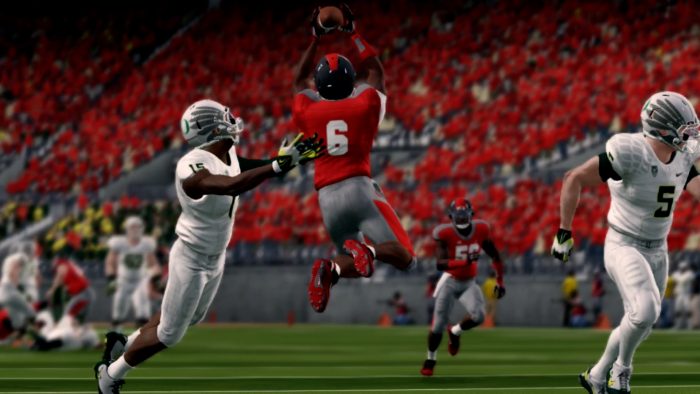 Week six is done and week seven kicks off tonight! We start down in Miami as Clemson and Miami face off against each other. Both teams sit at 3-1 in conference play looking to fight for a chance to be in first place in the SEC. After that we move our eyes to Oklahoma State as they play host to Ohio State as Oklahoma State looks to bounce back from their first ever loss last week and Ohio State wants to prove last week's big loss to Notre Dame was just a fluke. Here's what our writers predicted:
David Ware's Predictions:
This game is a very critical game as the SEC crown is still up for grabs. We have a very powerful offense in Miami verse a very powerful defense in Clemson and neither team has much of a weak spot on either side of the ball. Clemson has had a few close games this year, but always find a way to come back in the fourth quarter. Their lone loss to Texas A&M has fired them up to a level that is downright scary. Miami has done a great job this season and seems to be getting stronger each week. Clemson beat Miami twice last season ending their playoff run. I believe it is retribution time as Miami will close out a close game.
Clemson 45, Miami 48
If Ohio state wants to win the Big Ten crown, they must win this game. An Oklahoma State win and USC loss will give Oklahoma State the conference championship in their first year in the league. Oklahoma State has been on fire and fell just short last week against Nebraska. I look forward to them coming out on fire just like Ohio State has been since they lost in week one. I think Nebraska may have opened some eyes on what it takes to pull off the win against a very tough Oklahoma State.
Ohio State 35, Oklahoma State 31
Houston Freeman's Predictions:
Clemson just got their first win against Auburn in their last four attempts, and Miami gave the Gators a trouncing in the Swamp last week. I still think that even though Miami looks good and is a tough team, Clemson has shown time and time again they are the best team out there. I'll take the defending champs in a close one.
Clemson 33, Miami 28
Both teams are looking at adjustments following their losses last week. A win tonight for Oklahoma State will give them at least a share of the Big Ten title. Ohio State needs a bit of help from other teams first, but a win for them will put them right back in the conversation for the Big Ten as well. The Pokes' offense needs a big game tonight after only scoring 27 last week. However, I would put my money on quarterback Lyle Fletcher's back to will this team to a win while he escapes the deadly defensive end duo in Colten Allen and Michael Krueger.
Ohio State 35, Oklahoma State 38
AssuredFame's Predictions:
Two incredibly great teams with HUGE SEC implications in this one! Both teams are sitting at 3-1 with great wins last week; Clemson over Auburn and Miami over the Florida Gators. Whoever loses this still has an opportunity to sneak back in the playoffs, but who wants to take the chance with that? Clemson features quarterback Will Slay and running back Dane Jones who are arguably both better then Miami's quarterback Axton Richardson and running back Marcus Duncan. For that reason and Clemson always having that "it" factor and having been able to win their games in different ways, Clemson takes this one.
Clemson 41, Miami 31
The expansion Oklahoma State Cowboys finally fell last week to Nebraska in a close one 27-30. Now enter the Ohio State Buckeyes who are coming off an incredibly bad loss to Notre Dame. Oklahoma State lost last week because of the offensive combo of quarterback Courtney Harris and running back Casey Bronco. Ohio State's running back Manuel Silva is just as good, if not better, then Casey Bronco but quarterback Zach Davis isn't as athletic as Harris but can get the extra yardage when needed. His gameplay will be the x-factor. Ohio State has been close in most games as long as they start off keeping it close and running early with Manuel Silva they will take this one in a close one to keep their playoff hopes alive.
Ohio State 31, Oklahoma State 24
Grin311's Predictions:
Well this is a tough one to pick for me. Miami is coming off a big win against Florida and have the talent to go toe to toe with Clemson, but Dane Jones is balling out and I don't know if anyone has an answer for him. You throw in a defense that makes big plays when it needs to and that is the difference in this game. The Tigers get a late turnover to seal the game.
Clemson 38, Miami 35
Ok, so I didn't think Oklahoma State would lose a game this season as did most everyone, also Ohio State is playing very good football right now and would like to win another Big Ten title. This isn't an upset pick this week but the Cowboys lose this one and go back to back with defeats.
Ohio State 31, Oklahoma State 28
David Roy's Predictions:
Two weeks to go in the regular season, and the outcome of Miami and Clemson tonight will shape those last two weeks for the SEC. Marcus Duncan needs to get going, to help wear down an immensely talented Clemson defense. Duncan's success opens up the passing lanes for guys like Blaze Gunner and tight end Matthew Ousley. Otherwise, Clemson's Dane Jones can take this game over, and receiver Dorian Chase Miller could have another big game against the Hurricanes as well. Two titans clashing, and Miami needs linebacker Griffin Richardson to stand out as well as safeties Perry Pennel and Isaac Krout. In the end, it should be close, but Miami falls to Clemson.
Clemson 34, Miami 31
Then there's Ohio State and Oklahoma State, and while neither team can "lock" anything up tonight, both want to bounce back, and both can make their lives easier with a win. Two young quarterbacks in Lyle Fletcher and Zach Davis will duel with two very good receiver groups. Ohio State's Brad McFadden, Dylan Turner, and Brayden Ennis being pitted against Oklahoma State's Baron Adams, Ethan Martin, and Dylan Smtih. An exciting clash, and one where I think Ohio State should win if they land on halfback Manuel Silva generating long drives for the Buckeyes to edge out the Cowboys.
Ohio State 30, Oklahoma State 27
The Verdict:
The writers have spoken, both games have a 4-1 advantage in favor of a team. The writers first gave Clemson the advantage against Miami saying their "it" factor they have and their ways of winning games that seem unwinnable give them the edge. Then the writers believe Ohio State will take Nebraska's blueprints as to how to beat Oklahoma State and use it to defeat Oklahoma State for the second week in a row. Be sure to tune into the games tonight after The Inside Blitz Podcast on Twitch!