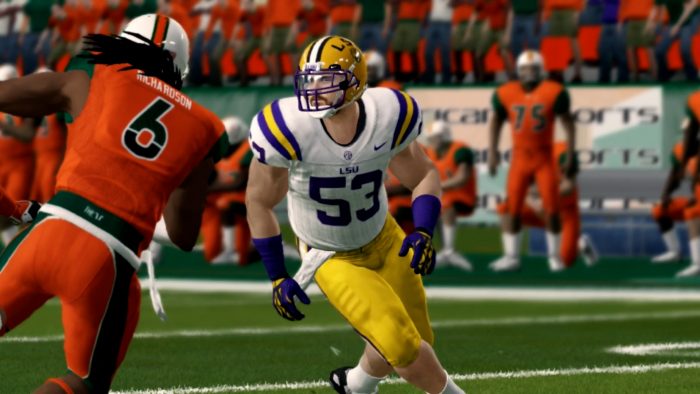 With week six finished, we're now just a couple weeks away from the playoffs. There's a lot of movement this week as a few upsets happened. Here's how the teams stack up.
1)
+3

LSU Tigers (5-1) (199)

Last Week – W vs. Alabama 52-7

This Week – vs. Florida State 11/5/2020 9:00 PM CST

A new number one! Congrats to the Tigers who handled Alabama last week 52-7 as they could do no wrong on either side of the ball. LSU's defense coming into the year was featured as their best weapon and boy was that correct as they are tied with Auburn in points allowed per game with 23.4 and are second in sacks. LSU has Florida State and Oklahoma State left on their schedule, and as a result have all but clinched their spot in the playoffs unless something wacky happens. Well done, Tigers.
2) NC Clemson Tigers (5-1) (195)
Last Week – W @ Auburn 34-20
This Week – @ Miami 11/2/2020 7:00 PM CST
Clemson took care of business last week in an incredible game against Auburn 34-20 in a game where they outscored Auburn 31-6 in the second half. Clemson has shown that they are prone to falling behind early, but regardless have won when necessary and as a result control their destiny for the playoffs sitting at 3-1 in SEC conference play with Miami and Florida left.
3)
-2

Oklahoma State Cowboys (5-1) (185)

Last Week – L @ Nebraska 27-30

This Week – vs. Ohio State 11/2/2020 8:45 PM CST

Oklahoma State finally lost to a worthy Nebraska team last week in one of the best games of the year and has fallen because of it. Oklahoma State had almost 300 yards rushing yards put up on them, and as of now that appears to be the way to beat them. They're still sitting pretty at 4-1 in conference and control their destiny for playoffs for these final weeks.
4)
+3

Miami Hurricanes (5-1) (166)

Last Week – W @ Florida 44-13

This Week – vs. Clemson 11/2/2020 7:00 PM CST

Miami got back to their winning ways this week, clobbering the Gators 44-13. Miami executed well in every way, putting up almost 550 yards of offense, and holding the Gators to less than 300. Miami's tough schedule continues this week as they play Clemson, but with the way the Canes have been playing they've got a great chance against the defending champs.
5)
-2

Auburn Tigers (4-2) (151)

Last Week – L @ Clemson 20-34

This Week – @ Texas A&M 11/3/2020 7:30 PM CST

Ranked fourth in the SEC, this loss to Clemson means Auburn will need some other teams to lose to get into the CFSL playoffs this season. Quarterback Ron Newman was essentially shut down for the entire game by Clemson. He had no passing touchdowns and only 22 yards on the ground. The Auburn defense had a couple bright spots, but it wasn't enough to clamp down on Clemson offense. Luckily, Auburn only has two games left against teams without a winning record, so they could slip into the playoffs.
6)
+1

USC Trojans (4-2) (136)

Last Week – W @ Texas 24-23

This Week – @ Oregon 11/5/2020 7:30 PM CST

A slim victory over Texas 24-23 with a come from behind victory last week has to worry voters, but regardless they have won when it matters as they sit at 3-1 in conference but have two conference games left with Notre Dame and Oregon who are both 2-2 in conference. If USC can win both of these they are in. Trojans, you know what to do.
7)
+2

Oregon Ducks (4-2) (118)

Last Week – W @ Michigan 38-24

This Week – vs. USC 11/5/2020 7:30 PM CST

The Ducks came away with a victory this past week against the Wolverines, but it wasn't necessarily a great performance. Michigan kept things close for most of the game, and the Ducks struggled to convert on third downs. However, Jefferson Allen took care of the ball, and outlasted the Wolverines. The Ducks play a tough USC team this week in an important game.
8)
-3

Ohio State Buckeyes (4-2) (117

Last Week – L vs. Notre Dame 17-44

This Week – @ Oklahoma State 11/2/2020 8:45 PM CST

Losing a tough one, especially one that should have been a W, is going to be tough to rebound from. Notre Dame brought the big stick with them for this matchup. Ohio State was able to keep it close through the first quarter. After that, Notre Dame just took off. It was never close again. There may be some talks about benching quarterback Zack Davis after putting up five interceptions in what should have been a cakewalk for Ohio State. They are still in the playoff hunt, but this loss hurt their case, and record, pretty bad.
9)
+2

Notre Dame Fighting Irish (3-3) (112)

Last Week – W @ Ohio State 44-17

This Week – @ Texas 11/4/2020 9:00 PM CST

Notre Dame could do no wrong last week against Ohio State as they ripped off a 34-7 first half against a balanced offense of Ohio State. Not to mention quarterback Zach Davis throwing five interceptions to Notre Dame which is a true testament to the Irish secondary, as he came into the game with just one. The Irish control their own destiny with two conference games left with Texas and USC. If they win both of those conference games, that will likely be more than enough to get them into the playoffs. It's crunch time!
10)
-4

Alabama Crimson Tide (3-3) (92)

Last Week – L @ LSU 7-42

This Week – vs. Florida 11/4/2020 7:30 PM CST

Alabama had a crushing loss last week against LSU 7-52 in a game where everything LSU did worked. This team is sitting at 2-2 in the SEC top heavy conference, but can still fight to get a spot. For now they need to erase the footage from last week and focus on Florida.
11)
+3

Nebraska Cornhuskers (3-3) (89)

Last Week – W vs. Oklahoma State 30-27

This Week – vs. Michigan 11/3/2020 9:00 PM CST

No one expected Nebraska to take home a victory this week against the undefeated Pokes, but Nebraska didn't care. Casey Bronco and the stout Nebraska secondary took the game into their own hands, and handed Oklahoma State their first loss of the season. Nebraska has been inconsistent this season, but a win like this means that this team can play great football when they put all the pieces together. The league will be watching to see if they can keep up the success this week.
12)
-2

Florida Gators (3-3) (74)

Last Week – L vs. Miami 13-44

This Week – @ Alabama 11/4/2020 7:30 PM CST

Florida had an incredibly heartbreaking loss to Miami last week and were forced to pass almost the entire second half because Miami outscored them 31-3 in the first half. Sitting at 1-3 in the top heavy SEC conference is never a great feeling but they do have Alabama and Clemson up next. This team is more than capable of rip off two straight wins and play sleeper in the CFSL.
13)
+3

Florida State Seminoles (2-4) (42)

Last Week – W vs. Texas A&M 37-30

This Week – @ LSU 11/5/2020 9:00 PM CST

It seemed to be the week of the upset this week, and Florida State was part of that trend. Florida State notched a win against Texas A&M, giving them their first victory against a non-MAC team so far this season. The Seminoles got it going through the air, with Adonis Jackson throwing for two touchdowns and no interceptions. If Florida State can continue to keep their offense balanced, we might just see them win a few more games. LSU is going to be a tough matchup for the Seminoles, but they definitely look better after their victory this week.
14)
-2

Texas A&M (2-4) (40)

Last Week – L @ Florida State 30-37

This Week – vs. Auburn 11/3/2020 7:30 PM CST

Texas A&M looked good on paper in this one, but they were not able to overcome a second half scorching by FSU. In the end it was normal hero quarterback Jimi Jermaine who gave up two devastating interceptions that most likely determined the outcome of the game. This loss effectively removes A&M from playoff contention.
T-15)
-2

Texas Longhorns (1-5) (26)

Last Week – L vs. USC 23-24

This Week – vs. Notre Dame 11/4/2020 9:00 PM CST

Another week, another one score loss to their opponent. They are all but out of this year as far as competing for the playoffs, but it means something to people watching that this team plays hard and finishes out the year strong. This is still an incredibly great team, they've just had some bad luck this year.
T-15)
-1

Michigan Wolverines (2-4) (26)

Last Week – L vs. Oregon 24-38

This Week – @ Nebraska 11/3/2020 9:00 PM CST

Michigan was able to move the ball very well against Oregon, especially on the ground. Quarterback Tanner Jones, halfback Dior Chapman, and surprisingly middle linebacker Cletus Castle combined for 188 rushing yards and two touchdowns. However, it was not enough to overcome the deficit they were in for the entire game.