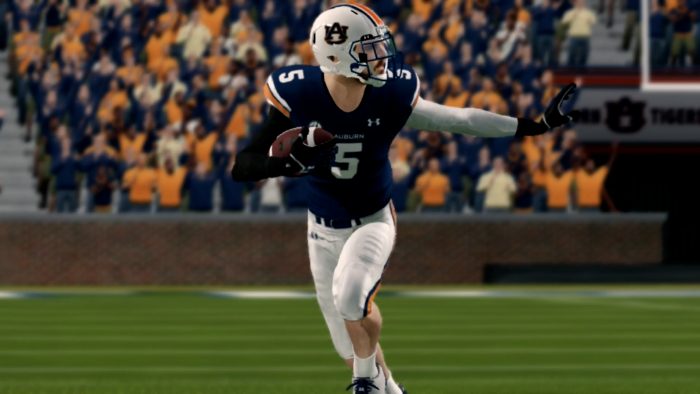 After two crazy games last night, we set our sights on tonight's games. It starts with Northern Illinois heading to Ball State for both teams to fight for their second win. Then we have Texas A&M hosting Auburn in College Station and hope their 12th Man can help get it done. Finally we have Michigan making the trip to Nebraska where both teams are fighting to get out of the middle of the pack of the Big Ten. Here's what our writers said about tonight's matches:
Northern Illinois vs. Ball State Preview:
Both teams sit at 1-5 and struggled offensively last week, with both teams scoring only 10 points. Northern Illinois' defense kept the game close allowing only 19 points, but their offense couldn't get it going. Ball State on the other hand allowed 36 points to Bowling Green where Ball State's defense didn't have an answer for Bowling Green. Look for Northern Illinois to get Duncan McClung going against Ball State and lead them to victory.
Northern Illinois 38, Ball State 27
Houston Freeman's Predictions:
Auburn has done its normal Auburn thing this season and has a chance to continue to keep themselves in the playoff picture as new Texas A&M athletic director Mears will get his first taste of "Playoff Pack". I look for the Tigers to likely control this game from start to finish with their defense.
Auburn 30, Texas A&M 24
Michigan just really hasn't been able to find a rhythm again since their 30-27 win over Notre Dame in week two. On the other side of the field, Nebraska just toppled the top team in the Big Ten last week behind the legs of running back Casey Bronco, and quarterback Courtney Harris. I think Nebraska has a good opportunity to win this game, but will need to contain quarterback Tanner Jones as best they can and force him to make off balanced throws.
Michigan 27, Nebraska 28
David Ware's Predictions:
For those who are new, Auburn has a history of sneaking in the playoffs and causing havoc. If Auburn wants a shot at the playoffs this game, it will not be easy as Texas A&M has been very tough and has the signature win against Clemson. If this game was earlier in the season, I would say the Aggies pull off the win. With the playoff chance's for Auburn on the line, I cant bet against them.
Auburn 35, Texas A&M 28
These two teams seem to be polar opposites right now, Nebraska is relishing in the fact that they just took down the undefeated Oklahoma State and Michigan has lost four in a row. Nebraska still has a great opportunity to make it to the playoffs. Michigan is much better than what their record shows and will definitely turn things around, but with the playoff lives of Nebraska on the line, I think it will push them over the top.
Michigan 14, Nebraska 28
AssuredFame's Predictions:
With their loss last week, A&M is out of the playoff picture and have had an amazing season so far with so many close games. Now it is time for them to play for their pride and play sleeper for this game against Auburn. With Auburn's loss last week, this is a MUST win game as the loser of Clemson and Miami will tie them with two conference losses. This is do or die time for Auburn and I think they have the talent with their athletic director Pack, quarterback Ron Newman and Mr. Do-it-all Sean Flowerday to take this over Texas A&M in a close one.
Auburn 34, Texas AM 28
Nebraska comes into this one as one of the four teams sitting at 2-2 in the Big Ten and have to be feeling great after taking down the undefeated expansion Oklahoma State Cowboys. Enter the Michigan Wolverines who started off the season red hot at 2-0, but have faltered since as quarterback Tanner Jones has had difficulties getting the passing game going. Nebraska is a top ten defensive unit in just about every category, and for that reason they take this one.
Michigan 20, Nebraska 27
Grin311's Predictions:
I'm going to say this till may face is blue: Texas A&M is better than their record, and with that will give Auburn fits this week. Look for them to try and play spoiler and mix up the SEC even more. This is my upset pick this week .
Auburn 28, Texas A&M 35
Michigan needs to win out to have a shot to make the playoffs, and a win against Nebraska will keep them mathematically still alive. The Cornhuskers though are on an emotional high and will be coming to build on it. This is anyone's game to win or lose and I think the boys in blue find a way.
Michigan 28, Nebraska 24
Jathan's Predictions:
Auburn is playing extremely good football right now. Last week brought a tough loss against Clemson, but that doesn't tell the whole story of this team. The Tigers have played some of the best teams in the league extremely close this season. It's hard to count out the Aggies though. When they have played well this season, they have been very impressive, however, they have been very inconsistent. I think Auburn's consistency and balanced roster will get them the win in this one.
Auburn 45, Texas A&M 24
Michigan is searching for a much needed win this week, as they've currently lost four straight. The Cornhuskers got a big time victory over Oklahoma State last week. A powerful run game led Nebraska to their win last week, and Michigan has struggled to stop the run this season, most notably against USC a couple of weeks ago. Nebraska showed last week what they're capable of, and I think they get it done again this week.
Michigan 17, Nebraska 40
TatteGriffin's Predictions:
Both teams are coming off losses last week. Auburn lost to the defending champs, while Texas A&M lost to a team that got their first non-MAC win. I expect Auburn to bounce back with a defensive battle this week.
Auburn 27, Texas A&M 24
Nebraska is still buzzing from their win against the once undefeated Oklahoma State. Michigan took another loss but tried to keep their game close with Oregon. Nebraska will look to continue their win streak while handing the rock to Casey Bronco. I believe that Nebby will keep their playoff hopes alive tonight with a win.
Michigan 17, Nebraska 31
The Verdict:
Our writers predict Auburn at 5-1 will be able to get it done against Texas A&M tonight. The Tigers consistently are able to sneak into the playoffs and they believe they keep it going tonight to stay in the fight for a playoff spot. Our writers then sided with the Cornhuskers 5-1 as they believe they can keep their momentum from a big win against Oklahoma State last week to lead to another win this week over the Michigan Wolverines.