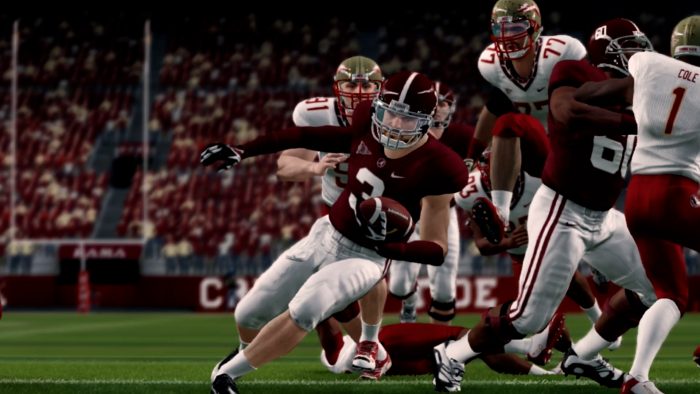 We're a couple days into the week and still have a lot of action left. It starts tonight with Ohio and Eastern Michigan facing off. Both teams have a lot of talent on both sides of the ball and it should make for a great matchup. Then we have Florida heading to Tuscaloosa to play Alabama as both teams are fighting for a better position in the SEC standings. Finally we have Notre Dame and Texas facing off in a matchup where Notre Dame wants to keep fighting for a playoff position and Texas just wants to get back to their winning ways. Here's what our writers have to say about tonight's matches:
Ohio vs. Eastern Michigan Preview:
Ohio sits at 2-3, but their two wins came earlier in the season and they've lost their last two games, Eastern Michigan on the other hand won their first game last week in a defensive battle against Northern Illinois. Look for Eastern Michigan to rely on quarterback Deandre Burks to have a great game and lead them to victory with some late game heroics.
Ohio 24, Eastern Michigan 31
Houston Freeman's Predictions:
Both Florida and Alabama need a moral victory here. Bama is reeling after a 52-7 loss to LSU last week, and Florida is doing the same after a 44-13 loss to Miami. Both of these teams have been a bit inconsistent this season. Quarterback Mathias St. John has shown he can air the ball out this season and it has been relatively successful, but the Gators need consistent sustainable drives, no turnovers, and less sacks to really get him to thrive. I'm going to pick against the Tide here and go with the Gators, but I see this being a tight game to the wire.
Florida 42, Alabama 38
Notre Dame is in a dangerous position to upend the Big Ten standings right now. They can still stay in the playoff picture, but have to win against Texas and USC in back to back weeks. The problem? Texas doesn't have anything to lose and everything to gain right now. They are playing with a chip on their shoulder after multiple gut-wrenching losses this season. I think Jooby and the Longhorns will find a way to pull off the upset here.
Notre Dame 50, Texas 52
David Ware's Predictions:
Both teams are coming into this rivalry game with tough losses. Florida has a very slim chance to make playoffs, and Alabama is still in contention as well. The question will be can Florida's defense contain Doug Day and the Crimson Tide? This will be a definite thriller as these two teams fight it out to save their playoff chances. The Crimson Tide must win out to try and secure a playoff spot, and they are bound and determined to do that.
Florida 38, Alabama 45
Very interesting game here as these two teams were both expected to be in the playoff conversation for season nine just like season eight. Notre Dame still has a shot at the playoffs if they can win out. Texas will use this game to try and build confidence for next season. Texas has been close on several games and had Notre Dame's number twice last season. Ill go with Texas winning this game 31-24
Notre Dame 24, Texas 31
AssuredFame's Predictions:
This game is do or die for both teams, Florida sits at 1-3 and Alabama is 2-2 in the mighty SEC conference. I expect both of these teams to try something new out and give us the game of the week vibes as we are going to see an incredible matchup of quarterbacks. Alabama features two time player of the week Doug Day, and Florida features Matias St. John. Both of those guys are incredible and leading their team to top ten passing offenses. This will be a shoot out with the Crimson Tide taking it late.
Florida 38, Alabama 45
Texas is out of contention when it comes to the playoffs, but are set to play sleeper, and be really good at it as well. This Texas team is a few plays away in all their games from being 4-2 or 3-3. Enter Notre Dame who absolutely decimated Ohio State last week by getting a big lead early and forcing turnovers. If Notre Dame can do the same thing, they will take this game as quarterback Vito Pipino is a true gun slinger and can be prone to mistakes.
Notre Dame 34, Texas 27
Grin311's Predictions:
Man, this is another game that is hard to pick with both teams having to win this one or look to be staying home for the playoffs. Though Alabama isn't technically out of it with a loss, it makes the road tougher for them, and with that I think they find a way to win this one.
Florida 21, Alabama 31
Texas has had some bad luck this season and have been in every one of their games. To me this is the one where the Irish luck will be with Texas as they pull of a big offensive output and get on the winning track.
Notre Dame 24, Texas 35
Jathan's Predictions:
Alabama met LSU head on last week and it didn't end well. The Alabama offense stalled out and was rendered ineffective by the LSU defense. Miami did the same to Florida taking care of them easily. Florida's defense has struggled lately, and I think Alabama has the keys to put up big numbers on offense. The winner of this game will be whoever shows up on offense.
Florida 21, Alabama 31
Notre Dame is an impressive ball club and they only have one bad loss this season. They've played some extremely good teams, and every contest has been close. Tyler Stemen has been one of the more impressive young quarterbacks in the league. Texas, on the other hand, has continued to struggle down the stretch this season. I think Notre Dame wins this one.
Notre Dame 41, Texas 27
TattedGriffin's Predictions:
Both teams come into this week after blowout losses last week. Florida allowed 153 yards rushing from Miami. I'm betting that Jake Moon will have a great day and relieve some pressure for Doug Day to air the ball out as per usual. Bama stays in playoff hopes with a win.
Florida 30, Alabama 38
Notre Dame comes off an impressive win against Ohio State last week, while Texas comes off a heart breaking loss from USC that has knocked them out of the playoffs. I believe that Vito Pipino will look to get back into his offensive player of the year form this week with a fire in his stomach and give a shake up to the playoff picture for the Big Ten!
Notre Dame 31, Texas 38
The Verdict:
Our writers have spoken. They sided with Alabama at a count of 5-1 believing that the hope of being in the playoffs will push them to a win behind great games from both Doug Day and Jake Moon. The writers then sided with Texas 4-2 and think they will be able to shake up the playoff race a bit for the Big Ten. Be sure to watch tonight on YouTube to see if the writers got it right!