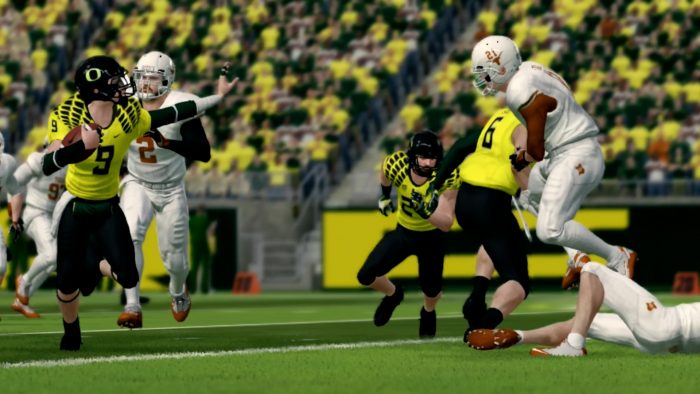 After a week full of exciting games, it comes to an end tonight. It starts off with some MACtion between the two top MAC teams in Bowling Green and Toledo. Then we have a game between USC and Oregon as whoever wins will be in the top three in Big Ten standings. Finally Florida State travels to the bayou to face off against LSU. Here's what our writers said about tonight's matchups:
Bowling Green vs. Toledo Preview:
Bowling Green has shown that they can win big against other MAC teams and even keep the score close against teams in the Power Two. Toledo's games have always been fairly close within a score or two except their game against LSU. Look for Bowling Green's one-two punch of Zach Scott and Thomas Welch to keep Toledo's defense guessing and their defensive players such as Caiden Womack to terrorize the backfield.
Bowling Green 45, Toledo 31
Houston Freeman's Predictions:
USC is sitting in a really good position right now to make the playoffs, but still realistically need to win both of their last two games. A wild last minute win against Texas last week has gotten them here, but they will need better consistency on offense this week to beat a dangerous Oregon team. There isn't a weak spot on this Ducks' roster, and they've lost to two quality opponents. They need to start hot and don't let off the gas like Texas did a week ago. Side note: wide receiver Dee Frost has the opportunity to capture the all time pancake record. Here's praying one of his legs goes lame or something so the real "Pancake King" Houston Freeman can retain his rightful throne.
USC 24, Oregon 33
Florida State surprised a lot of folks by winning against Texas A&M last week, however, I don't believe they will be able to pull off the monumental upset against LSU. LSU has to make sure they don't overlook Florida State for their match up against Oklahoma State next week. I believe LSU has more than enough fire power to pull this out.
Florida State 30, LSU 42
David Ware's Predictions:
USC and Oregon are fighting for a playoff spot; man I love the playoffs. This game will be very interesting to watch as USC has been using their speed to run the triple option, but Oregon has a very fast defense and they hit very hard. Teams that have been able to get in the back field early have had a lot of success against USC. The Oregon defense is definitely able to do that and will be a great battle to watch. The question will be how well can USC stop Oregon?
USC 31, Oregon 28
Florida State is coming off a huge win against the A&M Aggies and are riding in with a lot of momentum. They have been very competitive in every game this season. LSU is coming off a dominant win against Alabama as LSU put the league on notice and made an example for the league to watch. FSU will stay close as athletic director Tom Pence always finds a way to keep his team fighting. In this game LSU will be to much.
Florida State 31, LSU 45
AssuredFame's Predictions:
Battle for number two in the Big Ten! USC has been up and down this season and barely won against Texas last week, but that doesn't matter. They have positioned themselves into a prime spot when it comes to the playoffs and as long as they take care of business this week, they are in! Oregon has other things to say about that as their two losses on the season have been against Oklahoma State and Ohio State. I think this will be a defensive orientated game and will be one where the person to score last wins, and that will be USC.
USC 31, Oregon 24
Florida State has been in very single game this year with their biggest loss being to Clemson by 10. While sitting at 1-3 isn't great, I think this is the week where they put it all together and defeat LSU. LSU's one loss was to Miami and quarterback Axton Richardson who is a nightmare to game plan for, and Florida State has quarterback Adonis Jackson who is arguably the same player, if not better. As long as Florida State can contain LSU's front seven, they'll take this by a field goal in a game that will spice up the SEC even more!
Florida State 38, LSU 35
Grin311's Predictions:
The Ducks just flat out know how to put up points and the Trojans just wear you down. With that being said, I just don't see USC keeping up with the leagues track team. Ducks win by ten.
USC 28, Oregon 38
Talk about a team that is balling out. That would be no other than the LSU Tigers, just plain wow. On the flip side, Florida State has been in all of their games this season, and if not for a couple of breaks could be one of the top teams in the conference. They don't give up until the clock strikes zero. This game should be like most of their games and I'm not betting against the upset.
Florida State 37, LSU 35
Jathan's Predictions:
These two teams are extremely close in many ways. Both have lots of defensive talent and good amounts of speed on the offensive side of the ball. USC will need to get the running game going because if they fall behind in this game, I don't see them coming back. The Ducks weren't great against Michigan's run attack this week giving up two touchdowns on the ground. Because of this, I think the triple option is successful and the Trojans pick up a big win.
USC 45, Oregon 35
LSU is the new number one in the power rankings, and for good reason. This defense is stout, and Florida State hasn't faired well against good defensive units so far this season. I see LSU dominating this one, just as they did last week.
Florida State 20, LSU 49
TattedGriffin's Predictions:
Both teams come into this week with another win under their belts! USC with some last second heroics to seal a win against Texas, and Oregon with a much needed conference win against Michigan. If Oregon can get Thrasher Banes to cough up the ball and slow down the triple option, they'll get the win.
USC 20, Oregon 24
LSU is back coming off a blowout victory against Alabama last week, while Florida State gets their first non-MAC win, but I don't see Florida State continuing their win streak against a dominant LSU defense. LSU continues to show why they are at the number one spot in the SEC.
Florida State 23, LSU 44
The Verdict:
For our first CFSL match our writers have split 3-3 in the game between USC and Oregon. Some believe the triple option will lead USC to victory and others think Oregon's fast defense will be able to contain USC's offense. Our writers then sided with LSU 4-2 believing they will show why they're the number one team in the power rankings and in the SEC while others think Florida State will be able to ride their momentum from last week and take a win against LSU. Find out who's correct tonight on Twitch!