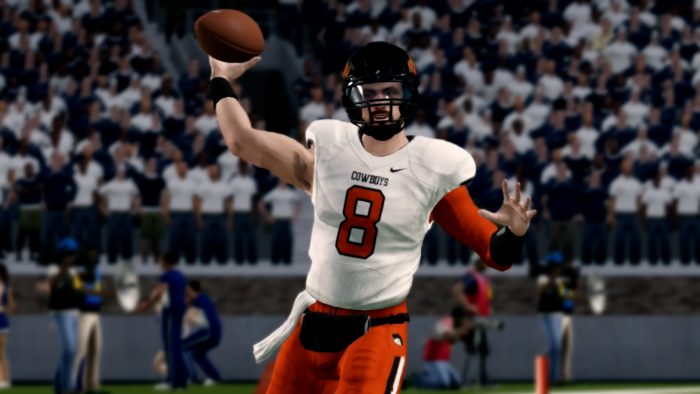 We are finally here at week eight. It's rivalry week in the CFSL and it starts off with some great matchups on day one. We start in Oklahoma where LSU has to leave the bayou and fight in tornado alley. We get to see the top two teams in the power rankings face off in an SEC vs. Big Ten matchup that should be a great matchup. Then the Aggies head west to Austin to face off against the Longhorns. Neither team have lived up to their expectations heading into the season, but finishing with a win against their rival could give them some momentum to bring into next season. Here's what our writers have to say about tonight's matches:
Houston Freeman's Predictions:
Oklahoma State rebounded in spectacular fashion last week after losing their first game of the season. The Pokes' offense scored 72 points, and quarterback Lyle Fletcher came incredibly close to breaking several single game passing records. LSU has shown all season long that they're the team to beat in the SEC. Quarterback Gage Youngblood has been phenomenal and had a 40-47, 431 yards, and five touchdown stat line just a week ago. I think this is going to be a fireworks show, boat race, track meet, however you want to call it, it's gonna be a high scoring shootout. I think Oklahoma State's defensive end Justin "Juice" Williams will be the difference maker tonight, and put enough pressure on the Youngbloods by himself to slow them down just enough for the Pokes to win.
LSU 52, Oklahoma State 55
Can you say rivalry week???? Texas A&M and Texas kick this thing off with their first matchup against each other in several seasons. The all time series is 1-1 with A&M winning the last one. Both of these teams sit at 2-5 but could just as easily both be 5-2. They've had several games fall out of reach in the final seconds. I really like the Longhorns' offense and the Aggies' defense has had trouble keeping folks off the scoreboard. This'll be tight, but Texas will win this one.
Texas A&M 35, Texas 38
David Ware's Predictions:
We are possibly looking at the National Championship game preview, just like we did in season eight. This will be an exciting game to watch as both of these teams have been dominant most of the season. They have continually won games and showed why they deserve to be in the playoffs. The Youngblood brothers will be ready to roll on offense for LSU and Lyle Fletcher and all of his weapons will be ready as well. This will be a high scoring game with Oklahoma State winning as time expires.
LSU 48, Oklahoma State 51
The first of many rivalry games for these two schools. When A&M came into the league again this season, there was a lot of hope that these two teams would match up. Texas is coming off a huge win against Notre Dame and A&M is coming off a very close loss to Auburn. Do not look at the Aggies record, because they have been in almost every game. They came from twenty one down to tie Auburn before Auburn closed the game out. This will be the game that helps give the Aggies the confidence they need going into season ten. Aggies 45-42
Texas A&M 45, Texas 42
AssuredFame's Predictions:
This is absolutely insane! Both number one seeds in their respective conferences facing off in the last week of the regular season. Best scoring offense in Oklahoma State versus the defense with the least points allowed in LSU. Both are guaranteed a spot in the playoffs, and with that in the back of their head, do they not pull all the plays out they normally would to win, or do they go all out?? Defense normally wins championships, but for this game I am going with the man who can do no wrong in quarterback Lyle Fletcher as they take LSU by seven.
LSU 31, Oklahoma State 35
Battle of Texas! Both teams come into this game with nothing more to fight for than bragging rights for the state of Texas, getting more wins then the other, and looking better for incoming recruits. My nod will go to Texas in this one as they have played every single game within ten points this year. Quarterback Vito Pipino is also quietly having another great year. This will be a shootout as both teams will put on a show for us!
Texas A&M 38, Texas 45
TattedGriffin's Predictions:
LSU got a key victory for their race towards the SEC conference title as they were able to edge out the win against Florida State. Gage Youngblood only had seven incompletions to go against five touchdown passes on his way to a victory. On the other hand, Lyle Fletcher had three incompletions to go against seven touchdown passes along with 616 passing yards (which is good enough for number two all time for passing yards in a game) and completed his first 30 passes. With USC's loss, Oklahoma State are officially Big Ten champions! With one conference champion and one hopeful conference champion, I believe this will be a battle of high powered offenses! Oklahoma State edges the win in this one!
LSU 41, Oklahoma State 45
Both teams come into this week at a 2-5 record. Texas A&M lost by three to a very good Auburn team in overtime while Texas won against a team who may have been knocked out of the playoff picture! Like I called last week, Pipino looked like his offensive play of the year self as he threw five touchdowns and had one with his feet. Jimi Germaine also looked dominant with six passing touchdowns. I feel like this will be another offensive battle with Texas coming out on top!
Texas A&M 34, Texas 38
The Verdict
The writers all believed Oklahoma State will be able to beat LSU in a close matchup between two of the top teams in the CFSL. They believe Lyle Fletcher will be able to help lead his team to victory with the high powered offense they have and their defense will do enough to stop the Youngblood brothers. The writers then split 3-1 in favor of Texas in their matchup against the Aggies. They believe that Pipino will do enough to keep the Longhorns ahead in the matchup. Find out if they're correct tonight on Twitch!