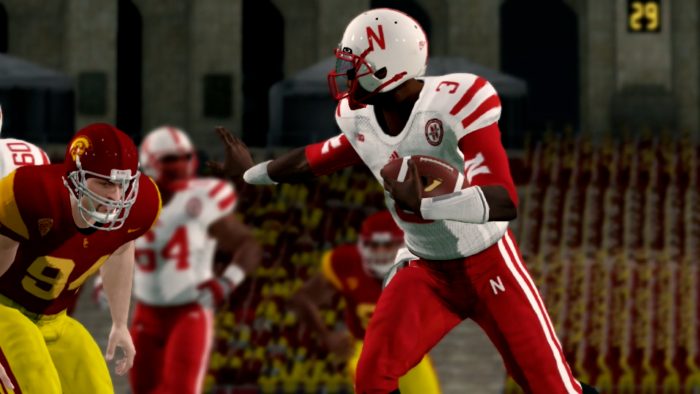 Week seven is complete and now we look to the final week of games in the regular season. This week we get to see a bunch of great rivalry games and even a few that will determine final playoff positions.
1) NC LSU Tigers (6-1) (189)
Last Week – W vs. Florida State 45-38
This Week – @ Oklahoma State 11/9/2020 7:00 PM CST
LSU comes in at number one. With a playoff spot clinched, the LSU Tigers are riding a three game winning streak headed into the final week. However, before they think about the playoffs they will be facing the Big Ten champions Oklahoma State, which should be a must see regular season finale game.
2)
+1

Oklahoma State Cowboys (5-1) (185)

Last Week – W vs. Ohio State 72-29

This Week – vs. LSU 11/9/2020 7:00 PM CST

Oklahoma State comes in at number two. They dismantled Ohio State on their way to being crown the Big Ten champions. What an accomplishment for a first year program. They look to cap off the season with a win over LSU this week.
3)
+1

Miami Hurricanes (5-2) (164)

Last Week – W vs. Clemson 30-23

This Week – @ Florida State 11/10/2020 7:00 PM CST

The Hurricanes notched an impressive win this week against the defending champions. The Miami defense did an amazing job at holding the Clemson offense in check. Keeping Dane Jones out of the end zone is a great way to defeat the Tigers, and Miami did just that. Miami has steadily climbed the power rankings this season, and has EARNED their spot among the best teams in the CFSL.
4)
-2

Clemson Tigers (5-2) (157)

Last Week – L @ Miami 23-30

This Week – vs. Florida 11/10/2020 8:45 PM CST

The Clemson Tigers are ranked number four this week. A heartbreaking loss to Miami has put them in a win-and-in playoff scenario. They will try to do that against a rival Florida team.
5) NC Auburn Tigers (5-2) (151)
Last Week – W @ Texas A&M 55-52
This Week – @ Alabama 11/12/2020 7:00 PM CST
After winning a shootout in College Station, Auburn showed they are ready for the playoffs, however, they may not make it without a little help. The always-striving-for-excellence Ron Newman went off vs A&M. He amassed 328 yards in the air with three touchdowns and ran for nearly 150 yards and another two touchdowns. He literally carried his team to victory. This week is a must win for Auburn to stay in the playoff race. A loss or a Clemson win and Auburn is out.
6)
+1

Oregon Ducks (5-2) (141)

Last Week – W vs. USC 45-24

This Week – vs. Nebraska 11/11/2020 8:45 PM CST

The Ducks played a close first half this week against the Trojans of USC, but Jefferson Allen and the Ducks quickly took over in the second half. The Ducks stifled the triple option attack after halftime, and the Oregon offense looked like a well-oiled machine. Allen was a star once again, putting the ball in the end zone four times and leading his team to a firm victory. The Ducks will look to finish strong next week against Nebraska.
7)
+4

Nebraska Cornhuskers (4-3) (115)

Last Week – W vs. Michigan 48-31

This Week – @ Oregon 11/11/2020 8:45 PM CST

Nebraska is another team that has found themselves climbing the rankings late this season. The rushing attack for the Cornhuskers was lethal yet again this week. The Michigan defense had no answer for Bronco and Harris on the ground, as they each found the end zone twice in the contest. Nebraska has gotten better and better as the season has gone on, and they now sit with a winning record. Oregon will be a tough opponent this week, but also a great opportunity to prove that they belong at the top of this list.
8)
-2

USC Trojans (4-3) (101)

Last Week – L @ Oregon 24-45

This Week – vs. Notre Dame 11/11/2020 7:00 PM CST

USC comes in at number eight, but they have the opportunity to climb. Their path to the playoffs is pretty simple. Win and in.
9)
+1

Alabama Crimson Tide (4-3) (95)

Last Week – W vs. Florida 31-17

This Week – vs. Auburn 11/12/2020 7:00 PM CST

Alabama defeated Florida in a hard fought, must win game. They won yet again by having halfback Jake Moon rush early and often, and quarterback Doug Day having another great game in the air. Up next for them is Auburn in the Iron Bowl. This is another must win game as Alabama, Clemson, and Auburn all sit at 3-2 in conference with a chance to jump to 4-2 and tie Miami if they lose, as well as Clemson if they win. When in doubt, win out. It is of the utmost importance that Alabama stays balanced on offense in hopes of defeating Auburn.
10)
-1

Notre Dame Fighting Irish (3-4) (86)

Last Week – L @ Texas 42-49

This Week – @ USC 11/12/2020 8:45 PM CST

Just when we thought Notre Dame was hitting its final form and gearing up for the playoffs, they fell to Texas last week in arguably the game of the week! Notre Dame sits in an incredibly tough spot right now. They need to win this and get lucky with a few losses and tie breakers going their way to make it. They also have four seniors to send off, so it's all or nothing this week.
11)
-2

Ohio State Buckeyes (4-3) (83)

Last Week – L @ Oklahoma State 29-72

This Week – @ Michigan 11/11/2020 7:00 PM CST

There is still a very small glimmer of hope that Ohio State makes the playoffs, though they sure did not show they deserved it at Oklahoma State. The Ohio State defense gave up 616 passing yards. That is the second highest ever given up on the CFSL! If Ohio State does in a miracle fashion make the playoffs, it will need some serious retooling of it's secondary.
12) NC Florida Gators (3-4) (48)
Last Week – L vs. Alabama 17-31
This Week – @ Clemson 11/10/2020 8:45 PM CST
Florida fell last week to Alabama in a hard fought SEC conference game. Florida has many things they can build off for the season, but it isn't over yet as Clemson sits in front of them before this season's end. It is always fun to play sleeper and potentially defeat the defending champs as it paints a great image to incoming recruits and sends off the senior group of quarterback Mathias St. John (who holds every single career and season passing records, and quite a few of the career and season rushing records at Florida) and linebacker Wyatt King on a high note.
13) NC Florida State Seminoles (2-5) (41)
Last Week – L @ LSU 38-45
This Week – vs. Miami 11/10/2020 7:00 PM CST
Although they didn't find a win this week, Florida State performed better than most might have expected. The LSU defense has been arguably the best defense in the league this season, and the Seminoles had a lot of success against them. Florida State has played a lot more pass heavy late this season, and it has really paid off. Five touchdowns from Adonis Jackson this week shows just how much this offense has improved. However, you have to win games to be successful in this league and wins have been few and far between for the Seminoles this season. They will look to close strong this week against in state rival, Miami.
14)
+1

Texas Longhorns (2-5) (40)

Last Week – W vs. Notre Dame 49-42

This Week – vs. Texas A&M 11/9/2020 8:45 PM CST

Battle of Texas!! Texas has bragging and recruiting rights on the line in this one. It sounds much better to the incoming recruits that they were within ten points of every single game and defeated Texas A&M in the last week, instead of the other way around. Also, Texas is sending off five seniors this week. Go get them guys!
15)
-1

Texas A&M (2-5) (33)

Last Week – L vs. Auburn 52-55

This Week – @ Texas 11/9/2020 8:45 PM CST

Losing in a thriller shootout with a playoff contender shows that with a few adjustments, you may have been a playoff contender as well. Quarterback Jimi Germaine stepped onto the field wanting to prove a point about his talent level, and he did. He slashed the Auburn defense for over 500 yards passing and six touchdowns. He even carried the ball into the end zone once. It's not like the A&M defense was silent either as defensive end TJ Smith racked up five tackles for loss and four sacks! Texas A&M may finish last in the SEC this season, but watch out for them next season.
16)
-1

Michigan Wolverines (2-5) (16)

Last Week – L @ Nebraska 31-48

This Week – vs. Ohio State 11/11/2020 7:00 PM CST

Michigan once again finds itself preparing to watch the playoffs from their couches. They can't seem to figure out their opponents even though they have more than enough talent to win weekly. Halfback Dior Chapman kept them in this one until the fourth quarter. That is when Nebraska slammed the door on Michigan's season. One thing is for sure: no matter what, this week matters for Michigan!