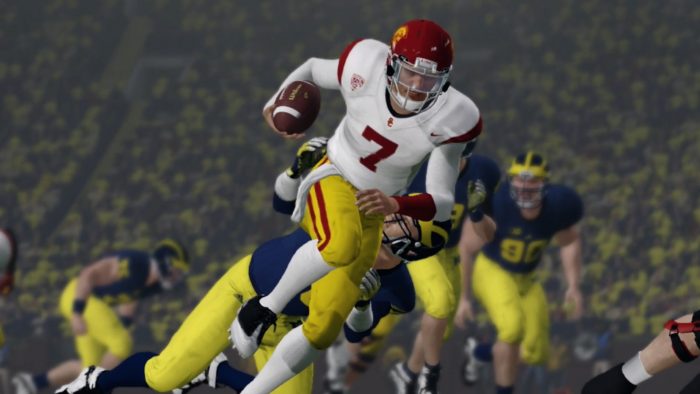 We had some exciting games last night, but we're on our penultimate day of matches for the regular season. We'll start our night with a matchup between USC and Notre Dame. It should make for an exciting matchup, as the rivals square off with a playoff berth on the line. We then head to Mile High Stadium as Oregon and Nebraska face off in another win-and-you're-in game with neither team having home field advantage. These should be great games tonight and here's what our writers think will happen:
Houston Freeman's Predictions:
Notre Dame has had its moments this season where they've looked dangerous, and others where they've looked incredibly vulnerable. A loss to Texas last week makes this week a must win for the Irish. USC is in the same situation, the triple option has had its games where it has looked unstoppable, and others where it leaves a lot of us scratching our heads. I believe USC has the defense to beat Notre Dame, and this will be the first time the Irish have played the triple option so far. I think quarterback Thrasher Banes will find a way to lead USC to the playoffs in this one.
Notre Dame 31, USC 34
Nebraska's run game has been top shelf this season, but I'm not too sure they can keep up with Oregon's explosive offense. The key to this game is whether Oregon takes advantage of every possession they get. Just a few weeks ago we watched Nebraska beat a similar Oklahoma State team by playing keep away on offense and being very efficient. Assuming the Ducks can put together more drives than the Cowboys did, I like the Ducks in this one.
Nebraska 28, Oregon 35
David Ware's Predictions:
This is a huge Big Ten game and it will be exciting to watch the matchup. USC has looked great at times this season, and other times it has been rough. With the fast defense of Notre Dame I am curious how well the triple option will work for them. Notre Dame's freshman quarterback Tyler Stemen has had a great freshman campaign and looks to build on that to cap off the season and will have his work cut out for him against the defense of USC.
Notre Dame 24, USC 28
This game has major implications on the playoffs. Both teams are tied for second place right now, but a loss could put them out of the playoffs completely. The best way to secure a playoff spot is to just win this game. These teams match up really well against each other, which will make it even more exciting for sure. This game will go down to the wire and overtime will be needed.
Nebraska 31, Oregon 28
AssuredFame's Predictions:
One of the biggest rivalries in football and with huge playoff implications on the line. Last time these two teams played Notre Dame took it 26-24 behind a strong balanced play from their quarterback and strong defense. USC is completely different from that team when it comes to personnel, so it will be very interesting to see how Notre Dame will be able to keep up with the triple option attack USC has used all year. USC is in must win mode and I think that is what we will see in this game as they win in a close one against the Irish.
Notre Dame 31, USC 34
Battle for the second seed in the Big Ten. We've seen both of these teams have incredible highs and lows on the season as they both sit 3-2 in conference play. Does Nebraska have the defense to hold up and stop the prolific Oregon offense, or will the Ducks be able to over come this 3-4 defense that so few teams run? Give me Nebraska by seven.
Nebraska 38, Oregon 31
TattedGriffin's Predictions:
Another big week for Notre Dame quarterback Tyler Stemen. Stemen had 372 passing yards and five touchdowns, but Notre Dame couldn't get their comeback win against Texas. USC kept it close against Oregon for a half, but then slowed down and couldn't keep up for the other half. USC had an impressive rushing day with 283 yards and three touchdowns. If Notre Dame can get their offense going early and keep USC playing catch up, they get the win in this one and get a playoff spot.
Notre Dame 38, USC 28
Both teams come into this matchup coming off impressive wins. Nebraska put up 512 rushing yards and four touchdowns against USC. Jefferson Allen put up 347 total yards and four total touchdowns. This win makes their path to the playoffs a sure thing with a win here. On the other hand, Nebraska also gets into the playoffs with a win here. I believe the battle for second place goes to Nebraska in this one via their rushing game.
Nebraska 38, Oregon 35
The Verdict:
For our first game of the night, our writers sided with USC 3-1. They believe the triple option from USC will be enough to get past Oregon's defense. They then sided with Nebraska 3-1 as well believing they can pull off a victory against the Ducks. Find out what happens tonight on Twitch!