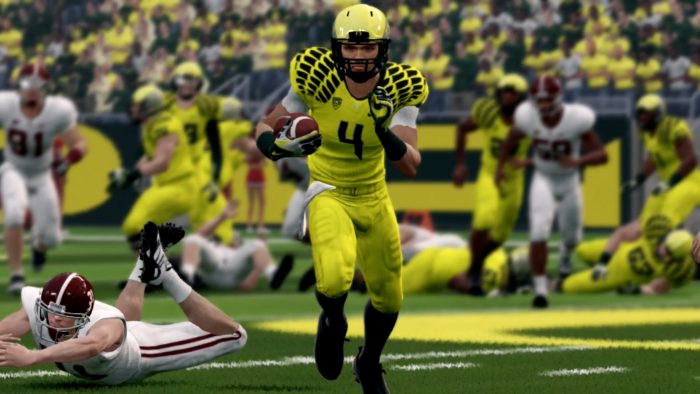 The regular season is complete and these teams have clawed their way into the playoffs, but their work isn't over yet. We start our night with a rematch of a week one game between Oregon and Alabama. Will Oregon fend off Alabama for the second time this season? Or will Alabama use what they've learned throughout the season to get revenge? Then we have LSU facing off against USC. LSU is coming off a close loss last week to Oklahoma State while USC was able to beat Notre Dame to punch their ticket into the playoffs. Here's what our writers said about tonight's matches:
Houston Freeman's Predictions:
Alabama is having somewhat of a dream season after going just 2-6 last year, and the beauty of the playoffs is that anything can happen. Oregon has made their way back to the playoffs after showing they were a strong team all season. Watch for quarterback Jefferson Allen to have a big performance tonight as Alabama has struggled against prolific quarterbacks this season. Alabama has a quarterback of their own in Doug Day and an onslaught of receivers to deal some damage as well. I see this as being a shootout, but the edge goes to Oregon and their offense.
Alabama 42, Oregon 45
LSU has been firing on all cylinders this season and only has two losses… both to the number one seeds. USC was able to shut Notre Dame down and earned the right to continue their season as the first team to utilize the triple option in the post season. As always, the triple option attack is dangerous, and when it's on… it's on. On the other hand, LSU has the Youngblood brothers and when they're on… they're on. I see this being a close game that comes down to the wire, and a spread team is more likely to advance the ball late in the game, so the edge goes to LSU.
LSU 35, USC 32
David Ware's Predictions:
First round of playoffs is a rematch of week one instant classic. In the first game, Oregon had a lead most of the game when Alabama came back only for Oregon to win on a Hail Mary play! Alabama is on a 5-1 run including a monster win in their Iron Bowl that controlled who would be in playoffs. Oregon was also in a win and in game against Nebraska and took care of business. This game will not disappoint! The defense for both teams has forced turnovers and scores and will be fun to watch.
Alabama 35, Oregon 31
Another great match that will be fun to watch. USC had to win in week eight to get in and they did. How will this triple offense be able to run against the very tough LSU defense in this very first ever matchup. USC is underdog but they've got some fight in them and I pick their magic to continue for one more game!
LSU 28, USC 31
AssuredFame's Predictions:
These teams played earlier in the year in a CLOSE game from start to finish where there was less then five seconds on the clock and the score was 30-30, then the impossible became possible… a HAIL MARY bomb! Wide open too. Since then, Oregon has had an up and down season winning the next two games, losing the next two, then winning the remaining three games to secure a playoff spot. Alabama comes into this game HOT as they have won five of the last six games with their only loss being to playoff favorite LSU. Will Alabama keep up the hot streak or will Oregon hit another bump and fall?
Alabama 31, Oregon 28
The number one run offense featuring the triple option offense is actually working as USC has claimed a playoff spot. Enter the LSU tigers who are one of the best defenses in the league as they feature the playoff's best run defense, and are number one in sacks. USC has shown that they can come back from leads, but it was not easy. Can LSU score early and often and force the Trojans to pass? I think not. The triple option lives on for another week!
LSU 31, USC 35
Grin311's Predictions:
This is as interesting of a matchup as any. Both teams have strong teams and can light up the score board when needed. Also both have defenses that can produce turnover and stops at the right moment of games. The key here will be Alabama getting that turnover and getting ahead of the Ducks on the scoreboard. Oregon has shown that if they have a lead it's hard to catch-up. With that I like Alabama with the win.
Alabama 35, Oregon 32
This shows two totally different styles of offense. I know LSU will run some option plays at times, but they do like to live on the big play arm of quarterback Youngblood. USC is a grinder and slowing the game down does play into their advantage. With that Tigers by eight in a back and forth playoff tilt.
LSU 32, USC 24
Jathan's Predictions:
A rematch of the week one game that came down to the last play, this game should be a good one. Both teams have been looking great offensively in recent weeks. I think the defense that plays better will be the one that wins this game. Oregon has played lights out in the second half in recent weeks, so I'll take the Ducks in a shootout.
Alabama 49, Oregon 59
We've seen this matchup before, but something tells me this one will look different. It was a hard defensive battle in the preseason matchup, but I think we will see more points scored this time around. The triple option of USC looked as good as ever last week, and LSU has played great offensively down the stretch. This will be a great game, but the triple option carry the Trojans another week.
LSU 37, USC 40
TattedGriffin's Predictions:
Alabama comes into this one off a must win game versus Auburn in the Iron Bowl, only after a Clemson loss that gave them a chance for a playoff spot. Oregon got into the into the playoffs after battling Nebraska for the number two spot in the Big Ten. Alabama started slow in the Iron Bowl until they exploded for 24 points in the second quarter. With Auburn only scoring six points in the first half, Alabama shut them out the second half on their way to a 31-6 victory. Oregon kept it close with Nebraska going into halftime with a 14-9 lead. Oregon then put the pedal to the metal by scoring 21 points each of their next two quarters. With this being a rematch of week one, I expect both teams to come out firing on all cylinders to move on to the semi-finals! Whoever make the least mistakes wins this game of high powered offenses.
Alabama 31, Oregon 41
LSU comes into this week keeping it close with the now number one team Oklahoma State, but was not able to secure the win. USC is on a mission to prove that the triple option is dangerous playbook and continued to prove their point with a blowout win against a good Notre Dame team. The ultimate factor in LSU's loss was their five giveaways including the game sealing fumble that was recovered for a touchdown. USC ran all over Notre Dame for almost 300 rushing yards and added another 191 passing yards. This will come down to quarterback management. Whether that means not throwing the ball to the other team or being able to hold onto the ball. I bet that Gage Youngblood will clean up his game and lead LSU to a victory.
LSU 38, USC 35
The Verdict:
Playoffs start tonight! Our writers split 3-3 on the Alabama and Oregon match. Everyone agrees the team with the least mistakes should get the win tonight. The writers then split again on the LSU and USC game. Some believe in the triple option offense while others think LSU's defense is too good. Find out what happens tonight on Twitch!