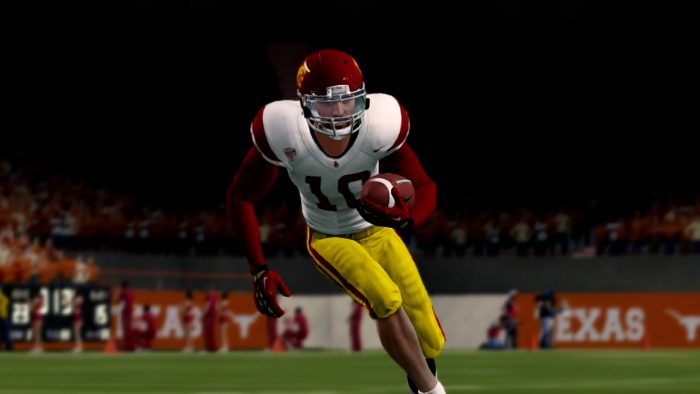 Time for some playoff football! USC and LSU wrap up our night of quarterfinals play, and it's bound to be a thrilling matchup! If you don't know how the playoffs work, I'll lay it out here before going into breaking down this game. Conference champions are given the number one seed for their conference, and are then given a first round bye for the playoffs.
That leaves two playoff berths for each conference to play in the first round of the playoffs, meaning six spots in total (three from each conference), and this is primarily determined by conference record with other tiebreakers behind it if needed. The number two seed in the Big Ten plays the SEC's three seed, and the SEC two seed plays the Big Ten's three. So, let's start with the three seed of the Big Ten for this matchup.
USC Trojans
The Trojans brought in the triple option attack this season, and they honestly got laughed at for it. But they've quickly shut them up. With a defense that has been impressive and stubborn all season, this offense has been built to wear down defenses and outrun them on the edge, against opponents they can get to the edge on at least.
Offense
The Trojan offense has seen everybody getting touches, but quarterback Thrasher Banes has gotten the heaviest of the workload. Even so, halfback Kolby Kichler and the tight end, turned fullback, Ray Guerrero has been outstanding for this Trojans offense. These are the three who have been able to really do most of the wearing down, with Kace Blazer coming over from the defensive side to help out and generate some explosive plays for the Trojans offensively. You'll also see Brandon Cox come over and spell Guerrero and Cox has been a touchdown machine when he is given the call from inside the five. The Trojans rely on beating you to the edge, or bullying you up the middle, and Banes' occasional passes include a shot to Ryan Lendy who has proven to be able to muscle the ball away. This offense, their myriad of weapons and their approach keep defenses not only guessing, but sucking wind for a good part of the night.
Defense
Linebacker Steven Parks leads the charge for the Trojans, and has done an outstanding job as well as defensive end Eric Miller in applying pressure. But the heart of the defense has majorly relied upon linebacker Steven Parks with fellow linebacker Brandon Cox in support. Corners Kace Blazer and Aaron Whitten lock the boundaries, and it's safety Arian Adams who assists in the enforcer role. With Adams in the box, it becomes extremely difficult for opposing offenses to find a reliable ground game as both Adams and Parks fill and contain well. However, against LSU, this defense is going to need their secondary as fresh as they can be, and that might be a tall test as it is where they are slim. Still, safeties Terrence Goldsberry and Seal Stern have been reliable help in the back end so long as USC can keep them from getting worn out.
X-Factor
In order for USC to protect their secondary, especially with Kace Blazer appearing on both offense and defense, the Trojans need to make quick stops and the senior in Terrence Goldsberry is going to have to be an integral part in that. Whether it's making tackles or generating turnovers, the Trojans need Goldsberry to stand tall and help swing the tide in their favor tonight.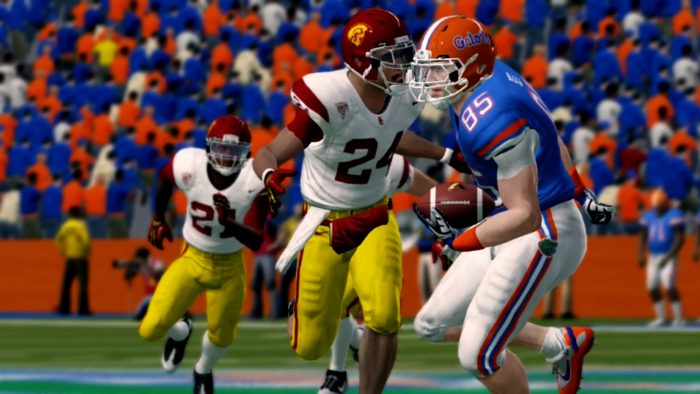 LSU Tigers
From 2-6 to in the playoffs, the LSU Tigers have a different swagger to them. With a balanced offense led by the veteran Gage Youngblood, and one of the stouter defenses in the entirety of the league, boasting a bevy of talent both on the defensive line and in the secondary. Few have had a more talented defense than LSU, and it's a big part as to why they were in the running for the SEC title this season.
Offense
The Tigers are back, and quarterback Gage Youngblood and halfback Colt Youngblood continue to lead the charge. The two brothers both showcase their explosive styles, and Gage has been benefitted with some great receiving talent. Both Cosmos Woods and Dominik Flores can make some major splash plays, and tight end Edge Eggers has been one of the more reliable targets for the junior quarterbacks. They'll beat you over the top, or with the well crafted blend of speed and power from Colt, this offense is built to grind out a win, or challenge you to a race. Tonight, I wouldn't be surprised to see them challenge LSU to a race with the explosive nature that the Tigers have in their offense, USC would be hard-pressed to keep up.
Defense
As good as the offense can be, they're efficiency is helped in large part by this defense. Freshman defensive tackle Dillon LeBlanc has exploded on the scene, and his record chasing will create opportunities for fellow defensive tackle Dmytri Mikhaylov and defensive end Cameron Boggs. Linebacker Brandon Stone has also benefitted from the play of LeBlanc, allowing Stone to breach the backfield and generate plays of negative yards. But the tandem of the defensive line is benefitted by a supremely talented secondary. Corners Brody Edward, TJ Keene, and Marcellus Burney have been absolutely lockdown and allow safeties Anthony Stover and Dalton Smith to roam and flow with much greater ease. This defense is tough to figure out, and it's because of the talent which gives their offense so many opportunities to work with.
X-Factor
For the praise given to the defensive line and the way they open holes for him, tonight will still be a challenging night for linebacker Brandon Stone. He faces an offense designed to beat you to the edge, and Stone has got to be able to help close and limit the runs, even if it's only to four yards. While he'll likely have a lot of secondary help, the Tigers cannot afford to have Stone get completely locked out of the gameplan like USC did to Ohio State's Allen Mack back in week one.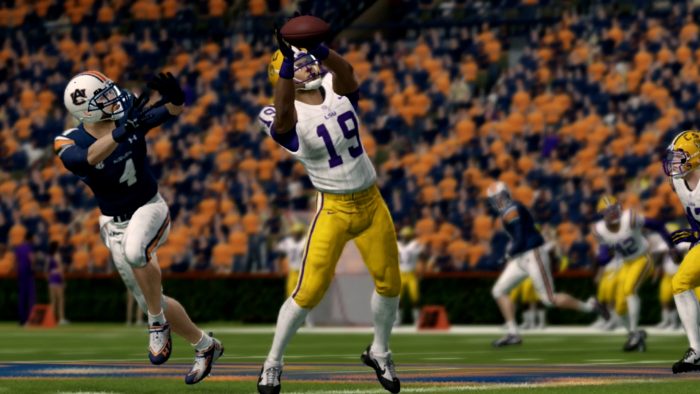 What to Watch For
The biggest chess match of the night will be the USC offense and the LSU defense being pitted against each other. With the Trojans and their speed based offense going against a stingy Tigers defensive line and a linebacker in Brandon Stone who will be challenged in his ability to flow and limit runs. Quick stops will be the key for LSU, because USC's offense can leave you gassed early if you're not careful. Third downs will be the telling tale in who's winning the battle of these two units tonight!