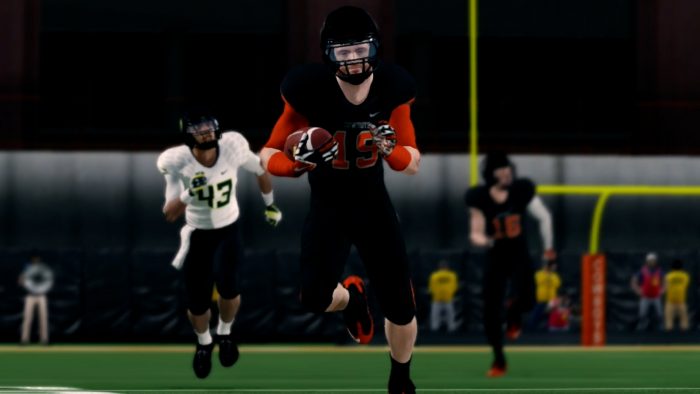 The regular season is complete and we now look ahead to this season's playoffs. With a lot of great teams, the competition in the playoffs is very talented as we transtion our power rankings to be a top 10 of the league!
1)
+1

Oklahoma State Cowboys (7-1) (185)

Last Week – W @ LSU 35-28

This Week – FIRST ROUND BYE

Oklahoma State is coming in at number one. The Big Ten champions beat a strong LSU team, and they now have a first round bye in the playoffs and are one of the favorites to win.
2)
+1

Miami Hurricanes (6-2) (174)

Last Week – W @ Florida State 45-31

This Week – FIRST ROUND BYE

Miami has earned the week off this week after an amazing three game winning streak to finish off the regular season. Miami didn't start the season high on our power rankings, but they have looked extremely good on both sides of the football down the stretch, and have beaten some extremely good teams. Players like Griffin Richardson and Axton Richardson have really shown up and have turned this team into something great. This will be a tough team to beat in the postseason.
3)
-2

LSU Tigers (6-2) (169)

Last Week – L @ Oklahoma State 28-35

This Week – vs. USC 11/16/2020 9:00 PM CST

LSU comes in at number three. With a loss to Oklahoma State, LSU did not clinch a first round bye. They will now face USC and that triple option in the first round. LSU looks to rebound after ending the regular season with a loss.
4)
+2

Oregon Ducks (6-2) (161)

Last Week – W vs. Nebraska 56-16

This Week – vs. Alabama 11/16/2020 7:00 PM CST

Oregon has been a dominant second half football team recently. This Jefferson Allen led offense seems to leave great defenses in the dust late in games, and it has brought them all the way to the playoffs. Oregon has tons of momentum going into the rematch with Alabama this week. If they can rely on the leadership and consistency of their star quarterback and the Longtrees, the Ducks will be a difficult team to beat.
5)
+3

USC Trojans (5-3) (158)

Last Week – W vs. Notre Dame 41-9

This Week – @ LSU 11/19/2020 9:00 PM CST

USC comes in at number five. USC clinched a playoff berth with their dominant win over Notre Dame. They look to make it far in the playoffs, but first must go against a great LSU team.
6)
+3

Alabama Crimson Tide (5-3) (157)

Last Week – W vs. Auburn 31-6

This Week – @ Oregon 11/16/2020 7:00 PM CST

Alabama has won five of their last six games and closed it out with a dominating win against in state rival Auburn. Now up for them is Oregon, who they lost to in the regular season on a Hail Mary. One thing we know is Alabama is on a roll and the motto "2-6 to championship" is still alive!
7)
-3

Clemson Tigers (5-3) (152)

Last Week – L vs. Florida 28-34

This Week – OFFSEASON

Clemson Tigers are ranked number seven. Clemson ended its season with an upset loss to Florida, a disappointing end to their season. Look for them to make some noise in the off season as they will have to replace their great quarterback Will Slay.
8)
-3

Auburn Tigers (5-3) (151)

Last Week – L @ Alabama 6-31

This Week – OFFSEASON

Losing a "win and you're in," game by 25 stings for this proud Auburn team. Auburn simply was not able to get anything moving in the same direction. When things are going well, we are quick to praise quarterback Ron Newman. In this game, throwing three interceptions was the coffin's final nail. He will need to hit the film this offseason to improve even more. It seemed each time Auburn was making a push on offense he gave the ball away. This loss to Bama means that Auburn will be watching the playoffs from the couch this year.
9)
-2

Nebraska Cornhuskers (4-4) (135)

Last Week – L @ Oregon 16-56

This Week – OFFSEASON

Nebraska finished the season as the Oregon Ducks' latest victim. Nebraska seemed to roll over and die in the second half, and Oregon didn't let up. However, this was not a terrible season for Nebraska. A few great wins against playoff teams will give them some momentum moving into the offseason, but they have lots of room to improve.
10)
+2

Florida Gators (4-4) (128)

Last Week – W @ Clemson 34-28

This Week – OFFSEASON

In the ultimate sleeper type game, Florida rallied it together to defeat the defending national champions Clemson to take them out of the playoff picture. This isn't a picture perfect season by any means, but a perfect send off for HunkyDory, one of the CFSL's longest tenured athletic directors. Well done Gators.