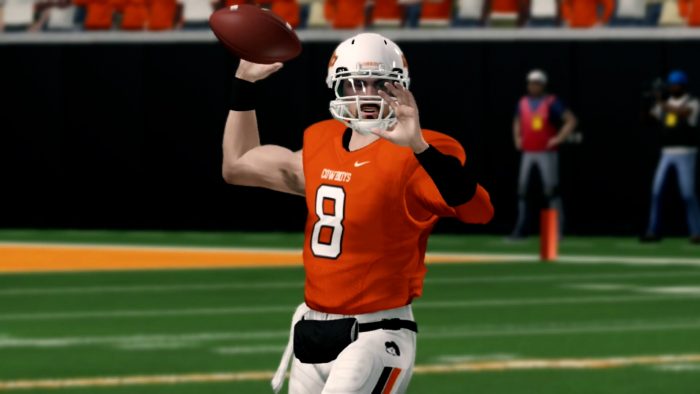 The semifinals, the second stage of the playoffs, and the last leg before the National Championship game. The question becomes, who wants it more? Oklahoma State and their record chasing defensive end, or LSU and their own record chasing defensive tackle. Two talented offenses, two every stout defenses, and both have members up for awards, All-Americans, and chasing records. The best of the best on center stage.
LSU Tigers
LSU started off slow last week against USC, losing at half 7-24. Then the ball kicked off and In one of the most impressive comeback wins of the season. USC is a triple option run-heavy team which would make you think that would eat up the clock, that was however not the case. LSU came out possessed, scoring 35 unanswered points and not allowing a single point in the second half to take the game 42-24. Making the comeback story of last season's 2-6 record, with co ADs and a brand new roster that much sweeter.
Offense
This team lives and breathes off of the play of star quarterback Gage Youngblood. More importantly, off of not making mistakes. Gage works at his best when he's got the ground support of his brother Colt Youngblood, the tailback. And for his part, Colt has been more than efficient, picking up 829 yards with nine touchdowns. Still, Gage and company got off to a slow start last week against USC, and it took a hot start to the second half for momentum to swing in LSU's favor. He does need either receivers Dominik Flores or Cosmos Woods to have another great game to extend this offense. I spoke to both ADs in the offseason and they said to extend the run game for Colt, they need to get some vertical passing plays working to completely open up the offense. When it isn't working we have seen them become a bit stale and start to get pass heavy
Defense
Coming into the season he was a young freshman looking to make a name for himself and the team he plays for. Well, he sure has done that as we all know the man, myth, and nightmare himself to game plan for on this LSU defense, and that name is Dillon LeBlanc. He has redefined the defensive tackle position with these stats: 13 sacks, 26 tackles for loss, and 44 tackles. Those 26 tackles for a loss, by the way, stand as the third most recorded in a single season. The pressure from LeBlanc has helped this defense to create opportunities, and they're currently second in takeaways this season. Corners TJ Keene, Brody Edward, and Marcellus Burney continue to terrorize and frighten quarterbacks, and safety Anthony Stover has been playing a major role in assisting linebacker Brandon Stone in slowing the run. Stone has been an unsung hero for this defense, but his ability to both cover and chase downhill, it gives LSU some flexibility defensively. Couple those guys with Dillion LeBlanc, and the rest of this team, and that is a down right nightmare to prepare for.
X-Factor
If Colt Youngblood cannot get to off to a hot start, LSU could be in trouble. They need to get the brother of their quarterback involved early and often, keeping the ball out of the hands of Oklahoma State's offense and giving their defense time to rest. If Youngblood can't get going early, this offense relies solely on Gage, and while the Tigers can win by that formula, it's certainly not their best. LSU is at their most dangerous when Colt gets going and opens up the deep shots downfield.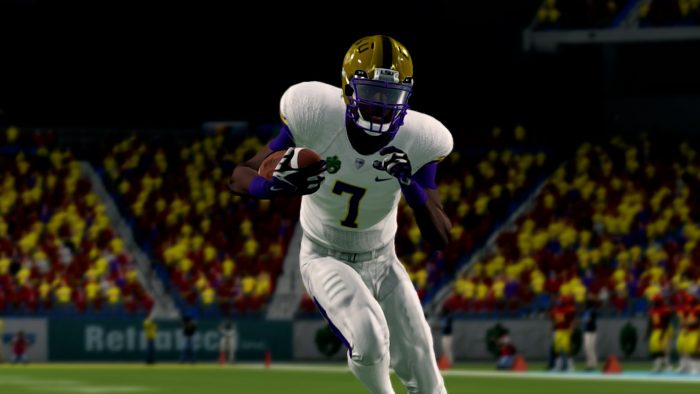 Oklahoma State
Oklahoma State was chilling last week as they awaited their opponent last week. Once the Cowboys began to showcase their offensive identity, it became apparent that this offense would give defenses fits. And speaking of defenses, Oklahoma State has fine-tuned their approach and have generated a plethora of turnovers while frustrating opposing offenses. Oklahoma State has players on both sides of the ball with award nominations and while they are known for their offense, their defense ranks fifth total in points per game and seventh against the run coming into this.
Offense
This is the Lyle Fletcher show through and through. He leads the team in both passing yards and rushing. He passes the rock at an incredibly efficient rate, completing 80% of his passes, and his playmakers are making it count as Fletcher is putting up just over 392 passing yards per game. Lyle has incredible talent around him with eight players with 23+ receptions and they have all scored at least one touchdown. They also have two players in the top 10 in receiving yards, and three in the top 15. Receivers Baron Adams, Dylan Smith, and Ethan Martin have continued to showcase their ability to tilt games into the favor of this offense, which just continues to slowly pick their way downfield, sprinkling in some back-breaking shots to keep you off-balance. Halfback Dion Hawkins may not get a lot of carries, but he's been able to make some outstanding plays when the Cowboys can get him in space, and he's proven adept at making defenses pay with a well-timed screen. Oh, and Fletcher can beat you with his legs too, making this offense one of the more difficult ones to slow down in the league.
Defense
The Cowboys feature a true bend but don't break defense as they are in the bottom ten in passing yards allowed per game but are top five in points allowed per game. They also feature some stand outs in linebacker Greyson Davis and defensive tackle Justin Williams, both of whom have put together All-American caliber seasons. Justin has 16 sacks on the season and paired with Greyson near 100 tackles on the year, they have become a nightmare to prepare for. Williams, by the way, only needs two sacks to tie former Clemson defensive end Mike Miller for the most in a single season of 18. Anything more than two, and the record is Williams'. With all the attention that Davis and and the record-chasing Williams brings with them, the secondary of Oklahoma State is often slept on. With corners Tanner Quirk, Basher Vannion, and Quentin Giles all being major contributors for this defense, it forces opponents to try to attack the deep middle where, unfortunately, safeties Michael Copley and Zac Holldorf wait. So while this defense may give up some big plays, they do an excellent job at finding ways to force you into beating yourself.
X-Factor
As mentioned above, this Oklahoma State team needs to score often and look to limit LSU's run game to take this away. In order for that to work, Oklahoma State needs to keep LSU's defense off-balance, and that means halfback Dion Hawkins has to make the most of every single touch he gets. Whether it's in the receiving game or in physical carries, Hawkins has to be able to showcase his explosiveness which will open up the rest of the offense for Oklahoma State.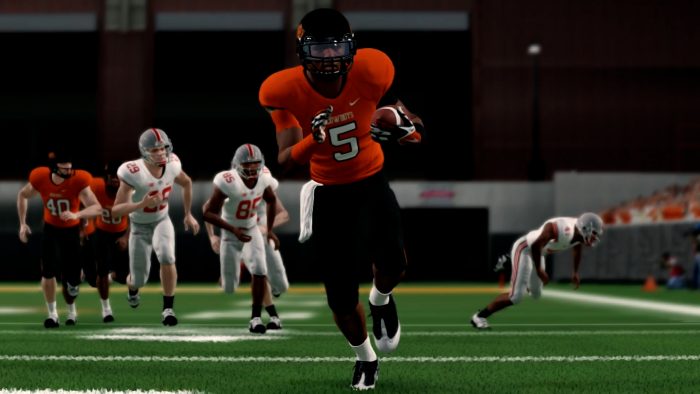 What to Watch For
LSU has the defense to be able to get a win tonight, but only if this offense can get out to a fast start. Yes, Oklahoma State has the offense to come from behind, but it gets a lot trickier against this LSU defense, and if the Tigers have a sizable lead they could add onto. But that's easier said than done, because Oklahoma State's defense is no pushover either. The Tigers have to be able to control the clock tonight and wear down this Cowboys' defense, otherwise LSU will find themselves in a shootout, and as good as their receivers are, they're not nearly on the same level as Oklahoma State's. In order for that to happen, LSU has to get out to a hot start, and more importantly this running game. If they can force Oklahoma State to make every possession count, then LSU's defense can go to work.