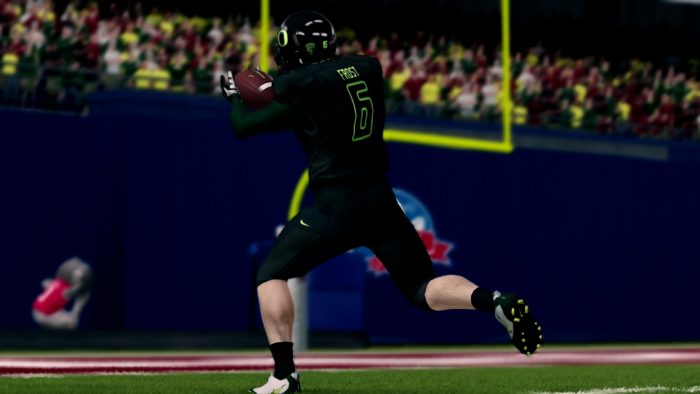 It's only been a few days since the quarterfinals but tonight is the semifinals of the playoffs. It starts with a rematch between LSU and Oklahoma State, and last time we saw a rematch was the Alabama vs. Oregon game where the winner last match was able to win again. Oklahoma State looks to do the same but LSU wants redemption. Then we have Oregon vs. Miami. Miami's had more time to rest and prepare for their matchup but Oregon has momentum from the quarterfinal matchup. Here's what our writers said about tonight's games:
Houston Freeman's Predictions:
Did someone say rematch? LSU rebounded in the first round of the playoffs after a loss to Oklahoma State in week eight, however, they found themselves in a 24-7 hole before digging their way out against a fatigued USC team. This team has championship caliber talent, but has to show up from the first whistle against the Cowboys to move on. Oklahoma State is actually in a similar situation. We saw LSU grab a late lead after holding the Pokes scoreless for several drives. The Cowboys were able to recover late in the fourth quarter and snag a win against the Tigers. The fact that Oklahoma State was able to mount a comeback has me led to believe they will make the necessary adjustments to grab an early lead and stay ahead, if not, they've proven their comeback ability is the best in the league and are never fully out of a game. This will be CLOSE, just like the first time around.
LSU 31, Oklahoma State 34
Oregon has looked so dangerous on offense all year long and they confirmed it yet again with a 47 point explosion in round one. The offense isn't the only thing trending hot right now as the defense only allowed 24 points to Alabama all night. Miami has been idle for nine days since their win against Florida State in week eight, however, this is the team that beat the defending champions Clemson as well as LSU (another semifinalist) in the regular season and they've proven they're worthy at a shot for a national title. Unpopular opinion, but Miami's strongest spot seems to be their defense as they've only allowed more than 30 points once in their last six games. The offense isn't anything to scoff at either as quarterback Axton Richardson is having one of his best seasons to date. I have no doubt for either of these teams as both are fantastic, but the Ducks seem to be so much more dangerous on offense and can hang with anybody.
Oregon 38, Miami 35
David Ware's Predictions:
Week eight rematch will be fun and exciting as both teams have been on fire! LSU needs to get Colt Youngblood going early, and if they can they will have a great opportunity. Oklahoma State will look to recreate the five turnovers in this game as well. It's playoffs though so anything can happen.
LSU 31, Oklahoma State 28
Great matchup that hasn't happened since season five. It will be fun to watch teacher and student pair off against each other. Neither team has much as far as weakness, but I'm going Miami in slim win.
Oregon 24, Miami 28
Jathan's Predictions:
LSU played an awesome second half against USC, stuffing the USC offense and scoring at will. LSU has the momentum coming in. However, Oklahoma State has had time to game plan for all scenarios, and I'm sure they'll come in ready. Lets not forget how lethal the Oklahoma State offense is just because they haven't played recently. I think the Pokes beat the Tigers again.
LSU 37, Oklahoma State 49
This is an intriguing matchup! Oregon has been the most impressive team down the stretch in my opinion, but Miami has played so well against good competition this season. This one could go either way in my mind. I'll go out on a limb and say Miami will take an early lead, but the Ducks will storm back to win in the second half.
Oregon 40, Miami 34
Leej17's Predictions:
The last time these two teams played, Oklahoma State forced five turnovers. If LSU wants a shot at winning this game, they have to take care of the ball much better than they did last time. Oklahoma State will have to work extra hard if they want to beat LSU twice in a row. LSU seems fired up and ready to fight. I think if LSU takes care of the ball, they will be able to take this one.
LSU 38, Oklahoma State 35
Oregon has had one of the most explosive offenses all season. I think if Miami wants to win this game, they will have to play one of their best offensive games of the season along with slowing down this Oregon offense. I think ultimately the Ducks' offense will be too much for Miami to handle.
Oregon 42, Miami 38
TattedGriffin's Predictions:
LSU comes into this one after a second half rally from being down 24-7 to win their quarterfinal game 42-24. Gage Youngblood cleaned up his game this week by going 20/28 and no interceptions. Last time these two teams played, back in week eight, LSU had five giveaways. After riding high on a playoff win, I don't think this will be the same game as it was a week ago, I expect this game to be a high scoring game! Oklahoma State will get their offense humming back to their usual self and LSU will continue their hot streak on offense. This one comes down to who has the ball last.
LSU 38, Oklahoma State 41
Oregon dominated Alabama in their playoff game beating them 47-24. Jefferson Allen has his offense rolling with him going 40/48 with 455 yards, four touchdowns, and no interceptions. Miami's last game was in week eight with a 45-31 win over Florida State to give them the SEC Conference Champion title! Axton Richardson was able to keep Florida State's' defense guessing with 306 passing yards and 60 rushing yards on eight carries. This game will come down to the whichever quarterback is the most explosive with their arm and feet!
Oregon 48, Miami 42
The Verdict:
With a shot to play for the national championship, these teams will be bringing their all. The writers just barely gave the advantage to Oklahoma State 3-2 believing they can do what they did in week eight again and beat LSU. The writers then gave the advantage to Oregon 4-1 saying their high powered offense will be able to get it done against Miami in a hard fought matchup. Be sure not to miss these games tonight on Twitch!