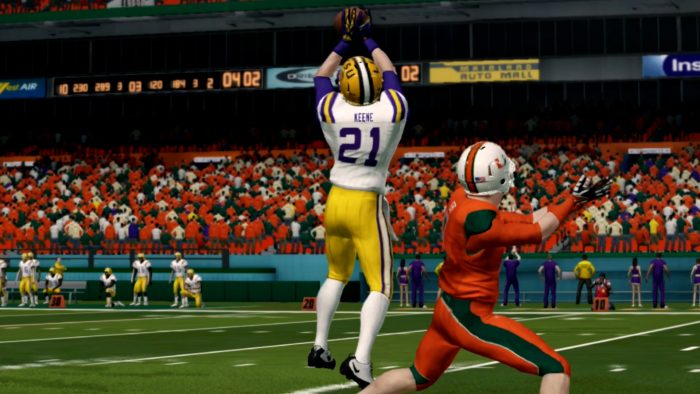 It all comes down to this. One final game where the two teams have to show up. LSU was able to Oklahoma State in a rematch of week eight of the regular season and win in a revenge match for them. It got close at the end, but LSU was able to pull out the win. Miami was able to get in by defeating the Oregon Ducks. Their offense looked great, but their defense helped a lot by only allowing ten points. Here's what our writers said about tonight's matchup:
Houston Freeman's Prediction:
These playoffs have been a tale of regular season rematches, so why wouldn't the natty be as well. Miami won their week four matchup against LSU by a lopsided score of 51-27. Each team had a bevy of turnovers, but Miami was able to find the end zone several more times than the Tigers. LSU has grown as a team since week four and has already demonstrated they can adjust and win a rematch as they beat Oklahoma State in the semifinals just a week after losing to them in week eight. The difference makers in that game were the increased production from LSU running back Colt Youngblood, and decreased turnovers (from five to three). Miami showed yet again in the semifinals that their best weapon is their defense as they allowed a Dee Frost led Oregon offense to score just ten points. Meanwhile the offense was able to outgain the Ducks by 167 yards, led by quarterback Axton Richardson's 342 pass yards. In my opinion this has the makings of a good ole fashioned shootout since LSU's offense seems to be on better track. For some reason LSU seems to be a team of destiny this season. I like LSU's chances of winning a rematch and snagging a national title.
LSU 48, Miami 45
David Ware's Prediction:
We have arrived at season nine finale! Two teams who have laid it all on the line to get here. This will be the first championship game for both teams, but they have been playing lights out. Both teams have high profile offenses and a lights out defense. This game is also a rematch from earlier in the season when Miami was able to win 51-27 and this game will go down to the wire as we wait to see who will be crowned champions. Turnovers will be the key to success and Griffin Richardson has four defensive touchdowns this season. That will be the difference.
LSU 31, Miami 35
AssuredFame's Prediction:
LSU comes into this game after strong victories in the first two games of the playoffs against USC and Oklahoma State. In the USC game they were down 21-7 at half and rattled off 35 unanswered points to win 42-24, and in the Oklahoma State game they used that momentum to hold off quarterback Lyle Fletcher and his weapons from coming back. Miami comes into this after a first round bye where they awaited their opponent in Oregon who they defeated easily 37-10 behind strong play from their defense only allowing 319 total yards. LSU and Miami have faced off already this year where Miami defeated LSU 51-27. As much as I love LSU and the magic that they have been to rattle off, Miami has been dominant much of the year. If Miami can follow the game plan from their earlier game I believe they will win. Miami takes this by ten points in a defensive battle.
LSU 21, Miami 31
Grin311's Prediction:
Ok this is the Big One, the game that everyone in this league wants to play in, the National Championship Game. LSU versus Miami; two teams that had amazing seasons will square off to impose their will against each other to win it all. LSU will want to avenge their loss to the Canes from earlier in the season, a game where they were beat down 51-27. That was then and this is now, and you have two electric quarterbacks in LSU's Gage Youngblood and Miami's Axton Richardson, both of whom had over 3,000 yards passing and double digit touchdowns ready to go. Youngblood having the edge in this category with 29 to Richardson's 16. The edge for Richardson is that he had ten rushing and Gage only had five. So this is going to be an awesome dual to watch by two veteran quarterbacks. Another stat that pops out is that both these team where top three in the league in scoring both averaging 39 points a game; fireworks to come? Well maybe not. Both teams are top two in the league in points against averaging only 27 for Miami and 28 for LSU. That is a ten point net swing from offense to defense. This is in part to the two monster linebackers that both teams have. For LSU it's Brandon Stone, the man who let the league in tackles with 102 and for Miami Griffin Richardson with 80. Plan and simple they both find the ball carrier and make the stop. I think this game comes out firing and then the defenses will settle down and start doing their work. Also as we know from past games it's the big turnover that makes the difference in the Natty. Both teams are at the top in that category also. Sit back, buckle up, and look for what's on paper to be one amazing matchup. I think it's going to be tough for Miami to recreate the last match up outcome, but they did shut down an Oregon team that could score in bunches. Can they do it again? No.
LSU 34, Miami 31
Jathan's Prediction:
The finale to an amazing season nine, the two best teams battle it out in LSU and Miami. Axton Richardson has made this Miami offense dangerous, and they meet a stout LSU defense in this one. On the other side, Colt and Gage Youngblood take on Griffin Richardson and Miami's defense. With great matchups, this one is sure to be exciting in all aspects of the game. I've picked against LSU a lot recently, but I'm not going to make that mistake this time. If anyone can contain Axton, it's the LSU defense. This will be a great one.
LSU 45, Miami 38
TattedGriffin's Prediction:
Its finally upon us, The National Championship! The SEC Champs vs The SEC runner ups, LSU versus Miami. LSU is in the natty this year after going 2-6 last year! Talk about a turn around! Miami gets past the semifinals this year as they were not so fortunate to do so last year. LSU was able to hold off a rallying Oklahoma State team in the semifinals, winning 45-42. The Youngblood brothers finally both got going in this game to get ahead by 18 points at one point in the game. A few turnovers hurt them to get the lead down to three, but LSU's defense was able to get three picks and a fumble recovery to hold off Oklahoma State's offense from getting the win. Miami was able to hold off Oregon throughout most of the game. Exploding to a 21-3 halftime lead, Miami was able to coast to a 37-10 victory. Miami's defense was able to pitch a first and fourth quarter shut out against Oregon. Miami kept Jefferson Allen to under 300 yards passing and no touchdowns along with two picks. Axton Richardson was able to move the ball around going 32/39 for 342 yards with two touchdowns and a pick, but it was running back Marcus Duncan who keep the ball moving with 163 rushing yards on 18 carries with a touchdown. This will be a battle of defenses in this game! Turnovers will play a big factor in this one! If the Youngblood brothers get going in this one early, I believe they can overcome the Miami defense!
LSU 38, Miami 27
The Verdict:
The final verdict of the season. The writers have sided with LSU 4-2 for tonight's national championship game. They believe that LSU's defense can contain Axton Richardson and company enough for LSU to win, while others believe Miami's dominance continues tonight. Find out who wins the championship tonight on Twitch!