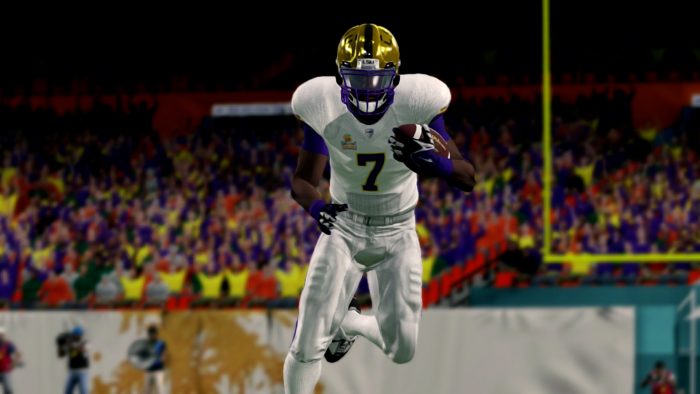 Ladies and gentlemen! Boys and girls! People of all ages! THE CFSL IS BACK! Season ten starts off with a rematch of last year's national championship with Miami and LSU facing off at the Georgia Dome. Miami won the championship last season and looks to beat LSU again while LSU is looking for redemption to start the season right. Then we have our two newest teams facing off with Oklahoma and Boise State both heading to Denver to play at Mile High Stadium. It will be a great matchup for both of the teams to get their feet wet and get their first game out of the way. Here is what our writers say about tonight's games:
Houston Freeman's Predictions:
The traditional championship rematch is looking interesting as both teams return their starting quarterbacks. Miami has Axton Richardson at the helm, and LSU has Gage Youngblood. The addition of Mike Coco at receiver will make the Canes a threat in the long run to defend their title, but with Carter Stephen being inactive in week one, it creates a major depth issue. LSU will get their revenge and take a step in the right direction by relying heavily on running back Colt Youngblood.
LSU 35, Miami 31
This is my game of the week as Boise State makes its much anticipated return to the CFSL, and Oklahoma makes their debut. Expansion team rivalries tend to create cool storylines due to a full roster build. The return of Boise is also met with the return of former Texas corner Wayne Finnegan, who should be an instant defensive player of the year candidate. Oklahoma brings their own veteran to the game though in former Notre Dame running back KaIden Saint III. We don't know much about both of these teams just yet, but something tells me the experience Clutch has as an athletic director will give the Broncos the edge on the Smurf Turf.
Oklahoma 34, Boise State 41
David Ware's Predictions:
What a way to kick off season ten! Miami coming in as defending champions after beating LSU in the championship game, and they have several new faces. LSU has also added a few new players, but for the most part have the same team. Miami will have a challenge in front of them as no team has ever won back to back championships in the history of the CFSL. This game will be extremely entertaining and should come down to the very end. Miami lost several big players, but they retooled well.
LSU 38, Miami 42
The return of the blue field has been long awaited by many. Boise State will host its first game since season two when they went 0-12. Not only do we welcome Boise State back, we also welcome a new team this season in Oklahoma to the CFSL. Both of these teams built their rosters to compete from day one and it will be a firework show watching these two match up against each other. Boise State is looking scary on offense with two elite wide receivers and two five star wide receivers. Oklahoma has a solid foundation on offense as well with freshman quarterback Cairo Croft and halfback Thomas Welch. Oklahoma has one of the deepest rosters in the league so it will be fun to see how they uses all of their weapons. I think the experience that Boise State athletic director Clutch has with the Oklahoma playbook will be the difference maker in this game.
Oklahoma 35, Boise State 38
Grin311's Predictions:
Just plain and simple, what a way to start the new season with a rematch of the national championship game. I have a feeling this one is going to be a barn burner and come down to the wire. Both teams are league favorites to repeat as playoff teams and are loaded with talent. The winner is the early front runner for a return trip to the big game.
LSU 38, Miami 35
Our two newest team to the league this season get to open up against each other and this one should be electric from the opening kickoff. I like both these teams, but Boise State is very familiar with this playbook and get my early edge in another close game.
Oklahoma 42, Boise State 45
Hornsnation's Predictions:
LSU didn't put much of a fight in the national championship game and had all offseason to reflect on what went wrong. I know they have been hard at work and should come to this game prepared. Miami on paper looks like a repeat champion, but they will have the fight LSU in the revenge game. I see LSU winning close by a field goal.
LSU 34, Miami 31
Mile High Stadium is the scene tonight as new CFSL team Oklahoma makes their first appearance against Boise State. Boise makes their return after eight seasons with the longest losing streak in CFSL history. Boise is loaded on offense with Elton Bridges and Luke Hall leading the attack in the backfield. The Sooners will look to Cairo Croft and Thomas Welch, a Bowling Green transfer, to pace their spread attack. Boise finally ends the losing streak and wins big.
Oklahoma 21, Boise State 49
The Verdict:
The writers sided with LSU 3-1 for the national championship rematch game saying revenge is a big enough motivation to win the game. The writers then all sided with Boise State 4-0 saying athletic director Clutch's familiarity with the playbook will guide the team to victory. Find out tonight on Twitch!