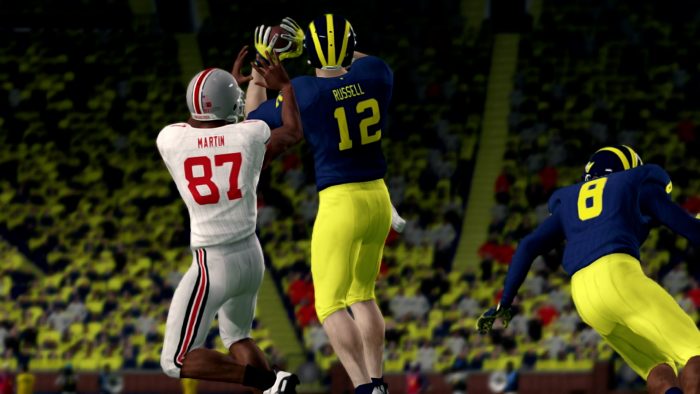 Going into night two of week one we have three exciting matches to be played. Up first we have USC and Ohio State going to the Lone Star State to play at the Cowboys stadium. Then we head down to Houston to see Michigan and Oregon face off at Reliant Stadium. Finally we have Texas A&M and Notre Dame heading to Chicago to play at Soldier Field. These should be some exciting matches, but here's what our writers have to say about them:
Houston Freeman's Predictions:
The annual Stern bowl brings about a very interesting matchup this go around because both teams have playbooks this season that fit their strengths perfectly. USC is switching to a spread concept after flirting with the triple option, and Ohio State is switching from a multiple scheme to a spread concept themselves. I like both of these teams and I think it's going to be a hard fought game. USC quarterback Thrasher Banes is the game changer in this one.
USC 27, Ohio State 24
Could this be the year that Michigan establishes themselves as a Big 10 contender? The return and late addition of former Texas quarterback Clayton Denny should be fun to watch as right out of the gate the Wolverines have to prove themselves against the Oregon Ducks, who made the playoffs a season ago. Oregon still has far too many weapons, even with the loss of Dee Frost, the edge goes to the Ducks.
Michigan 42, Oregon 52
While Texas A&M looks strong with the return of several key starters and addition of free safety Josh Claydon, I need to see consistency on defense before they sell me just yet. Notre Dame replaces their athletic director with Kichler, who was a part of the triple option mastery at USC last season. Notre Dame is in the same boat as they need to prove themselves first. I believe Mears provides an edge in experience, but the Notre Dame roster may prove to be too much.
Texas A&M 28, Notre Dame 38
David Ware's Predictions:
The third annual Stern Bowl is sure to be another instant classic. Each team has one win in the Stern Bowl and overall the series for these two teams are split at two wins a piece. The very interesting part of this matchup is the home team has won every game to date. Ohio State lost Colton Allen as he is now the athletic director at Florida, but definitely added several weapons on the defensive side of the ball. USC will have a new scheme this year even though they had a ton of success with the triple option. Just like Ohio State, USC added several new weapons on defense and look to have one of the best secondary's in the league. This being the fifth game of the series, I am going with the home field advantage that has been on the winning side for each game.
USC 28, Ohio State 31
Michigan had one of their best off seasons in recent history as they were able to bring in several weapons on both sides of the ball. Their offense is looking scary with transfer quarterback Clayton Denny leading the way. Oregon didn't have to have a huge off season as they already had a lot of talent on their team. They did have to replace Dee Frost and they brought in elite wide receiver Juice Jammer. Oregon should have another great season, but I am making bold prediction that Michigan wins the Big 10 and has a magical season that will involve a deep playoff run.
Michigan 52, Oregon 48
This is a battle of two teams who are a mission to have a turn around season. First year athletic director Kichler has a veteran defense to help him. Texas A&M didn't have to bring in many players in the off season as they were already loaded, but they found a way to get even better by bringing in Ty Perry and Josh Claydon. Second year athletic director Eric Mears is primed to have a great season. This game will be a defensive battle for sure and which ever defense can force the last mistake will win.
Texas A&M 24, Notre Dame 21
Grin 311's Predictions:
The brothers are at it again and the Stern Bowl should be a good one to boot. I think Ohio State is a more complete team this time around and have to give this one to them though.
USC 28, Ohio State 35
A very important game in the Big 10 right away. Can Oregon stay the course from last season or will Michigan's new look team be ready to ascend to the top of the conference? One thing is for sure they have a quarterback that can sling the ball around and this should be exciting to watch. Could it turn into a track meet?
Michigan 35, Oregon 32
Aggies versus the Irish in this opener and I am most excited for this game. Both teams have a lot to prove and would like to set the tempo for the season early. Probably the hardest game for me to pick as it could go either way, but I'm taking the Aggies.
Texas A&M 35, Notre Dame 31
Hornsnation's Picks:
A huge early season Big 10 matchup sees USC taking on Ohio State at the Horseshoe. Both teams are coming off disappointing seasons and look to jumpstart their season ten campaign. Dual threat Thrasher Banes will need to work on his completion percentage or he could be in for a long night against this Ohio State defense. The Buckeyes will look to lean on Zach Davis and their trio of receivers to try and improve on an average attack from last season. I see USC scoring early but Ohio State pulling it closer at the end.
USC 34, Ohio State 24
Jefferson Allen enters this season in his last year, a senior, looking to lead the high powered Ducks over league chat foe Michigan. The Wolverines add Clayton Denny to an explosive offense featuring Conner Darian, Tim Benjamin, and Memphis Lane. The Ducks will lean on the Longtree clan, but this game looks to be an offensive shootout. Michigan wins close.
Michigan 51, Oregon 48
The high passing attack of the Aggies will lean on quarterback Jimi Germaine as they face Notre Dame. The Irish struggled last season against the pass, but bring in much needed corner back transfers in Whitten and Russo. The Aggies get their first win sending the Irish home in defeat.
Texas A&M 35, Notre Dame 31
The Verdict:
Our writers have spoken and they tied their predictions 2-2 some believing USC scores too much too quick, while others think Ohio State is just more complete of a team. The writers then predicted Michigan to win in a high scoring affair at a ratio of 3-1. Finally the writers chose Texas A&M 3-1 as well saying the defensive battle will come out in A&M's favor. Find out if they are correct on Twitch or YouTube.