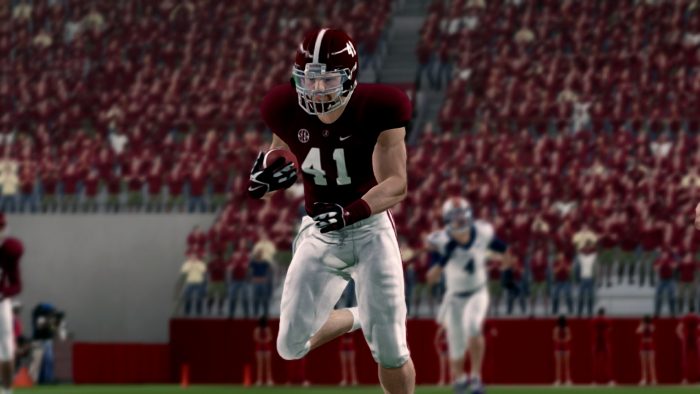 After a couple days we finally have some MACtion! We start with Northern Illinois heading to Texas to face the Longhorns. While that's going on Eastern Michigan is playing in Tuscaloosa against the Tide. After those games finish we see Ball State playing against Auburn and Kent State going to Nebraska to play the Cornhuskers. Here's what our writers say about tonight's games:
Houston Freeman's Predictions
The matchup we've all been waiting for, a humbled Wookie against a humbled Jooby. Who will prevail? I have to imagine that Texas selecting an air raid scheme is no accident. They have a former offensive player of the year in quarterback Vito Pipino, and intend to take advantage of it. Northern Illinois features several new faces and new playbook that looks to feature an option run game. Texas will return to form this season and make themselves a Big 12 contender.
Northern Illinois 24, Texas 42
Alabama is looking to start the season hot with the return of several key pieces of their offense. Eastern Michigan has a new face at the helm this season, and has already gotten the Eagles a much more full roster to begin the season. The question for the Eagles will be overcoming limited quarterback play.
Eastern Michigan 31, Alabama 45
Auburn has been hot on the recruiting trail and should be just as dangerous this season as last. They just barely missed the playoffs last season even with a 5-3 record. As always, the Tigers should be feared if not for anything more than game planning ability. Ball State has one of the smaller MAC rosters so I look for them to struggle a bit in this one.
Ball State 35, Auburn 55
Nebraska returns their one two punch from a season ago in quarterback Courtney Harris and running back Casey Bronco. I expect them to rely heavily on the run game yet again. Kent State is really young, featuring almost exclusively freshman. This will come back to hurt them.
Kent State 21, Nebraska 31
David Ware's Predictions:
Another big week one matchup for Northern Illinois, as they face Texas this season. Both of these teams did not have the season they had hoped for last season and want to show that last season was just a fluke. Last season we saw a couple close calls as far as a MAC team upsetting a power three team, and this season Northern Illinois will have the first opportunity. The Huskies definitely have a talented roster and a full season of game planning under head coach Wookie's belt, I expect Northern Illinois to complete and be in position to pull off the upset. Texas has a very talented roster led by junior quarterback Vito Pipino, and he knows how to spread the ball around. Last season they were close in all of their games and their record doesn't justify how well they played. Northern Illinois has a new quarterback Justin Morris Jr. and transfer halfback Bentley Jones, so their offense will be on fire. I believe we will see the very first MAC upset.
Northern Illinois 38, Texas 35
Eastern Michigan will be looking to pull off a huge upset as they travel to Alabama for their week one matchup. Eastern Michigan head coach Willied has built his roster to be one of the deepest in the MAC. With all the depth that Eastern Michigan has I look for them to really make a big season debut. Alabama has changed their scheme to match the weapons that they have on offense and will definitely be fun to watch to see what sophomore quarterback Doug Day does with new weapons Matthew Ousley and Brogan Speraw. The wide receiver core, known as nasty wide outs, will plan to show the league they are the best in all the CFSL. Don't forget that both of these teams do have a lot of talent on the defensive side of the ball as well, and will look to show that they can shut down the opposition. Eastern Michigan will be ready to play and will look to pull off the upset, but Alabama will pull off the victory 35-31
Eastern Michigan 31, Alabama 35
Week one for Auburn is all about setting the tone for the season. Auburn is looking to return to the playoffs this season after missing the last two seasons. Auburn added a lot of talent in the off season and will be scary this season. Ball State is one of two MAC schools with a returning head coach, and I think that will definitely help them during conference play. Sophomore quarterback Oliver Rolon is ready for a huge season. He will be a vital part of the Ball State success this season. On the Auburn offensive side of the ball, junior quarterback Ron Newman now has a couple of new weapons to throw to in Calvin Jordan, and Joey Cash. I am going with Auburn in this matchup.
Ball State 28, Auburn 35
Kent State is making their debut in the CFSL and they have loaded their roster to be ready to compete right away. The first opportunity for them will be against a very tough and talented team in Nebraska who has been right on the edge of making the playoffs the last two seasons. Nebraska and their second year athletic director should be primed to take the next step.
Kent State 31, Nebraska 38
Grin311's Predictions:
Ok time for the talk to be over and for Northern Illinois to show us that they mean business against Texas. Hey, I love the confidence and the fire from them, but Texas is looking to rebound from last season and give us the big WE'RE BACK.
Northern Illinois 24, Texas 35
A good MAC team versus a Bama squad wanting to show everyone they are contenders this season. I like what both teams have done in the off season, and know they both have asperations this year. With that, Alabama is just a little too much in this one and have to go with the Tide.
Eastern Michigan 24, Alabama 38
Ball State versus Auburn is going to be a great game. Both sides of the ball for both teams are electric and anything can happen with this one. Could this be the upset game of the week? Well, not so fast. No disrespect, but it's Auburn and they are for real this season. I know it is very early, but I think this could be a magic season for them and it starts week one.
Ball State 28, Auburn 38
Now this is my upset game of the week. Nebraska are one of the big boys, but Kent State can make some noise for real. If they can get out early, then it's anyone's game. Look for it to be a good one till the end.
Kent State 28, Nebraska 24
Hornsnation's Predictions:
The Longhorns suffered their first losing season ever in CFSL history last year and will need a solid performance from former offensive player of the year, Vito Pipino. Running the Texas Tech playbook should give Pipino 50-55 passing attempts a game, so it will be up to the defensive backs Will Stephens, Nico Vanzetti, and Anthony Ellis to try and lock down the Horns receivers. While Northern Illinois looks good on offense, they will not be able to keep up with the Longhorns.
Northern Illinois 18, Texas 54
Alabama does a 180 from the single back playbook last season to the run and shoot. Doug Day will put up over 500 passing yards and four touchdowns as he leads the Crimson Tide in an easy win over Eastern Michigan.
Eastern Michigan 14, Alabama 52
You have to feel for the team that draws Auburn as their first game of the season, as this will not be an easy matchup. While Ball State has Oliver Rolon at quarterback, I don't think it will matter much going up against the Auburn offense and Ron Newman. Auburn will put up points this game.
Ball State 9, Auburn 61
Probably the MAC game of the week, Kent State travels to Nebraska as this could be a MAC upset. Kent State is loaded at depth at wide receiver, and it could give Nebraska fits. The Cornhuskers will need to score early and often to prevent the upset.
Kent State 24, Nebraska 27
The Verdict:
The writers give the edge to Texas 3-1 but David Ware believes this will not only be the first time a MAC team plays this season, but the first time a MAC team upsets a power three team. The writers then unanimously gave the next two advantages to Alabama and Auburn against Eastern Michigan and Ball State respectively. Finally Nebraska got the edge 3-1 while Grin311 believes in the upset. Find out what happens tonight on both Twitch and YouTube!