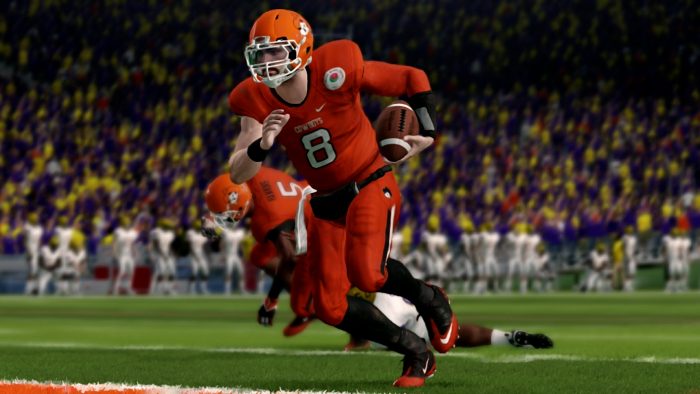 Week one ends with four more games of MACtion. We start with Bowling Green heading to Oklahoma to play the Pokes. While that game is going on Ohio will be heading down to the sunshine state to face the Florida Gators. After those two games Clemson hosts Toledo and Miami University plays Florida State in Tallahassee. Here's what our writers say about tonight's matches:
Houston Freeman's Predictions:
This is a rematch of week one from season nine. Bowling Green has a new man at the helm, and Oklahoma State returns all of their most important contributors from a year ago. Quarterback Lyle Fletcher will look to defend his offensive player of the year award on the way to a Big 12 title and possibly a national title. The additions that the Cowboys have made on defense may be just the thing to get them there this season.
Bowling Green 30, Oklahoma State 42
Florida wide receiver Levi Temes is back and he's hungry for more this season. He shouldn't have any issue blowing past the Ohio secondary as they only have three defensive backs.
Ohio 20, Florida 31
Clemson loses their athletic director and several key position players, but have filled those holes nicely in the offseason. Toledo will look to capitalize on their lone season with senior quarterback Tanner Jones. The Tigers will continue their trend of starting strong.
Toledo 38, Clemson 45
Miami University is tied for the second most players in the league. If they're utilized in a proper fashion, they have the best chance to upset a Power Three team for the first time in league history. However, Florida State has a fantastic scheme this season and bring in new quarterback Rocko Lacey. This is a much improve FSU roster and should be feared.
Miami 24, Florida State 35
David Ware's Predictions:
Bowling Green was the season nine MAC champions, and this year they have a new head coach. First year coach AssuredFame had to replace almost the entire roster and had, by many, the best recruiting class of the MAC. Oklahoma State had a great season last year and almost made it to the championship. These two teams are looking to not only continue, but improve on last season's success. Bowling Green has an opportunity to pull off the upset no questions asked. Game planning advantage goes to Oklahoma State and I think they pull out the narrow win.
Bowling Green 38, Oklahoma State 45
Both of these teams have plenty of talent on both sides of the ball and both being led by a first year head coach/athletic director. Ohio was successful in recruiting and Florida had several big time players return. Florida's transfer quarterback Blevins starred at Ohio last season and is looking to start this new chapter with a win against his former team.
Ohio 35, Florida 42
First year coach Cory Dobbins is facing his former team in his coaching debut and Clemson athletic director Leej is in his first season as athletic director. Clemson lost several players but did a fantastic job replacing several big players, while Toledo started slow but picked up in recruiting. Clemson will not miss a beat this season and I expect them to contend for SEC title.
Toledo 35, Clemson 42
Miami University makes their debut against Florida State, who had a huge off season. Miami had one of best recruiting classes in the MAC and will look to make a big showing. Florida State will win this one.
Miami 28, Florida State 35
Grin311's Predictions:
The MAC champs get their first test against an Oklahoma State team that won the Big Ten last season. It doesn't get any better than this one folks. Can Oklahoma State hold to form from last season and show to repeat this season? Will this be the game that the MAC show they can run with the big boys? Both teams are loaded and this is going to be exciting to watch. In the end, I just feel like the Cowboys are going to be too much in the fourth quarter and pull away, but I could be wrong.
Bowling Green 28, Oklahoma State 35
Florida is a team that start every season strong, and this year shouldn't be any different. Ohio will want to show that the can fight with everyone and have a strong season of their own, and this game may be a spring board for them as well. Look to see if Ohio opens up a passing attack to push Florida's defense.
Ohio 24, Florida 31
The Rockets versus the Tigers just sounds like fun, and why not. Clemson has a new athletic director this season as their last one has moved on to another school. New look or more of the same Clemson that is the biggest question from this game and it should be a feeling out for both schools.
Toledo 28, Clemson 34
Not the Miami/Florida State game you think about when you hear it said, but the Noles start season ten with an almost entirely new team and have some returners in key spots to help with the rebuild. I'd like to say this is not much of a matchup, but Miami is coming to win this game and last year showed week one games are nail bitters at times. Noles pull away in the second half.
Miami 24, Florida State 34
Hornsnation's Predictions:
The Big 12 champs begin their quest for a repeat as Oklahoma State takes on Bowling Green. Another interesting MAC game, as Jake Brummer looks to lead out the high scoring Falcons against the Pokes. Transfer Justin Williams adds much needed defensive line help for the Cowboys. This game will be close until the end with Oklahoma State pulling away.
Bowling Green 34, Oklahoma State 41
Ronnie Blevins of Florida takes on his old team in Ohio as the Bobcats find themselves in the swamp. Mojo Rison of Ohio could be the difference maker in this game as the Bobcats offense is no joke. Florida will need their stout defense to slow this high powered attack, but I can see the MAC upset here. Ohio wins late.
Ohio 27, Florida 24
Scott Fountain makes his comeback for Clemson going up against the Toledo Rockets. The Rockets have a plethora of wideouts and will look to keep Clemson on their toes. Fountain and company will look to run the ball a lot in this game and win easily.
Toledo 24, Clemson 34
Our final game sees highly touted recruit Rocko Lacey for FSU, take on Miami. Not the Hurricanes but the team from Ohio. Led by Kurtis Andrews and Hector Avila, the Redhawks could make this game closer than the Seminoles would like. If FSU can run their offense well, it will be hard for Miami to keep up. FSU wins.
Miami 34, Florida State 44
The Verdict:
Tonight's games mark the end of week one of the season. It starts with the writers siding with Oklahoma State 4-0 saying they're too much for Bowling Green and will pull away at the end. It is then a 3-1 advantage to Florida with one person calling for the Ohio upset. It's then a unanimous 4-0 advantage for both Clemson and Florida State against Toledo and Miami University. Find out if the writers are correct tonight on Twitch and YouTube!