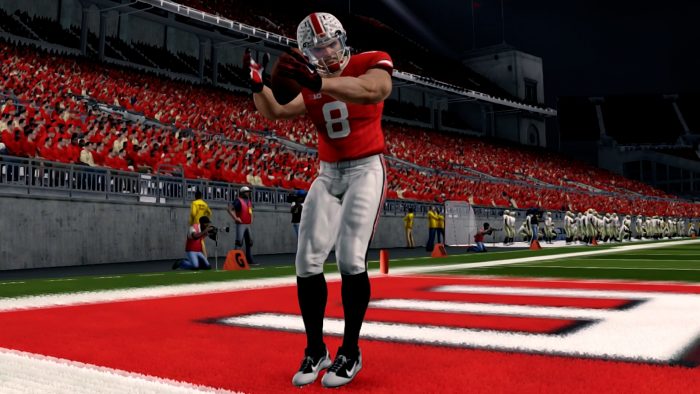 Week two continues tonight starting with Notre Dame playing the Huskies of Northern Illinois on the road, and while that game is going on Toledo is headed to Michigan to face the Wolverines. After those two games we have two more exciting games between Boise State and Kent State and Ohio vs. Ohio State. Will another MAC team get a win? Will Ohio get the second win over a power three school? Here's what our writers think.
Houston Freeman's Predictions:
Notre Dame laid a licking on Texas A&M last week and showed that they should be taken very seriously. I believe the Irish will have a very fun day against Northern Illinois.
Notre Dame 55, Northern Illinois 41
Toledo came close to upsetting Clemson a week ago, but the defense was unable to come up when they needed it. Michigan was almost shut out in the second half, which led to their demise against Oregon. Quarterback Clayton Denny should have no issues this week against a weak Toledo defense.
Toledo 30, Michigan 45
Boise State looked great in their season opener against Oklahoma, and this week shouldn't be a problem against Kent State if they continue to run that offense like that. Just a week ago, Kent State almost pulled the very first MAC upset against Nebraska, but couldn't find enough points which is exactly why they won't get the win this week either.
Boise State 42, Kent State 28
The statement "the Bobcats are the hottest thing in the state of Ohio right now" has never been uttered around these parts until this week. Ohio pulled off the first ever MAC upset over a power three team by leaning on a run heavy pistol offense. Ohio State has potential to be great, which they showed flashes of in the Stern Bowl, but quarterback Zach Davis has to minimize turnovers. I think the Buckeyes will find some momentum this week and get their season turned around.
Ohio 27, Ohio State 38
David Ware's Predictions:
Time for another shot for a MAC team to pull off an upset. This will be a tall task for Northern Illinois they are facing a very good Notre Dame team who came out on fire in week one. Northern Illinois held their own against Texas in week one, but ultimately fell short. I picked Northern Illinois last week, but I'm not sure they have what it will take this week. It will be close, but I think Notre Dame closes the game out late.
Notre Dame 45, Northern Illinois 38
Toledo is coming in to week two after almost upsetting Clemson, while Michigan fell short against a very powerful Oregon team. This game will be a very good game and I think that Toledo has an opportunity to pull off the upset if they can force a few turnovers. I stand behind Michigan winning the Big 10 this year, but I'm calling for the upset.
Toledo 42, Michigan 38
It's a huge game as Kent State almost pulled off an upset last week, whereas Boise State dominated against Oklahoma and is on fire early in the season. Kent State will be in contention most of the game, but I believe Boise pulls away late.
Boise State 45, Kent State 31
Battle for state bragging rights as Ohio was first MAC team to upset a power 3 team, and Ohio state was beat by rival USC in week one. It will be a great defensive battle and it will go down to the wire, but I think quarterback Zach Davis will have some late game heroics and lead his team to a narrow win.
Ohio 28, Ohio State 35
Hornsnation's Predictions:
Notre Dame looked really good last week against Texas A&M and should have no issues going up against Northern Illinois. The Huskies lost last week to Texas as running back Bentley Jones failed to reach the century mark in rushing. The Irish quarterback, Tyler Stemen, could be in for a big night as one of the top dual threat quarterbacks in the league.
Notre Dame 34, Northern Illinois 20
Michigan looks to bounce back after losing to Oregon last week, so the jury is still out on Michigan. Are they back, or is Oregon not a great team? This game will be a nice warmup for Texas next week, but Toledo will look to spoil the Wolverines first home game. Michigan wins big and is back.
Toledo 24, Michigan 54
Boise State looks to make their case as the number one team as they face off against Kent State. Kent State nearly beat Nebraska last week, but have the tough task in stopping the Broncos. I think Boise wins it, but it might be closer than they would like.
Boise State 38, Kent State 34
The Battle for Ohio ends our night as the Bobcats want to put to rest of any talk about a fluke in their week one win over Florida. Ohio State lost a close game last week to USC and could find themselves 0-2 early this season. I think Ohio gets it done for the second straight upset.
Ohio 28, Ohio State 17
The Verdict:
A full night of action is coming, and it starts with Notre Dame and Northern Illinois. All the writers sided with Notre Dame in this matchup saying they're just too much for Northern Illinois. The next matchup is Michigan and Toledo, and we have a 2-1 split with David saying Toledo can pull off the upset with a little help from turnovers. After those two games are finished, we have two more matches for the night. The late games include Boise State and Kent State which all of the writers sided with Boise State saying they'll either dominate or win it late. The final match is a battle between two Ohio teams with the Ohio Bobcats and the Ohio State Buckeyes. The writers sided with Ohio State 2-1 with Hornsnation believing Ohio will get another upset two weeks in a row. Find out what happens tonight on Twitch and YouTube!