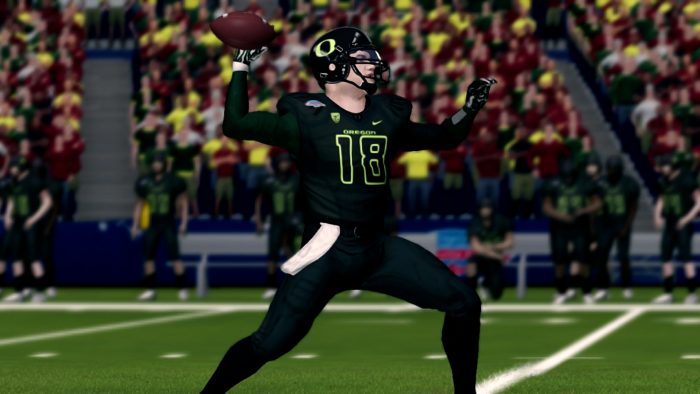 Week two ends tonight with four more games that should be exciting. It starts with Ball State going against Oklahoma. Ball State struggled last week against Auburn and Oklahoma couldn't get it done against Boise State. Look for both teams to try to rebound in the game. While that game is going on we have Texas A&M playing Eastern Michigan. This is another game where both teams didn't have their best showing against Notre Dame and Alabama respectively. After those two games we have Oregon and Bowling Green facing off. Bowling Green lost to Oklahoma State and Oregon was able to beat Michigan in a close game. Finally we have Miami University facing USC. Miami went to overtime last week against Florida State while USC barely beat Ohio State. Here's what our writers think about tonight's games.
Houston Freeman's Predictions:
Ball State doesn't need to panic after their loss against Auburn last week because even though they only scored 13, they still put up over 300 yards of passing. Oklahoma is in the same boat, if they don't turn the ball over three times against Boise State, then perhaps it's a more competitive ball game. I believe the Sooners will get their kinks worked out this week and get their season back on track.
Ball State 20, Oklahoma 30
Texas A&M needs to come out firing on all cylinders this week because I didn't like what I saw in their loss to Notre Dame. Quarterback Jimi Germaine looked sloppy throwing two interceptions and they only put 13 points on the board. Eastern Michigan proved they can put points up on a power three program last week, and I expect them to do more of the same this week. I expect A&M to light a fire under themselves and get moving this week, give me the Aggies.
Texas A&M 32, Eastern Michigan 28
Oregon is likely to make a mess of Bowling Green with their firepower on offense. They also have a bit better defense than Oklahoma State, so this has potential to be a tough one for Bowling Green.
Oregon 55, Bowling Green 35
HornsNation's Predictions:
Oklahoma needs to bounce back after losing week one to Boise. They now face a Ball State team that was throttled by Auburn 50-13. I would like to see the Sooners slow it down a bit and not make Cairo Croft throw the ball 51 times like he did against Boise State. Thomas Welch will also need to step up as he only had 31 yards last game. I see Oklahoma having no troubles with Ball State.
Ball State 34, Oklahoma 44
The Aggies also look to bounce back after getting beaten by Notre Dame. Texas A&M takes on an Eastern Michigan team that played Alabama close in the first half, but was blown out in the second half. The Aggie offense really needs to get on track and it starts with Jimi Germaine, who passed for only 215 yards last game. Look for Tye Dixon, the running back, to go off against this weak Eastern Michigan defense.
Texas A&M 41, Eastern Michigan 10
Oregon beat Michigan in week one, and now looks to take down Bowling Green. Bowling Green lost by 20 against a really good Oklahoma State team, so everyone will need to watch and see if they can hang with Oregon. The Ducks rallied late in the second half to beat Michigan, going on a 20-0 run late. Can they keep up their success? Jefferson Allen looked like an early offensive player of the year favorite and will need to keep it up to prevent an upset.
Oregon 34, Bowling Green 28
This could be the upset to watch everyone. Miami is loaded on offense and looks to take down an average USC team. Miami will need stellar play from Kurtis Andrews and Tolany Velez to have a chance. USC is coming off a seven point loss to Ohio State, but controlled the offense and game clock yet still could not figure out a way to beat the Buckeyes. Thrasher Banes put up 419 yards in a losing effort, but they will need to lean on Radman Roberts more to ensure teams don't load up on the pass. I am calling for Miami to beat USC in a close one.
Miami University 41, USC 38
The Verdict:
Our writers are unanimous regarding the outcomes of our first three matchups, believing the Power Three teams to come out on top. But our week two finale sees HornsNation voting for the Miami Redhawks, of Ohio, to pull the stunner out in L.A. and knock off the number 10 ranked USC Trojans! Don't miss the rest of the week two action tonight on Twitch and YouTube!