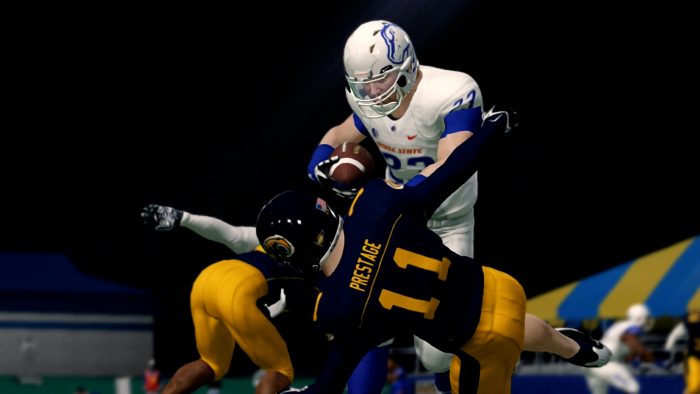 Lyle Fletchers early case for his second OPOY
Lyle Fletcher is just a sophomore and has already won more awards than one can count. He is on a record setting pace this season and made mincemeat of the vaunted Oregon defense. He completed 33 of 41 passes for 356 yards and two touchdowns. Better yet, he rushed for 89 yards (a career high) and another two touchdowns. Only one player in CFSL history has won two OPOY awards, and that player was Ray Tatum. Tatum's second OPOY came in season five. During that season he passed for 3,554 yards and 38 touchdowns while rushing for 545 yards and five touchdowns. Fletcher is averaging 458.7 yards a game this season. If he matches that average over the course of seven games (if they make the championship game, which is highly likely) he will have passed for 3,210 yards and with his completion rate of 79%, he could very likely pass Tatums mark in a ten game season. The majority of the league uses Ray Tatum as the benchmark for a quarterback, that may change after Fletchers career is over.
The Unbeatables
USC, Boise State, Texas, Oklahoma State and Florida State all remain unbeaten after three weeks. The Trojans by far look like they might be the team to beat in the Big Ten after thrashing LSU 56-14. (One could argue that LSU is on a downward swing and not the team that made the championship game last season). Boise State has been a force to reckon with after not winning any games in season two. They have averaged just shy of 50 points a game in the first three weeks and face a very beatable Notre Dame team next. Texas played the comeback kids in their last second field goal win over Michigan. Oklahoma State found a way to win by beating Oregon 50-30 to keep their perfect record going into their big matchup against LSU. Finally, the Seminoles continue to fly under the radar by picking up their third win over Notre Dame. They have a very winnable game against TAMU next. Only one team ever ran the table during the season and that was season five Ohio State, can one of these teams join them?
Can USC win their second championship trophy?
Every championship team in the past nine seasons have put up some kind of run or had that "IT" factor going for them. The Trojans are no different this season. Currently ranked number one in offense and defense in the league, they also lead the league in offensive and defensive efficiency. They are currently converting 64% of their third downs on offense while only allowing five touchdowns on nine attempts in the redzone on defense. Quarterback Thrasher Banes has been the dual threat option they needed, converting almost 80% of his passes to go with just north of 400 passing yards a game. He has turned the ball over six times already this season but look for the Trojans to correct that. USC won the championship in season seven and could be just the second team to win two championships.
Dillon LeBlanc is a man among boys
How is this for a stat line, 19 tackles, 14 tackles for a loss and eight sacks. Oh not to mention a forced fumble in there too. Last season he had 50 tackles, 30 for a loss and 15 sacks. So far this season he looks like he will eclipse those numbers. Can he win DPOY? Likely. The last defensive lineman to win DPOY was Colten Allen in season eight with Ohio State. LeBlanc put up better numbers last season that Allen did in his DPOY campaign. The only difference was that LeBlanc went up against one of the best linebackers in the CFSL in Jedidiah Longtree. You won't find LeBlanc high on the leader-board for tackles, but look where it counts. Tackles for loss and sacks play an important game in stopping an offense when its rolling. LeBlanc has a chance this season to win DPOY but can he win it with LSU struggling? Thats the big question.
The MAC picture
I couldn't go about writing a post without mentioning the MAC teams right? Only Ohio and Eastern Michigan have two wins so far this season and look to be in the driver's seat for the MAC title. Not so fast my friends, one of my favorite teams, Miami(OH), just dropped 62 on Bowling Green after losing their first two games to P3 teams USC and FSU by a combined 19 points. Toledo, NIU and Ball State are all winless so far this season with Ball State looking like they're going to have an uphill climb to win the conference. Stay tuned!