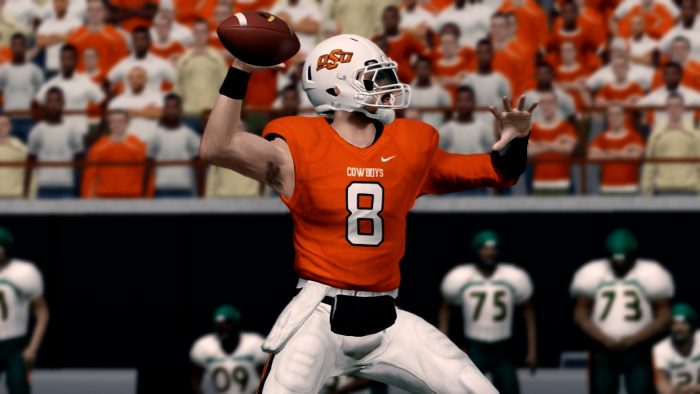 Oklahoma State
What a great night to cap off our night as we have Oklahoma State visiting LSU in a matchup of two high profile teams. Oklahoma State comes in at 3-0 and looking for revenge as the last meeting against LSU was in the playoffs last season. The all time series is tied at one game a piece. Oklahoma State looked on track to win a championship in their inaugural season until they ran into an explosive LSU in the playoffs. This year, they have returned and they are just as dangerous and last season's offensive player of the year, Lyle Fletcher, is looking even better than he did during his freshman year. He has lead the offense to 556 yards and 47 points a game. Their third down percentage of 57% is fourth best in the league as they appear to be unstoppable. Oklahoma's defense has been solid as well as they are only giving up 33 points a game and are averaging two turnovers a game. Only one team other then LSU has beat Oklahoma State so far, it will be interesting to see how they approach a rematch.
LSU
LSU is coming into this week 1-2 after a very disappointing game against USC last week. To be fair though, they have lost against the defending champions and 3-0 USC. Their offense has five turnovers in the last two weeks and is looking to control the ball better. While they never envisioned starting with this record, they are still a force to be reckoned with and will be dangerous each week. The senior Youngblood brothers are looking to finish uncompleted business from last season. Quarterback Gage Youngblood has five interceptions to four touchdowns. LSU's offense flows through him and Colt Youngblood, who has improved from 87 rushing yards per game to 102. Barring anything crazy, he should break 3,000 rushing yards in his career. The LSU defense is known as one of the best secondaries in the CFSL, but the defense is giving up 555 yards and 41 points a game. They have forced six turnovers this season and have ten sacks so far and can never be slept on.
Prediction
Both games have been extremely close with the largest margin of victory being seven points, and this game will not be any different. In order for LSU to win, Gage Youngblood will need to avoid turnovers and help his brother eat up clock for LSU to keep Oklahoma State's offense off the field. For Oklahoma State to win, Lyle Fletcher must take control of the game and show why he won offensive player of the year last season. If the defense can keep pressure on Gage and force turnovers, they will be in good shape when the final whistle blows.
Score Predictions
David Ware: Oklahoma State 56, LSU 51
Houston Freeman: Oklahoma State 52, LSU 49